"We're making new investments in the development of gasoline and diesel and jet fuel that's actually made from a plant-like substance — algae." "Believe it or not, we could replace up to 17 percent of the oil we import for transportation with this fuel that we can grow right here in the United States." From President Obama's speech at the University of Miami.[i] 
"There are no silver bullets short term when it comes to gas prices—and anybody who says otherwise isn't telling the truth" Obama noted in a speech at the University of Miami.  The president then discussed a $14 million federal grant to help make fuel from algae that he believes can replace up to 17 percent of our imported oil at lower cost and in an energy secure manner. This algae pipe dream has been dreamt for years. Since the Carter administration, the dream of producing fuels from algae has been just around the corner. Even the proponents of this dream admit that algae-produced transportation fuels will not be commercially available at that level for a long time. Former President Bush has a similar pipe dream of cellulosic ethanol—not one of the production targets mandated in the Energy Independence and Security Act of 2007 has been met.  Obama's algae pipe dream will not be here in the short term as he well knows. But, President Obama can take action to lower oil prices if he chooses to go the route of conventional fuels and allows access to them on federal lands.
Transportation Fuels from Algae
The science and principles behind making fuels from algae are simple: Algae need water, sunlight, nutrients and carbon dioxide to grow. Algae thrive in shallow, dirty water, growing easily and quickly. They produce oil that can be harvested and converted into biodiesel and other fuels. In the right conditions, algae can double its volume over night.
However, algae are easy to grow in small volumes but not easily extrapolated to large-scale production facilities capable of producing consistent yields over long periods of time. Algae farms require significant capital, operations, and maintenance costs to build and maintain the production harvesting systems. The cheapest forms of algae production are open systems (ponds), but they face challenges due to contamination, temperature control, carbon dioxide utilization, evaporation, and general maintenance. The preferred approach is a closed system that supports accelerated growth and better control over environmental conditions.[ii]
From 1978 to 1996, the U.S. Department of Energy (DOE) funded a program to develop renewable transportation fuels from algae. DOE's Aquatic Species Program (or ASP) was developed to produce biodiesel from high lipid-content algae grown in ponds that uses carbon dioxide from coal fired power plants. Over the almost two decades of this program, advances were made in the science of manipulating the metabolism of algae and the engineering of microalgae algae production systems, but commercial availability of algae-based transportation fuels was not to be seen.[iii] ASP was run by the National Renewable Energy Laboratory, who found a number of promising algae strains, but not one that had all the desired features of both high algae productivity with rapid growth and high lipid accumulation.[iv]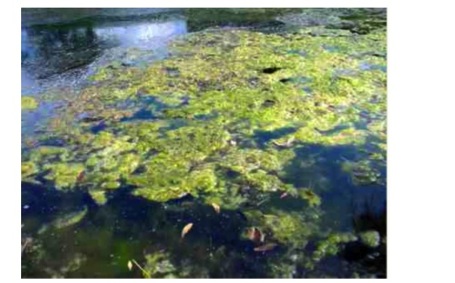 The United States consumes about 140 billion gallons per year of motor gasoline. Assuming algae can produce 3,000 gallons of liquid fuel per acre in a year, it would take around 45 million acres of algae to provide 100 percent of our motor gasoline requirements.[v]  That is about the size of North Dakota, our 19 largest state. While we have plenty of land in the United States, the huge algae reactors or open algae ponds that need large areas of sunshine for production found in the southern United States would need to be co-located with large industrial centers that are a source of carbon dioxide found more in the northern parts of the United States.[vi]
President Obama's program is not as ambitious since he is suggesting replacing only 17 percent of the petroleum that the United States imported for transportation fuel in 2008, about 21 billion gallons. According to the authors of a study from the Pacific Northwest National Laboratory, growing that amount of algae would require land roughly the size of South Carolina, our 40th largest state, and 350 gallons of water for each gallon of algal oil. That is about 25 percent of the water we currently use for crop irrigation, and is similar to the amount we use for ethanol production.[vii] The question is the availability of that amount of water and where to locate the plants to get it and still have the needed sunlight and access to carbon dioxide. Thus, even if technical barriers to algae production and harvesting are overcome, other barriers still exist.
Note that the land mass requirements in the above two studies differs, most likely based on the amount of liquid fuel algae can produce per acre, which may be the result of the type of technology used. The second study is using a much lower number for the amount of liquid fuel algae can produce per acre—about a third—of what the first study is using. That indicates that researchers are still a far way from knowing exactly what is feasible.
DOE status and Obama's Algae Program
DOE is currently subsidizing more than 30 algae-based biofuels projects, representing $85 million in total spending. Through the new funding, the Department wants to modify existing facilities at universities and national laboratories for long-term algae research and to test new production processes that could lead to commercialization, minimizing the water and nutrients needed to mass produce algae for commercial biofuels. The DOE awards represent the first phase in a total $30 million investment in algal biofuels in fiscal year 2012. The projects selected will receive up to $14.3 million in fiscal year 2012 funds, with an additional $6.7 million available in fiscal year 2014 funding, subject to Congressional appropriations.[viii]
President Obama wants to begin construction on at least four commercial-scale refineries for biofuels by 2013 and he touts that his new motor vehicle fuel standard regulations would help American families to save $8,000 at the pump over time. But these are not quick fixes to lowering the price of gasoline that he believes he has no control over.
What President Obama Can Do
President Obama has control over drilling permits on federal lands, which have moved excruciatingly slow due to the moratorium on drilling followed by his de facto moratorium. He has also leased less federal lands to drilling than any other President. In 2011, oil production on federal lands was down by 14 percent from 2010 levels, according to the Department of Interior.[ix] In addition, he has halted progress on the Keystone pipeline that would bring secure oil from Canada to U.S. refineries, opening up construction jobs in the United States. Instead, he has only backed a portion of the pipeline from Oklahoma through Texas to the Gulf Coast refineries. President Obama prefers to praise his lavish subsidies for renewable sources of energy, sponsoring  work on better car batteries, and a new nuclear plant rather than working to increase domestic oil production.[x]
As an example of what President Obama can do by just announcing changes (and meaning them) regarding production on federal lands, take an example from former President George W. Bush. When President Bush lifted the executive moratorium on offshore oil drilling on July 14, 2008, oil prices dropped on world markets by $9.26 per barrel – or 22 cents per gallon.[xi]
Conclusion
Obama's "all of the above" talk is not centered on increasing oil and gas production on federal lands and getting more oil from Canada, which can only help to relieve prices at the pump. The era of cheap, abundant energy from non-fossil fuels is still many, many years away — and anyone who suggests otherwise is not telling the truth. President Obama needs to face reality and open up federal lands to our abundant energy resources and encourage the use of Canadian oil in the United States by supporting the Keystone pipeline.
---