Key Takeaways
1
There is a growing gap between nickel raw material prices and processed nickel alloys, many of which are used in energy applications.
2
Prices are expected to continue upward to meet a growing demand from the aerospace industry as both Boeing and Airbus have received huge new orders for jet airplanes.
3
Governments including in the United States are pushing for more "green energy," which consumes nickel for all types of applications, including electric vehicles.
4
Because the aerospace industry will require large amounts of high value nickel alloys, the resulting scarcity could place further pressure on prices.
The global aerospace industry's recovery has increased demand for nickel, a key aircraft component due to its corrosion resistance, high strength and mechanical properties. This increased demand could complicate or delay new energy infrastructure by diverting metal supply from energy sectors such as upstream, offshore and liquefied natural gas (LNG) terminals, which use nickel for various equipment applications. It is also critical for renewable energy and the batteries that go into electric vehicles. Aerospace customers, who are procuring high nickel volumes, are extending lead times and increasing spot prices, particularly in Europe and the United States. Despite a downward trend in raw material prices, the increased demand from the aerospace industry is causing an upward trend risk in nickel alloy pricing that could last for the next 12 months and affect other industries.
Orders for new aircraft have risen due to the widespread resumption of global travel after the Covid-19 lockdowns, with Boeing and Airbus expected to have more than 2,400 new orders combined – a 40 percent increase from 2022–driven by strong orders from United Airlines, Ryanair, Riyadh Air, IndiGo and Air India. IndiGo's order of 500 A320 units in June was the largest single purchase agreement in the history of commercial aviation. In addition to procurement for commercial aircraft, defense expenditure is also expected to increase due to geopolitical tensions.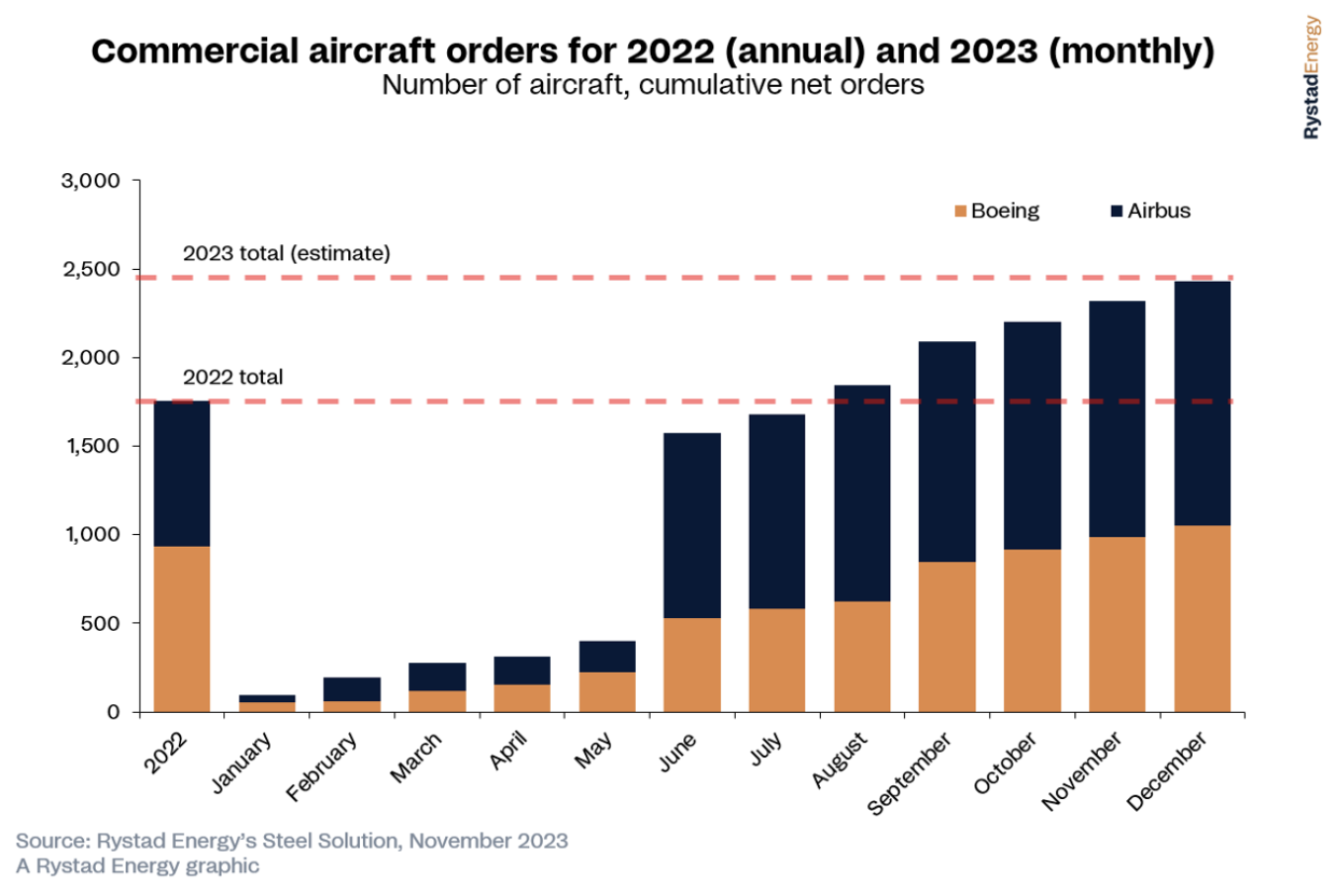 Nickel in the Energy Market
Nickel-containing materials are used in the oil and gas, power generation, renewable energy and EV battery industries. Nickel-containing alloys provide corrosion resistance needed in many components used for oil and gas production, including downhole tubing and safety critical elements, wellhead components and valves, pipelines, piping, vessels and heat exchangers. LNG facilities and offshore wind turbines use nickel to reduce seawater corrosion and stress corrosion cracking.
In fossil fuel power stations, nickel-containing materials are frequently selected for their corrosion and heat resistance, increasing durability in boilers and heat exchangers. As steam temperatures and pressures are increased to improve thermodynamic efficiency and reduce carbon dioxide emissions, more creep-resistant materials are used in the turbines and in environmental control equipment.  In nuclear power plants, nickel alloys are used in both the heat transfer and cooling systems and inside the reactor vessel. They are also used in containers that hold radioactive waste. In onshore wind power, nickel is used in the gearing and generator components.
Nickel is a key ingredient in lithium-ion batteries for electric vehicles and stationary energy storage systems. Nickel-based cathodes offer more energy density and longer driving ranges as compared to cathodes with lower nickel content.
The cost of nickel alloys, however, can be challenging. The cost can exceed $60,000 per metric ton. In the global refining, chemical, power and LNG sectors, which collectively require close to 1 million metric tons of stainless-steel bars, it is estimated that only around 2,500 metric tons of high-nickel alloy bars will be used in 2023. However, this demand is expected to grow.
High-nickel bars represent a niche but indispensable segment of the stainless-steel bar market where attributes such as high strength, corrosion resistance and temperature tolerance are important. They are used in diverse settings, ranging from valve assemblies in petrochemical plants to rotating equipment in power generators and nuclear reactors.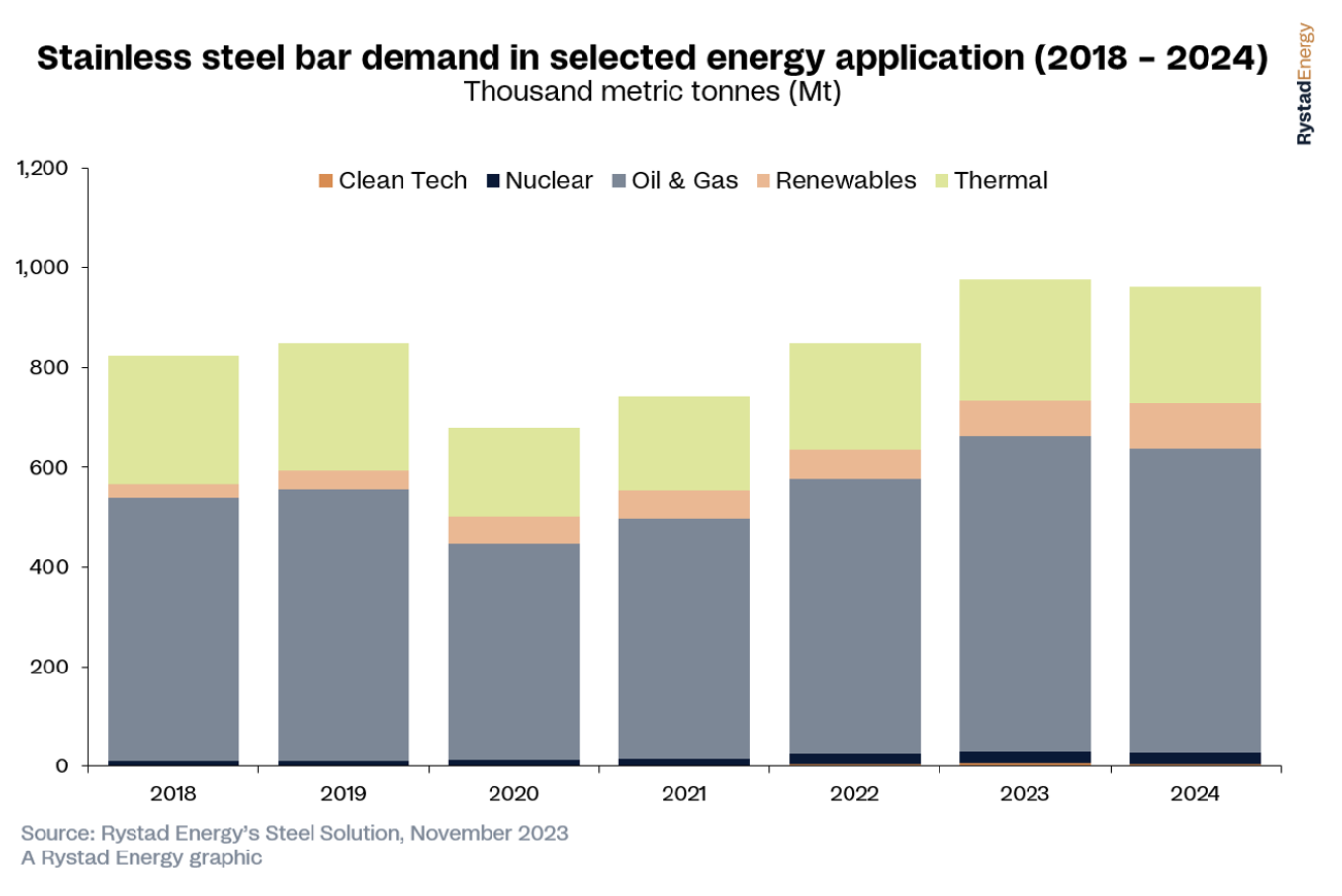 Global production capacity for bar grades is estimated at approximately 20,000 metric tons, which means that the downstream and power sector is a small proportion of the overall demand for the materials, significantly smaller than aerospace. Aerospace manufacturers typically represent the lion's share of accounts as mills benefit from larger order volumes and higher margins.
Conclusion
The use of high-nickel super alloys is typically lower in energy applications than in the aerospace sector, with lower individual order volumes and a heavier project dependency. Despite raw material costs declining, limited supply for smaller orders of nickel alloys has driven prices up since the start of this year. With mill lead times continuing to lengthen, prices are likely to increase further, even as material prices remain low. One response might be to welcome nickel mines in the United States, which could increase investments in processing and the making of alloys, but President Biden has put the most prospective mines in the United States off limits in Minnesota, the nation's "nickel belt."