The Environmental Protection Agency (EPA) has set rules limiting the amount of carbon dioxide a new coal plant can release, forcing coal plants to use expensive, unproven carbon capture and storage (CCS) systems to meet that limit. But CCS technology is nowhere ready for prime time. EPA's push for CCS appears to stem more from its meeting and correspondence with environmentalists than actual feasibility testing with the unproven technology. Further, the agency plans to set carbon dioxide emissions standards for existing coal plants later this year[i], which will wreak havoc on our largest source of electricity. EPA's destruction of the coal industry had already started with its Mercury and Air Toxics Rule (colloquially called Utility MACT) and the Cross State Air Pollution Rule (CSAPR), leading companies to prematurely retire over 30,000 megawatts of coal-fired capacity by the end of 2016 instead of trying to comply with costly regulations.
A large blow to EPA's progress on this new rule, however, came when CPS Energy, a Texas utility, pulled out of a 25-year agreement to buy power from the Texas Clean Energy Project, which is one of four U.S. coal projects under development using CCS technology that EPA cites to justify the feasibility of its latest coal rule.[ii] None of the projects EPA cites are commercial, and all CCS projects are under development with government money. CPS Energy cites delays in the Texas project and cheaper sources of generation as reasons for pulling out of the agreement.
The New EPA Rules
The new rules proposed by the EPA will require new coal-fired plants to limit emissions of carbon dioxide to 1,100 pounds per megawatt-hour of electricity. The rule sets a threshold of 1,000 pounds per megawatt-hour for new, larger natural gas plants and a threshold of 1,100 pounds per megawatt-hour for smaller natural gas plants. For natural gas-fired power plants, the new rules limit their emissions to about what the new plants of their size would currently emit. For, coal-fired power plants, however, the new rules require a substantial reduction in carbon dioxide emissions that can only be met by installing costly carbon capture and sequestration technology that is not currently economically or commercially viable.
Carbon Capture and Storage Technology
CCS technology involves separating and capturing carbon dioxide when burning coal, or other fossil fuels, and storing the captured carbon underground.  Some of the captured carbon dioxide can be sold to oil and gas companies for enhanced oil recovery.[iii] But the amount of captured carbon that would result from all the fossil fuel plants in this country would require thousands of miles of pipelines, whose location and development have not begun to be considered. Yet, EPA wants Americans to believe that the technology is available for coal plants to comply with its latest rule.
EPA is required by law to ensure that its regulations are technologically viable and commercially available.[iv] The four carbon capture and sequestration plants which EPA cites as technologically viable and commercially available are[v]:
The Texas Clean Energy Project, which received $450 million from the Department of Energy (DOE) under the Clean Coal Power Initiative (the plant is still on the drawing board)
The Kemper County Energy Facility in Mississippi, which received a $270 million grant from the DOE and $133 million in investment tax credits approved by the IRS. It was originally projected to cost $2.4 billion but is now expected to cost $4.3 billion.
NRG Energy's post-combustion carbon capture project, which is located at the company's W.A. Parish generating station southwest of Houston. The project received $167 million from DOE's Clean Coal Project Initiative. According to NRG Energy, the demonstration facility is expected to be operational in 2016.[vi] Ground was broken for the facility in the fall of 2012 and it was originally expected to be operational in the summer of 2013.[vii]
The Hydrogen Energy California Project in Kern County, California, received a $408 million grant from the U.S. Department of Energy. This project is still in the planning phase and is expected to be operational in 2018. Total project cost is estimated at $4.028 billion for a 405 megawatt plant.[viii]
SaskPower's Boundary Dam project–a Canadian project that is budgeted at $1.24 billion on a small, 110-megawatt power plant. The project received $240 million from the Canadian government in 2010 and is $115 million over budget as of October 2013.
Regardless of the status with these plants, EPA is going ahead with these rules, claiming the agency has "peer-reviewed" evidence that carbon capture and sequestration is possible. The EPA's definition of peer-review, however, is different from most. According to documents from the U.S. Department of Energy (DOE), the studies relied on by the EPA to prove that carbon capture and sequestration is a viable option were performed by DOE, but only peer-reviewed by EPA. Further, DOE could not produce "a documented or publicly available description for this peer review process."  EPA's Science Advisory Board also indicated that the peer review was "inadequate."[ix]
And even if the technology were commercially available, it would price coal out of the market place. According to DOE, using commercially available carbon capture and sequestration technologies would add around 80 percent to the cost of electricity for a new pulverized coal plant, which would add $664 billion to our national electric bill.[x]
Even the International Energy Agency (IEA) has indicated that progress has stalled on carbon capture and storage technology.[xi] This is evidenced by CPS Energy pulling out of its agreement to purchase power from the Texas Clean Energy Project due to project delays and competition from low cost natural gas. Also, a just-released report co-authored by Heather Zichal,[xii] the former Deputy Assistant to the President for Energy and Climate Change, stated that carbon capture is not commercially available:
"Instruct agencies that in setting national priorities for energy resources generally and for transportation fuels in particular, the Administration will not rely on unproven or commercially unavailable technologies – for example, reducing the climate impact of a fuel with carbon capture and sequestration."   (See page 134)
Lastly, if EPA's carbon capture plans from coal or natural gas power plants are followed, the carbon dioxide will initially be used for enhanced oil recovered from oil fields. This means that, on net, carbon dioxide emissions will increase as the oil is produced using enhanced oil recovery.
Global Coal Demand Rises
In its Midterm Annual Coal Market report, the IEA notes that coal will meet more of the increase in global primary energy than either oil or natural gas – continuing a trend that has been in place for more than a decade–with China accounting for almost 60 percent of new global demand over the next five years.[xiii] According to Reuters, China approved the construction of more than 100 million metric tons of new coal production capacity in 2013, six times more than a year earlier and equal to 10 percent of the annual coal consumption in the United States.[xiv]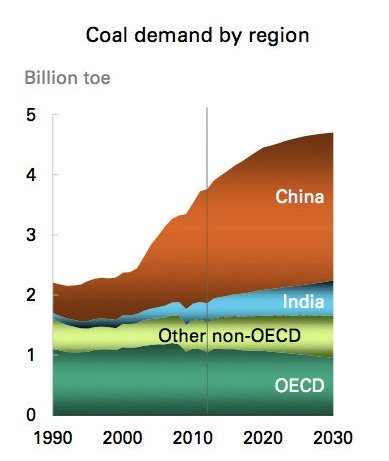 Source: http://www.powerlineblog.com/admin/ed-assets/2014/01/China-Coal-copy.jpg
Energy policies have caused some Organization of Cooperation and Development (OECD) countries to turn to coal for generating electricity. Germany, for example, is backing up its wind and solar plants with coal because of high natural gas prices in Europe and the country's policy to phase out its nuclear units. Electricity generation from lignite coal in Germany reached its highest level since 1990 as coal-fired plants replaced eight nuclear power plants that were shut down.[xv] Germany has approved ten new coal-fired plants that are scheduled to come online in the next two years, increasing the country's coal capacity by 33 percent.[xvi]
Coal Needed for Grid Reliability
The 'polar vortex' hitting the United States has resulted in coal-fired generation in the Northeast replacing gas-fired generation, whose prices spiked as limited pipeline infrastructure could not fill the weather-related demand for natural gas. Natural gas prices more than doubled in New England and more than tripled in New York during the cold snap due to pipeline infrastructure problems. Now PJM, the grid operator from Virginia to New Jersey to Illinois wants a dispensation to allow power plants to be able to collect over $1000 per megawatt hour due to spiking cold-related demand.[xvii]  This has brought into perspective the need for coal-fired plants to maintain reliability of the electric grid. But, EPA's regulations against coal are causing coal-fired plants to close prematurely thereby reducing fuel diversity in the Northeast and leading to a more expensive and volatile electric grid.[xviii]
According to the Energy Information Administration (EIA), U.S. coal-fired generation increased by over 6 percent for the first 9 months of 2013, and according to its Short-Term Energy Outlook, it will continue to grow through 2014 as a hedge against rising natural gas prices. But, EIA expects gains made by coal in 2013 and 2014 will be eroded as EPA's utility MACT's implementation forces plants to retire in 2015 and 2016.
Conclusion
According to Bruce Nilles, Director of the Sierra Club's Beyond Coal campaign, "The end of coal is coming, and millions of Americans are already benefitting from cleaner, affordable, more modern sources of energy like wind and solar."[xix] Environmentalists want this to be true despite wind and solar supplying just 4 percent of the nation's electricity during the first 9 months of 2013. But, recent events in Germany and the 'polar vortex' in the United States have shown that wind and solar cannot be counted on to produce reliable power. And, it is coal that has saved the day during the cold snap in the Northeast.
But regardless, the Environmental Protection Agency is working to 'kill' coal powered generation in this country with its onerous regulations. As Senator David Vitter said, "In typical EPA fashion, they're putting the cart before the horse to advance their environmental policy agenda. They're moving forward with a controversial rule to regulate carbon based on technology that isn't commercially available. Not only is this wrongheaded, it's beyond the scope of their legal authority." EPA is pursuing its regulation on new coal-fired capacity requiring it to use carbon capture and sequestration technology when that technology is not commercially available. And yet, while the Obama Administration tries to kill coal-fired generation in this country, the rest of the world is increasing its consumption, particularly China, who knows it needs coal-fired generation to fuel its economy.
---