President Barack Obama told us back in 2008 that if someone wanted to build a coal plant, they can, but it will bankrupt them.[i] His policies against coal are working—coal plants are closing and coal workers are losing their jobs.  The Energy information Administration reported that U.S. coal production through September 15, 2012 is down by over 5 percent from the same period last year.[ii]  But other countries that do not have our largest-in-the-world coal reserves are not following our country's lead in decimating the coal industry.
Across Europe and Asia, coal production and consumption is on the rise. Russia's coal production increased substantially in 2011, reaching the highest level since the Soviet Union was dissolved. The Russian government's strategy is to increase coal production and electricity generation from coal so as to reduce its demand for natural gas, allowing more natural gas for export and more revenues for the country.[iii] European utilities are planning to add 10,600 megawatts of coal-fired capacity over the next four years in seven countries—over 6 times more than natural gas capacity.[iv] And China increased its coal consumption by almost 10 percent in 2011, now consuming over 4 billion short tons—over 4 times that of the United States.[v]
The U.S. Coal Industry Status
Due to new regulations from the Environmental  Protection Agency (EPA) and low natural gas prices, coal fired generation in the United States has decreased from a 48 percent share of the generation market in 2008 to a 42 percent share in 2011. And, for the first 6 months of 2012, it is down to a 35 percent share.[vi] Due mainly to lower demand from the generation sector, coal consumption in 2011 was 10.8 percent lower than in 2008.[vii] Further, it is still dropping; it is 3 percent lower for the first 8 months of this year than the first 8 months of last year.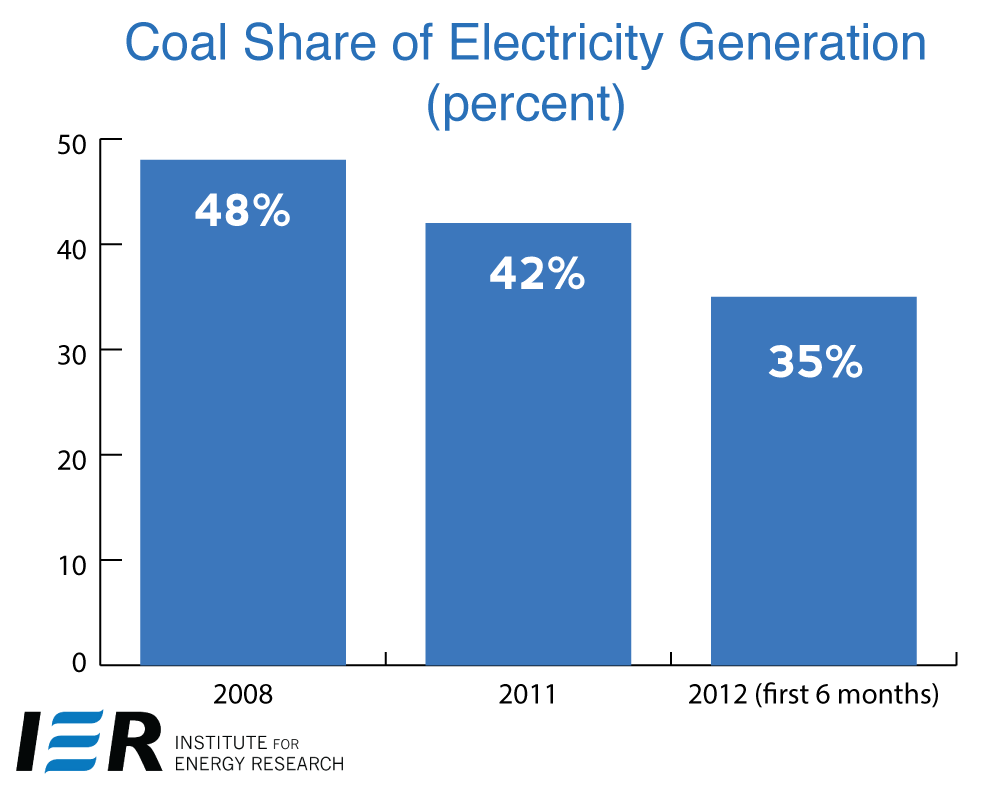 Source: Energy Information Administration, Monthly Energy Review, http://www.eia.gov/totalenergy/data/monthly/pdf/sec7_5.pdf
Those demand losses mean coal plant closures and job losses.  For example, the J. E. Corette coal-fired power plant in Montana will be shuttered in April 2015. According to Pete Simonich, PPL Montana vice president and chief operating officer, "Our detailed analysis has shown that to meet the emission reductions required by EPA's mercury and air toxics standards, we would need to invest $38 million in the Corette plant. We simply cannot justify that level of spending in the current wholesale power market in the Northwest." The Mercury and Air Toxics Standards take effect in April 2015, but pending also is the Regional Haze Federal Implementation Plan for Montana, and other regulations regarding the disposal of Coal Combustion Residuals.[viii] The 154-megawatt Corette coal-fired plant opened in 1968 and currently employs 35 full-time workers. [ix] PPL is making the announcement now out of courtesy to its employees and to the community since the closure of the plant will result in lower property taxes that are now set at $3.4 million.
PPL Montana is not the only company shuttering coal-fired power plants. In January, FirstEnergy announced the early retirement of six coal-fired power plants in Ohio, Pennsylvania and Maryland, due to the high cost and uncertainty associated with new EPA regulations. In February, GenOn announced that it would shutter 13 percent of its generating capacity by 2015 due to the new environmental regulations.[x]
According to the American Coalition for Clean Coal Electricity (ACCCE), 204 coal-based generation units, 31,000 megawatts of capacity, are due to be shut down. The closing of these 204 coal units crosses 25 states and is the equivalent to turning off the lights across the entire state of Ohio. According to the analysis by ACCCE, the states with the most coal-fired generating capacity being prematurely closed are Ohio, Pennsylvania, West Virginia, Virginia and North Carolina, which combined have 103 coal units scheduled to shutter, representing almost 18,000 megawatts. Other states hit hard by the EPA regulations are Indiana, Colorado and Iowa.[xi]
Coal power plant closings mean coal mine closings. Coal producer Alpha Natural Resources is closing eight mines in Virginia, West Virginia and Pennsylvania, laying off 400 workers now and 1,200 workers out of 13,000 by early 2013. Alpha indicated that the "regulatory environment that's aggressively aimed at constraining the use of coal" in Washington DC was clearly part of the cause for the layoffs. Other companies laying off workers are: Arch Coal laid off 10 percent of its work force in Appalachia in August (750 full-time jobs);  PBS Coal and its affiliate, RoxCoal, laid off 225 workers in Pennsylvania in July; and Consol Energy cut 318 jobs in West Virginia this summer.[xii] According to the Baptist Press, ministries in Appalachia are being stressed with more needy people as coal workers are being laid off or furloughed.[xiii]
Russia
Russia ranks second to the United States in coal reserves (173 billion short tons vs. 263 billion short tons). In 2011, Russia produced 372 million short tons of coal and consumed 262 million short tons, making it the sixth-largest producer and consumer of coal in the world. Russian coal production increased substantially in 2011, reaching its highest post-Soviet production level. The government's strategy is to increase coal production and coal-fired generation to enable the country to reduce natural gas demand, allowing more natural gas to be exported. Russia exports natural gas to customers in the Commonwealth of Independent States (CIS) – about 35 percent of total exports. About 70 percent of Russia's non-CIS exported natural gas is piped to Europe, with Germany, Turkey, and Italy receiving the majority. Political and economic disputes have arisen over these pipeline shipments with neighboring country such that European countries are seeking alternate sources of natural gas to ensure security of supplies.
China
China ranks third in world coal reserves, but out-produces and out-consumes all other countries in coal use. In 2011, China consumed over 4 times the coal that the United States consumed. While China has been the world's leading coal consumer for decades, it increased its coal consumption tremendously in 2011—by almost 10 percent, while coal consumption in the United States declined by over 4 percent.[xiv]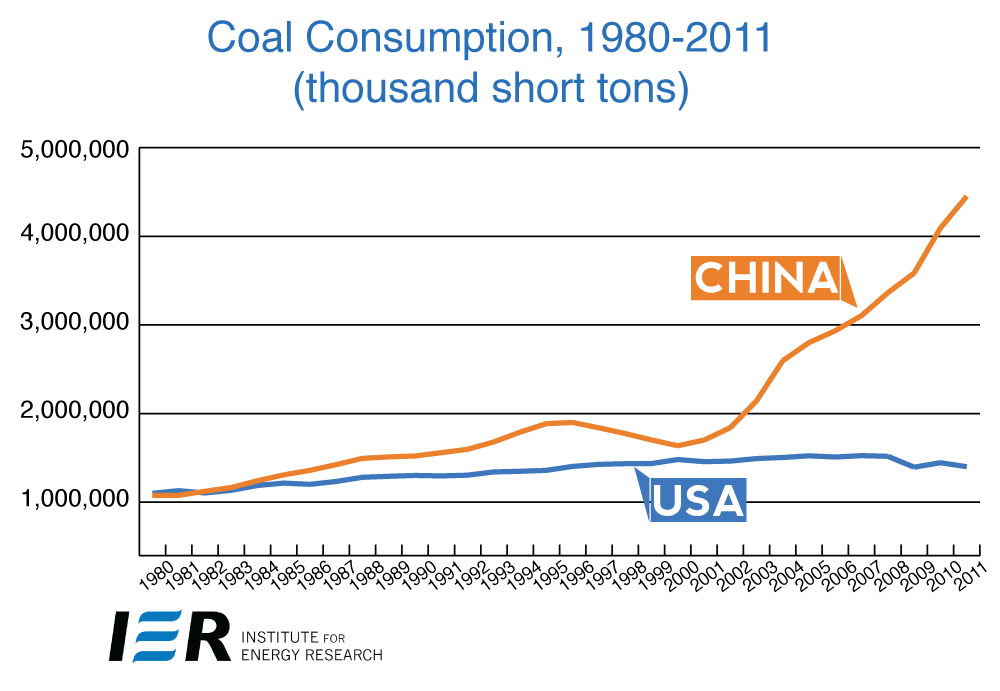 Source: Energy Information Administration, International data, http://www.eia.gov/cfapps/ipdbproject/iedindex3.cfm?tid=1&pid=1&aid=2&cid=regions&syid=1980&eyid=2011&unit=TST
China continues to build coal-fired plants at record numbers in order to fuel its economy and produce a better life for its citizens, many of whom are still without power. As can be seen below in the chart from the Department of Energy's National Energy Technology Laboratory (NETL), China has been building 60 to 80 gigawatts of coal-fired power plants a year since 2006 and will continue to do so through 2016 if NETL's estimates are correct. That means its coal consumption will continue to increase beyond the 4 billion short ton mark it has already achieved. Note that there are no coal-fired power plants coming on-line in the United States after this year or even under construction according to NETL. And, the few coal-fired plants that came on line prior to 2012 were just a token, generally much less than 10 percent of what China had been and still is constructing.[xv] Between 2006 and 2016, China is building more coal- fired electrical capacity each year than the United States will build during the entire period.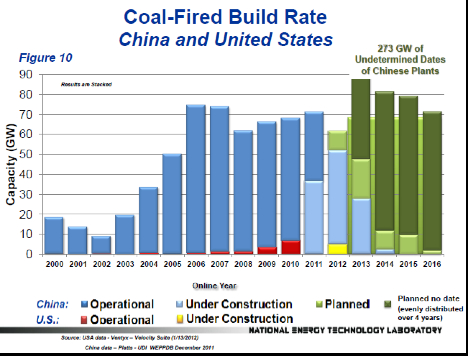 Source: National Energy Technology Laboratory, Tracking New Coal-fired Power Plants, January 13, 2012, http://www.netl.doe.gov/coal/refshelf/ncp.pdf 
Europe
Europe is burning coal at its fastest pace since 2006, as imports from U.S. producers such as Arch Coal Inc. helped cut prices 26 percent in a year, benefiting European power companies. Demand for coal grew 3.3 percent last year in Europe while sales of natural gas fell 2.1 percent, the largest drop since 2009.[xvi]
European utilities are expected to add more coal-fired power capacity than natural gas-fired capacity in   the next four years. Power producers are expected to bring on line six times more coal-fired generating plants than gas-fired units by 2015, adding as much as 10,600 megawatts of new coal plants in seven central European countries in the next four years, compared with 1,600 megawatts of new natural gas-fired capacity. Northwest Europe's coal-fired capacity will increase to 68,000 megawatts in 2013—an increase of 4.6 percent.
Germany is Europe's largest power market and Germany's largest utilities are considering shutting unprofitable gas-fired plants in favor of coal-fired capacity. The Merkel government is stressing that fossil fuels will remain the foundation of German energy supply for many years to come and that it will be reflected in a new national energy plan due next year. Currently, nuclear power makes up 18 percent of Germany's electricity supply although the government is interested in phasing it out due to the nuclear accident in Japan, renewable energy makes up around 20 percent – and the remaining 60 percent or so comes from brown coal, anthracite, and natural gas. The use of coal-fired power plants has been growing in Germany. Deutsche Bank predicts that 25 percent of German's gas-fired power plant capacity will be shut by 2015, and be replaced by coal power.[xvii]
"Coal will continue to remain on the money in Europe because it's more competitive to burn than gas," said Trevor Sikorski, an analyst at Barclays Plc in London. "More and more of the coal to Europe will come from the U.S. where just the opposite is happening."
Conclusion
Coal's situation in the United States under President Obama is not a pleasant one with the coal-fired generation market losing almost 15 percentage points in its share of electricity generation. Coal plants are shuttering and coal employees are being laid off. Joe Manchin, West Virginia's Democratic Senator, referred to the Alpha layoffs by saying that while the company had suffered competitive ups and downs over the years, "they can't be expected to fight their own government too," and stating that "there's a balance to be found between the environment and the economy and the EPA has worked very hard to avoid finding that balance." It certainly seems that this Senator has hit the nail on the head when it comes to the coal industry's future under the current direction of President Obama's EPA.
---