U.S. coal exports reached their third-highest annual level in 2018 at 116 million short tons, third to the 126 million short tons exported in 2012 and the 118 million short tons exported in 2013, according to estimates from the Energy Information Administration (EIA). EIA estimates the increase in U.S. coal exports in 2018 to be 19 million short tons—19 percent, which followed a 61 percent increase in 2017. While the United States is consuming less coal due mainly to competition from low natural gas prices in the generating sector and the addition of solar and wind through mandates and subsidies, other countries, particularly in Asia, are increasing their use of coal as they move toward increased electrification and economic growth. In fact, coal's share of the global electricity market in 2017 is the same as two decades ago—38 percent—the largest share of any fuel. And, according to the EIA, countries in Asia and Africa are expected to increase their use of coal in power generation through 2040.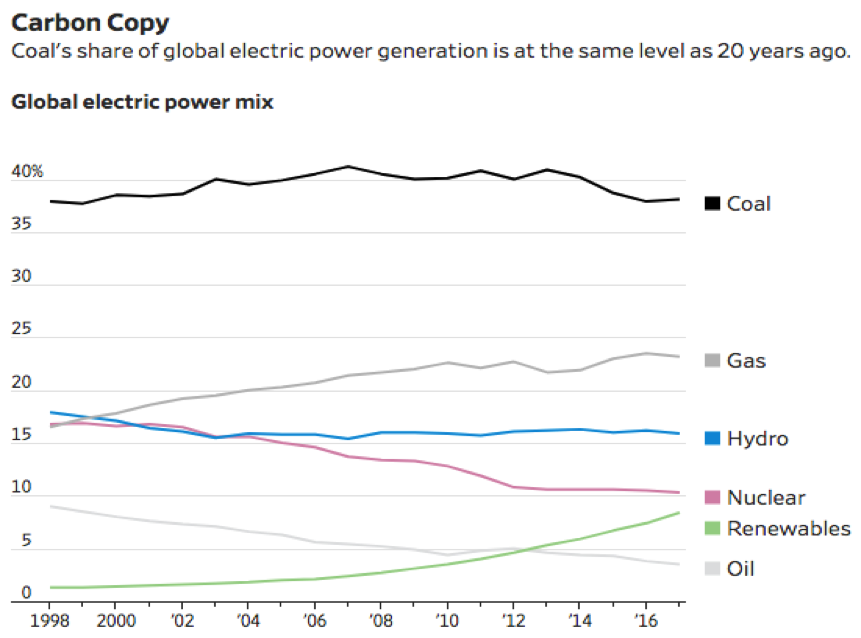 Asia
The Asian Pacific region has the world's largest coal reserves, mainly in Australia, China and India, and China and India account for most of the growth in coal use. According to BP's Statistical Review of World Energy, China generated 67 percent of its electricity from coal in 2017, compared to 31 percent for the United States. As of 2017, coal remained the largest source of energy in China at just over 60 percent of its total energy mix. China's coal production increased by 3.3 percent in 2017 to over 3.5 billion metric tons—5 times greater than that of the United States. China consumes just over half of the coal consumed worldwide.
In India, the Modi Government is working on its goal of universal household electrification through the opening of 52 new coal mines since Narendra Modi's government came to power in May 2014. Nearly 20,000 villages in India and 24.8 million families have received power connections as a result. The 52 new coal mines reflect an 86 percent increase over the 28 mines it added in the five-year period between 2009 and 2014. The new mines added 164 million metric tons to India's annual coal production capacity, increasing capacity by 113 percent over 2009 to 2014 additions. India generates 57 percent of its electricity from coal.
Vietnam plans a fivefold increase in its coal capacity through 2035, according to the Clean Coal Centre, a division of the International Energy Agency.
Bangladesh plans to use coal to generate 50 percent of the country's power by 2030—an increase from 2 percent today. Like many countries in the region, it is funding its expansion with loans and technological help from China and Japan. A coal plant being built on Matarbari Island in Bangladesh will cost about $4 billion, with most of its financing coming from the Japan International Cooperation Agency.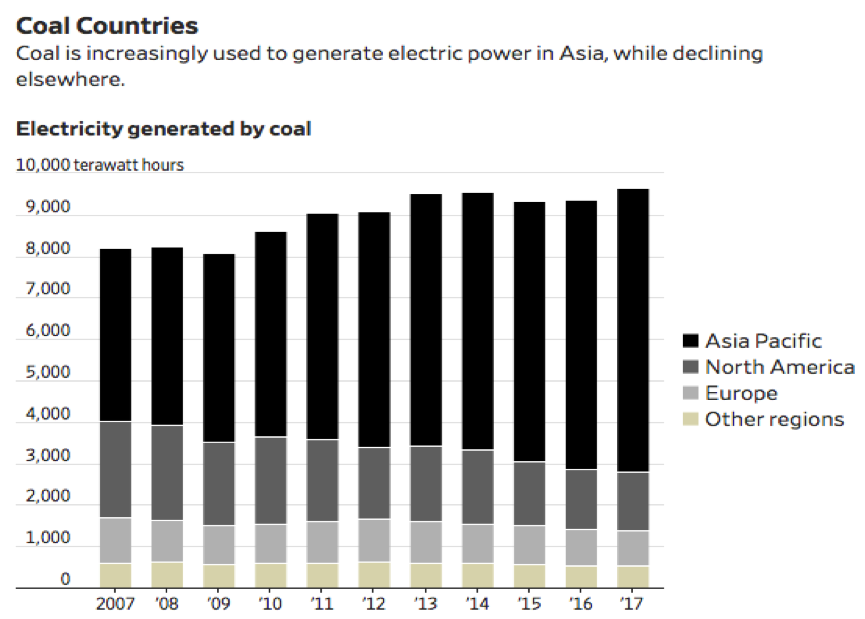 Australia
Despite most developed countries cutting back on coal, a deal was signed to develop two new 1,000-megawatt coal-fired power plants near Kurri Kurri in the New South Wales Hunter region of Australia. The investment company Kaisun Holdings announced it had signed a memorandum of understanding with a Chinese state-owned power provider and a tiny Australian private company to build the two 1,000-megawatt power stations. The estimated cost for the two units is between $4 billion and $5 billion, and would require a government capital subsidy of about $2 billion. Australia has been suffering from rapid deployment of renewable energy which has rendered its grid unstable and there is a need for baseload generation to back-up their systems.
Nigeria
Africa, too, is looking to electrify by using coal. In Nigeria, Africa's biggest economy, about 54 percent of the country's 190 million citizens lack access to electricity. Nigeria currently generates its power with hydroelectricity and natural gas, but frequent vandalism of gas pipelines causes power shortages. The government wants to eliminate the power shortages that currently hamper commerce and force many Nigerian businesses to run diesel-fueled backup generators.
By 2030, Nigeria plans to add 30 gigawatts of power, of which about 30 percent will be produced by renewable sources and about 3 percent will be from coal. There are about 2 billion tons of coal in Nigeria, according to estimates, and using it for power generation could be a boon to its economy. The project will cost about $3.5 billion a year; however, the World Bank will only help fund the renewable portions of the project. The World Bank has decided to not fund coal generation, under pressure from some of its members and non-governmental pressure groups.
Conclusion
Despite their commitments to the Paris climate agreement, countries are still planning to use coal to electrify their communities and to ensure economic growth. While industrialized nations are fooling themselves into believing their reduced carbon dioxide emissions will curb global climate change, developing nations are enjoying increased economic growth from using the world's abundant coal to generate electricity.