Europe is using more gasoline despite the push to electric vehicles as consumers are holding onto their vehicles longer.
Car ownership is increasing in Europe as remote work results in more people living in the country where vehicles are a necessity.
EV market share grows because of government subsidies, despite their much higher costs.
Despite increased electric vehicle sales in Europe, its gasoline demand is rising. In the UK, gasoline demand for the January-to-June period this year was the strongest since 2015, according to Bloomberg. In France, gasoline demand hit a 20-year high during the summer. In Spain, gasoline demand rose to the highest level in more than a decade. In eastern European nations like Poland, it is the strongest ever.
For a time, European gasoline demand was dropping year after year, with oil executives and media assuming that consumption would fall somewhere between 1 and 2 percent per annum, driven by more efficient engines and the increase of diesel-powered vehicles, particularly in Germany and France. That trend changed around 10 years ago as gasoline use first stabilized, and then started to climb. Based on preliminary data, European Union gasoline consumption hovered this summer at a 10-year high.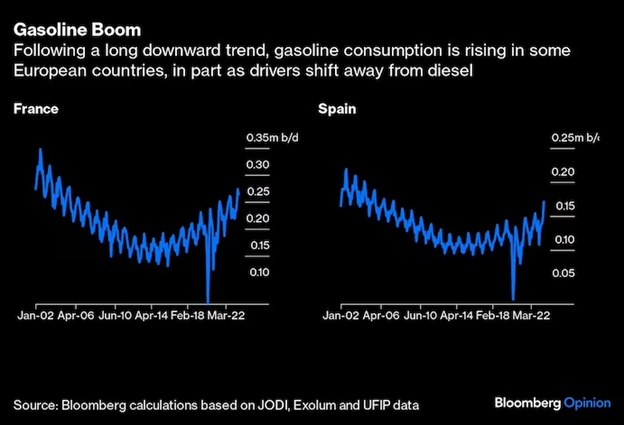 The Reasons
In 2015, Volkswagen AG, the German automaker synonymous with diesel cars, admitted it engines polluted more than the company had originally indicated. The scandal, called "Dieselgate," turned Europeans away from buying cheaper-running diesel vehicles. Gasoline became the choice for many Europeans, increasing demand.
At the same time, Europeans were keeping their cars far longer, damping the impact of newer, more fuel-efficient models on overall consumption. Today, new cars are pricey, and families are more budget conscious due to inflation. Manufacturers are having to increase prices on all vehicles to cover the costs of the transition to electric vehicles ordered by their governments. There are also fewer new models due to chip shortages. Cars today last longer as they are built better than they did one or two decades ago. Finally, consumers fear choosing the wrong kind of vehicle as battery technology quickly advances, opting to delay their EV purchases as long as they can. As a result, the European fleet is older: In 2006, the average European car was 8.4 years old; today, it is more than 12 years old.
There are also more automobiles on European roads. Over the past decade, the number of autos surged by nearly 40 million, reaching almost 250 million in 2022. Even if electric vehicles take a progressively larger share of new registrations, the overall increase in vehicles means the absolute number of gasoline-powered cars is at least holding. (See the next section on the latest auto sales numbers.)
Working from home in the post-COVID-19 era reduced commuting into downtown from the suburbs. In the United States, it reduced the number of miles driven; in Europe, due to stronger government transport networks, it has not eroded fuel demand as much. On the other hand, remote work has made it possible to live in the countryside, making cars a daily need rather than a weekend necessity. In the post-pandemic era, the desire for holidaying and traveling has increased and climate change concerns were mostly absent on the continent's roads this summer, as highways to beaches were packed.
Ironically, the shift toward electric vehicles cars may also be escalating gasoline demand. Some electric vehicles are powered only by their batteries; others are plug-in hybrids with an internal combustion engine to supplement their batteries. Rather than plugging in their hybrid electric vehicles, some consumers are choosing instead to run them on gasoline.
Europe's Car Market
European new car registrations increased 15.2 percent in July, the 12th consecutive month of growth. Electric vehicle sales increased 60.6 percent, as EV subsidies in a number of European Union countries continue, although electric vehicles in Europe are considerably more expensive than internal combustion engine vehicles. Full electric vehicles accounted for 13.6 percent of all new car sales, up from under 10 percent in July 2022. Plug-in hybrids accounted for 7.9 percent of sales, while one in four vehicles sold in the EU was a full hybrid. Gasoline and diesel engine models made up just under 50 percent of sales. Diesel vehicles, which alone comprised more than 50 percent of new car sales in 2015, accounted for just over 14 percent of new car sales in July.
Conclusion
Gasoline demand in Europe has shifted from falling to plateauing to rising, as consumers switched from diesel vehicles to gasoline vehicles that are considered less polluting. The current surge in gasoline consumption indicates that the governments' declining oil use mantra is misleading. The energy transition seems to have contradictory trends, as gasoline remains king in the auto world–even in Europe–despite the increase in EV sales.