President Biden revoked leases legally granted in the Arctic National Wildlife Refuge (ANWR) in Alaska, which is in direct violation of federal law.
Biden also proposed vast restrictions on petroleum exploration and development in the National Petroleum Reserve-Alaska (NPRA).
State and federal elected officials in Alaska condemned the move as illegal and imprudent given the area's proven capacity to assist in U.S. energy security and economic strength.
President Biden's Interior Department has revoked seven remaining oil and natural gas leases in Alaska's Arctic National Wildlife Refuge that were sold during the Trump administration and unveiled a proposal to ban new leasing and development on 10.6 million acres of the 23-million-acre National Petroleum Reserve-Alaska. The reserve was set aside for oil supply needs roughly a century ago. The oil and gas leases were bought by an Alaska state development agency during the Trump administration. Although it would take years to develop the leases and produce oil and gas from the tracts, the moves seem to run counter to Biden's earlier demands that U.S. oil companies increase output. This is happening when oil prices have spiked to $90 a barrel as Saudi Arabia and Russia extend their oil production cuts and while Biden is in talks with Iran and Venezuela to produce more oil for the global market. Biden has already sold 260 million barrels from the U.S. Strategic Petroleum Reserve prior to last year's election, putting the emergency oil reserve at a 40-year low.
Earlier this year, the Biden administration approved the Willow oil project in the national petroleum reserve, a project by ConocoPhillips that could produce up to 180,000 barrels of oil a day on Alaska's petroleum-rich North Slope. Now, the Biden administration is proposing to put protections on more than 20,000 square miles of land in the reserve in the western Arctic. A proposed rule would establish an outright prohibition on any new leasing in 10.6 million acres, or more than 40 percent of the 23-million-acre National Petroleum Reserve-Alaska (NPR-A). The Biden administration also announced proposed rules aimed at providing stronger protections in 2.4 million acres of the NPR-A that are designated as special areas for wildlife, subsistence, scenic or other values, and claims that their land restrictions will ensure the "entire United States Arctic Ocean is off limits to new oil and gas leasing". Those protections would be reviewed at least every five years, with safeguards meant to ensure they cannot be easily undone. The proposal must go through a public comment period. While the Willow project lies within the reserve, it is not expected to be affected by the proposed rules.
The Arctic National Wildlife Refuge (ANWR) sits atop of an estimated 11 billion barrels of oil–an amount larger than the original estimates for nearby Prudhoe Bay. In 2017 Congress passed, and President Trump signed, a tax law that authorized and required leasing for oil and gas drilling in the wildlife refuge. The Arctic National Wildlife Refuge's 1.5-million-acre coastal plain of the 19.64 million acre refuge, which lies along the Beaufort Sea on Alaska's northeastern edge, is seen as sacred by the Indigenous Gwich'in because it is where caribou they rely on migrate and give birth. Migratory birds and caribou pass through the plain, which provides habitat for wildlife including polar bears and wolves. The Gwich'in, however, live 140 miles south of the area in question, on the other side of a major mountain range. The people indigenous to the area, the Inupiat Eskimos of the North Slope, see no conflict with wildlife based upon 50 years of experience with Prudhoe Bay's oil operations, and support drilling. And, and at that latitude, trees do not grow because of continuous permafrost.
Alaska political leaders have long pushed to allow oil and gas drilling in the refuge in part because of its economic impact on Indigenous communities in an area with few other jobs. These communities depend on drilling for jobs and revenue to support schools and other public services. The leased area would cover about 2,000 acres or about .01 percent of the ANWR surface area.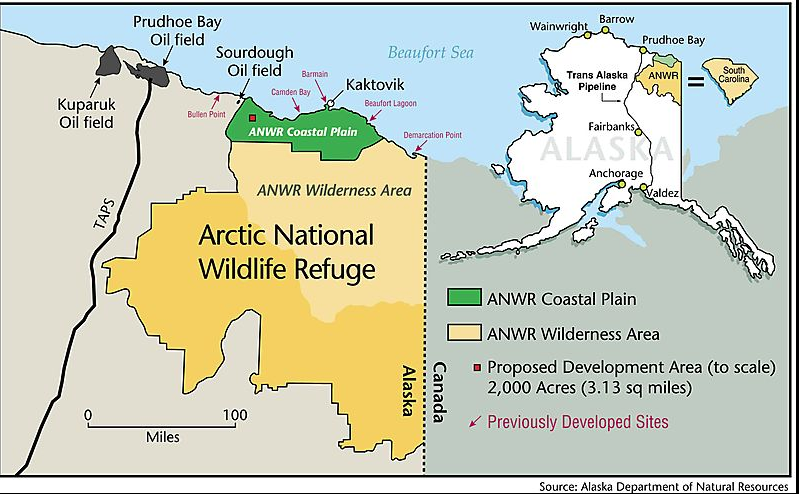 Despite the economics, President Biden has been on a war path against oil and gas development in Alaska. After taking office, President Biden issued an executive order calling for a temporary moratorium on activities related to the leasing program and for the Interior secretary to review the program, despite an unambiguous legal directive to the Department to conduct leases. Interior Secretary Haaland later in 2021 ordered a new environmental review after concluding there were "multiple legal deficiencies" underlying the Trump-era leasing program. She halted activities related to the leasing program pending the new analysis, which was just released. Haaland said that "no one will have rights to drill for oil in one of the most sensitive landscapes on earth." However, the 2017 law mandates another lease sale by late 2024 and administration officials said they intend to comply with the law.
Alaskan oil production has dwindled in the last three decades from more than 2 million barrels per day produced in 1988 to less than 500,000 barrels per day. The low throughput is a problem to the viability of the Trans Alaskan pipeline system that needs the oil flow to keep it operational and economic. In July of 2023, Alaskan oil production was 402 thousand barrels per day, dangerously close to levels where the Trans-Alaskan Pipeline System (TAPS) can no longer operate because of lack of throughput. What TAPS needs is more oil, but Biden's anti-oil and gas policies are in the way of more oil production in Alaska. If the pipeline is forced to shut down it would end one of the most capital-intensive projects in the United States, consisting of an 800 mile, 48 inch pipeline capable of transiting 2 million barrels per day from Prudhoe Bay to the ice-free port of Valdez for shipping to the United States.  So far, the pipeline has transported 18.5 billion barrels over its lifetime.
Conclusion
Alaska's governor condemned Biden's actions revoking leases and proposing to put federal land in Alaska off limits to oil and gas development and has threatened to sue. And, at least one Democratic lawmaker said the decision could hurt Indigenous communities in an isolated region where oil development is an important economic driver. Alaska Senator Dan Sullivan indicated, "This war on Alaska is devastating for not only Alaska but also the energy security of the nation. This unlawful cancellation of leases brings us to 55 executive orders and actions specifically targeting Alaska since President Biden assumed office." These actions will only raise the price of energy in the United States. Biden is already turning to autocratic countries of Iran and Venezuela, wanting them to put more oil on the global market as he has depleted the emergency reserve before last year's election, bringing it to a 40-year low.