According to the Energy Information Administration (EIA), China became the world's fourth largest oil producer in 2010, beating out Iran, who formerly held that spot. Only Saudi Arabia, Russia, and the United States produced more oil than China in 2010. China's demand for oil is also growing. In 2010, China and other developing Asian nations consumed more oil than the United States. According to the International Energy Agency (IEA), their oil demand rose from 17.4 million barrels a day in 2008 to 20.8 million barrels a day. That contrasts with an almost 10 percent drop in petroleum liquids demand in the United States between 2005, when it peaked, and 2011.[i] According to IEA and EIA projections, China's energy consumption, which has already surpassed that of the United States, is expected to be about 70 percent greater than U.S. energy consumption by 2035.[ii]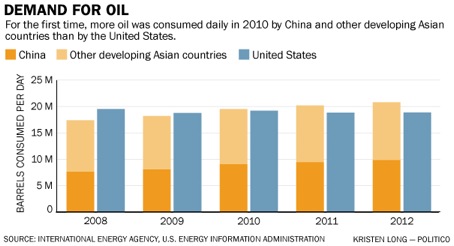 China's Oil Grab
China and India are taking actions to insulate themselves from oil shortages and high prices that include subsidizing their oil industry, providing loans to oil rich countries in exchange for oil in the future, and investing in foreign oil resources. According to the IEA, China and India provided a combined $24 billion in oil industry subsidies in 2010, which dwarfs the mere $4 billion in U.S. oil industry tax breaks that President Obama is seeking to end. Elimination of the tax breaks for the U.S. oil industry could decrease future oil exploration, development and production; increase gasoline prices; and increase the nation's dependence on foreign oil while increasing tax collections by just $4 billion.
Other actions China has taken to ensure adequate oil supplies are: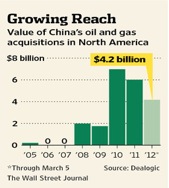 Conclusion
IHS Global Insight, a forecasting firm, expects car demand in China to reach 30 million vehicles a year by 2020, twice the size of the current U.S. market.[viii] Expecting that growth, China is taking steps now to ensure adequate oil supplies by taking advantage of opportunities to obtain oil worldwide. It is also pursuing oil production from its aging fields. China and India subsidize their oil and gas industry to a level 6 times greater than that of the United States. Rather than pursuing increased sources of supply for the future and helping its oil and gas industry as China and India are doing, the White House wants to use the strategic petroleum reserve as it did last year and end tax breaks for U.S. oil companies.
---