On Tuesday, hundreds of filling stations in the Southeast either ran out of gasoline or restricted sales as panic buying surged, particularly in Georgia and Tennessee. Nationwide, the price of regular gasoline climbed by nearly 2 cents a gallon, to $2.99, on Tuesday. In Georgia, the daily price rose by nearly 10 cents a gallon. A gallon went up an average of nearly 7 cents in South Carolina and 6 cents in North Carolina, while gas in Virginia rose about 3 cents a gallon. The price increase, however, should be short-lived because there is storage in the Northeast and all the big oil and gas companies can redirect seaborne cargoes of refined product when it is required.
Gas stations in Georgia and other southeastern states were selling two to three times their normal amount of gasoline on Tuesday. Some stations are running out of fuel while others are limiting purchases to 10 gallons. About 8 percent of Virginia gas stations were without gasoline, apparently more a result of panic buying than a shortage of gas. More than 1 percent of stations in North Carolina and Florida had no gas. Lines of an hour or more were seen at gas stations before customers could fill up or learn that the pumps had run dry. Part of the shortage problem at gas stations, however, is a lack of truck drivers to move fuel by road.
Federal regulators issued an emergency work-rule exemption for truck drivers and motor carriers as a result of the pipeline shutdown. The Federal Motor Carrier Safety Administration issued a regional emergency declaration in 17 states and the District of Columbia. The regional emergency declaration from the Department of Transportation lifts restrictions for motor carriers and drivers who are providing assistance to areas that are suffering shortages of gasoline, diesel, jet fuel, and other refined petroleum products due to the Colonial pipeline shutdown.
According to Colonial Pipeline, parts of its system are being brought back online, and it hopes to restore service by the end of the week. It had manually restarted a part of the pipeline and delivered about 41 million gallons of fuel to various locations on its system, from Atlanta, through the Carolinas and to Linden, New Jersey. The Colonial Pipeline can carry 2.5 million barrels of petroleum fuel a day over 5,500 miles from Houston to New York. It serves most of the Southern states, and branches from the Atlantic Coast to Tennessee. Large oil companies, including Phillips Petroleum, Sinclair Pipeline and Continental Oil, began construction on the pipeline in 1961. Today Colonial Pipeline is owned by Royal Dutch Shell, Koch Industries, and several foreign and domestic investment firms.
East Coast Dependency on the Colonial Pipeline
The East Coast became dependent on the Colonial pipeline for several reasons but mainly because of limited refinery capacity in the East. Over the last two decades, at least six refineries have gone out of business in New Jersey, Pennsylvania and Virginia, reducing the amount of the crude oil processed into fuels in the region by more than half, from 1,549,000 to 715,000 barrels a week. With the shale oil boom, eastern refineries could not compete with refineries in Texas and Louisiana that were near vast shale oil basins. The East Coast refineries had to import oil from abroad or by rail from North Dakota. As the local refineries shut their doors, the Colonial Pipeline became increasingly important for shipping petroleum products from Texas and Louisiana refineries.
Other reasons for the Colonial Pipeline's dominance include regulatory restrictions on pipeline construction and restrictions on the use of foreign vessels to move products between American ports and on road transport of fuels. For example, the Jones Act requires that goods shipped between American ports be transported on American-built and -operated vessels. Without that restriction, foreign-flagged tankers would be able to move additional barrels of fuel from Gulf ports to Atlantic Coast harbors that could have provided crude to keep more refineries open on the East Coast.
Refiners Cut Production or Look for Floating Storage
Refiners along the Gulf Coast have nowhere to put the refined products due to the shutdown and have had to cut production at refineries. The largest U.S. refinery, Motiva Enterprises, cut its production by 45 percent. The 607,000 barrel-per-day Port Arthur, Texas, plant shut two crude distillation units as well as a reformer. Total SE reduced its gasoline output by about 25 percent at its 225,500-barrel per day oil refinery in Port Arthur. The company trimmed its fluidic catalytic cracker output and shut a condensate splitter. Citgo Petroleum Corp reduced production at its 418,000 barrel-per-day Lake Charles, Louisiana, refinery.
Refiners are also looking for ships to store their petroleum products, causing oil tanker charter rates to skyrocket. Companies such as Marathon Petroleum Corp, Valero Energy Corp and Phillips 66 were in the process of chartering several oil tankers for floating storage. Vessels being considered for floating storage were provisionally booked on short-term time charters at between $20,000 to $30,000 per day. Close to a dozen tankers of different sizes were also provisionally booked to move petroleum fuels such as gasoline and diesel from the Gulf Coast to destinations trans-Atlantic, or to other regions such as the Caribbean, Far East and Brazil. The increased interest sent rates skyrocketing on Monday, extending a spike in activity seen late Friday.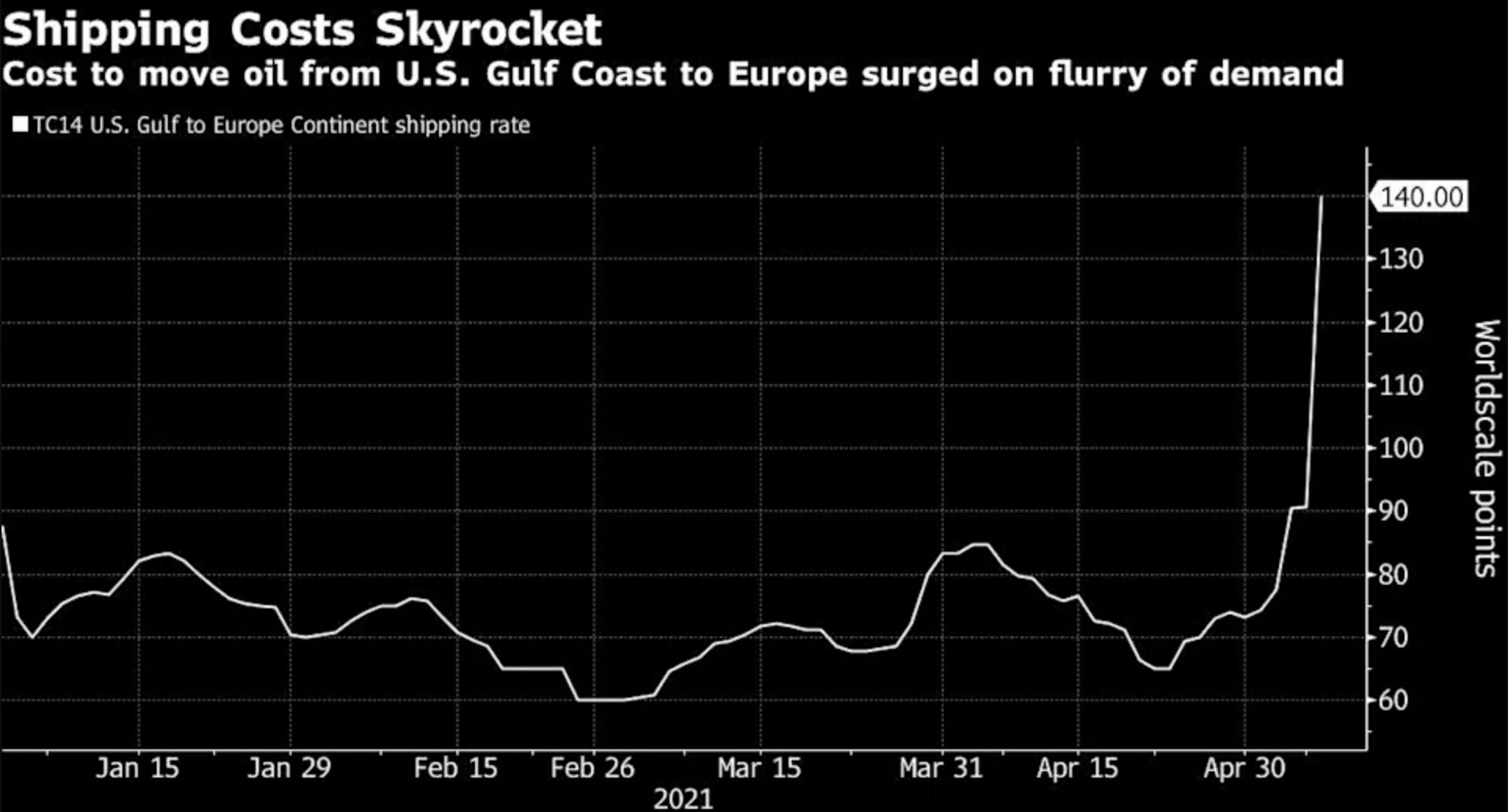 Conclusion
The unfortunate truth is that infrastructure today is vulnerable to cyberattacks by hackers. Infrastructure is an easy and lucrative target for attackers. For that reason, it is important to have supply and transport options, including other pipelines. Yet environmentalists and the Biden administration are causing further supply problems through actions like canceling the Keystone XL pipeline that could move oil from Canada and North Dakota. And, in Michigan, Governor Gretchen Whitmer is threatening the closure of Line 5 which delivers critical fuels to the region from Canada.  Restrictions on pipelines are causing their cancellation and/or delay. The outage of the Colonial Pipeline should be a lesson to consumers on energy shortages that may occur in the future and the costs that may accompany them.