IER sounds the alarm on the quiet effort to ban the use of natural gas in our homes and small businesses. 
_____
WASHINGTON DC (August 17, 2021) – The Institute for Energy Research (IER) has released a comprehensive overview of a quiet, but pernicious movement by the green left to ban the use of natural gas.
The report catalogs the states and municipalities considering or enacting a ban on new natural gas hookups, an effort that prohibits new homes and commercial buildings from the benefits of an efficient, affordable, and reliable fuel source that has improved America's air quality at the same time. The report is accompanied by an interactive map showcasing the various stages and efforts across 30 states seeking to eliminate the use of natural gas or conversely, protecting consumers from this extreme movement. IER's report also compares the cost of going all-electric to the added value that the use of natural gas provides in homes and businesses.
What's most notable from the overview and map is that the states and cities leading these bans are some of the wealthiest in the nation, mostly residing in California and the Northeast.
Thomas Pyle, President of IER, issued this statement on the battle of the bans:
"City and state governments that enact bans on new natural gas hookups are eliminating consumer choice and discriminating against Americans living on low or fixed incomes. We strongly encourage states, cities and counties from the Atlantic to the Pacific to take into account the negative impacts that these measures would inflict on their constituents and commerce."
Paige Lambermont, Policy Associate and co-author of the report added:
"Municipal bans on new natural gas hookups are a barrier to consumer freedom, have the potential to cause power prices to rise, and prevent residents from utilizing appliances like heaters and stoves during extreme weather events. Fortunately, many states have acted proactively to prevent the implementation of these anti-consumer policies."
In order to combat the municipalities engaging in rules to limit access to new natural gas hookups, some states have preemptively passed bills that would preserve consumer choice.
Twenty states have responded to this extreme anti-energy movement bypassing, or are in the process of passing, legislation that prevents energy discrimination within their borders. Ultimately, these states are seeking to allow for more freedom statewide and have made it clear all residents should be able to choose where they want their energy to come from, not be told.
Fast Facts:
The U.S. accounted for 23 percent of the world's natural gas production, making it the world's largest producer of natural gas.
Most cities that have enacted natural gas bans are among the most populous cities in the state.
These bans on new natural gas hookups tend to be concentrated in areas where there are legitimate concerns over grid reliability (i.e. California.)
California currently has the most cities with gas bans.
Last year, the average cost of residential electricity in California was 19.22 cents per kilowatt-hour, which is 47 percent higher than the national average residential electricity price of 13.04 cents per kilowatt-hour.
Vermont is attempting to implement a fee on carbon emissions for new construction that is connected to natural gas.
In New York, nearly 60 percent of households rely on natural gas for home heating. Gas bans could cost more than $25,600 for a New York City household.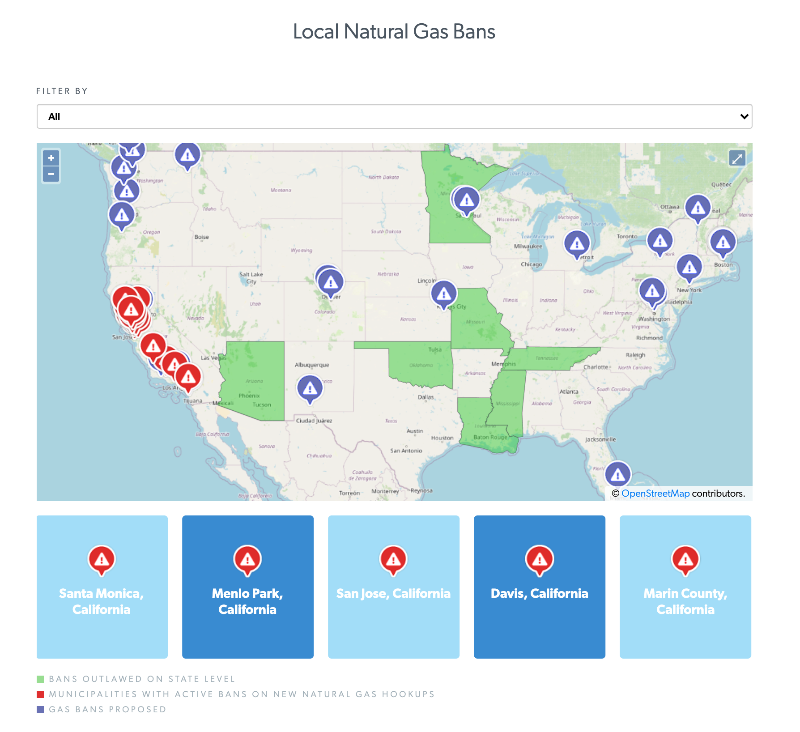 Additional Resources: