New Mexico is benefiting economically from the oil production boom in the state due to hydraulic fracturing. New Mexico's oil production is expected to exceed 300 million barrels in 2019—a 250 percent increase in the state's oil production in 2012. New Mexico's oil industry had 109 active rigs as of January 31, 2020—up from 102 in early January. The state's monthly statistics show oil production reached nearly 1 million barrels a day in October and November—a new record for the state. New Mexico is now the nation's third largest oil-producing state, after Texas and North Dakota, with revenue from oil and gas production accounting for 39 percent of all state general fund revenues in fiscal year 2019—the highest share recorded in recent history. Government economists project $797 million in "new money" for the fiscal year 2021 budget that begins in July. Yet, despite this economic boom in a state that could use the funds, many of the 2020 Democratic presidential nominee contenders want to ban fracking and/or oil and gas drilling on public lands.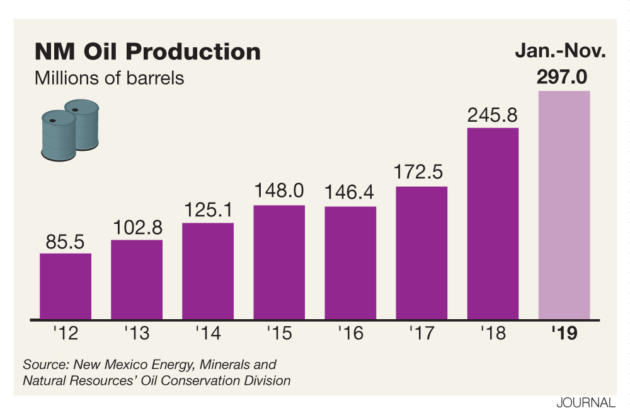 Natural Gas Production
Not only is New Mexico's oil production booming, but so is its natural gas production, making it the ninth largest natural gas producer in the nation. Last year's natural gas production is expected to surpass the peak levels the state reached nearly 20 years ago. New Mexico's oil boom is extracting billions of cubic feet of "associated" natural gas, which is produced along with the crude oil from the Permian Basin's shale-rock reservoirs. That natural gas output reversed a decade long decline in the state's natural gas production that bottomed out in 2013, when natural gas production dropped to its lowest level since the early 1990s.
From January to November of 2019, the Permian basin pushed state natural gas production up to 1.65 trillion cubic feet—up from 1.3 trillion cubic feet in 2017 and 1.5 trillion in 2018. When December production is added, total natural gas production for 2019 is expected to set a record, surpassing the state's historic peak of 1.68 trillion cubic feet in 2001.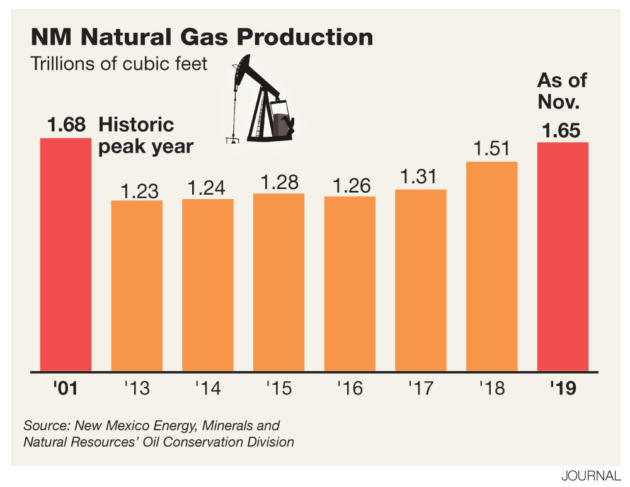 While the Permian basin has revived natural gas production in New Mexico, the San Juan basin, where gas production had previously flourished, is now experiencing fairly flat production due to depressed prices for natural gas. In late January, the wholesale price for natural gas dropped below $1.90 per thousand cubic feet—its lowest level since March 2016, due to a moderately warm winter and national gas storage levels that are 20 percent higher than at the same time last year. There are about 25,000 wells still operating on New Mexico's side of the San Juan, but about 80 percent are considered marginal wells that produce less than 90 thousand cubic feet per day.
New Mexico's Oil and Gas Basins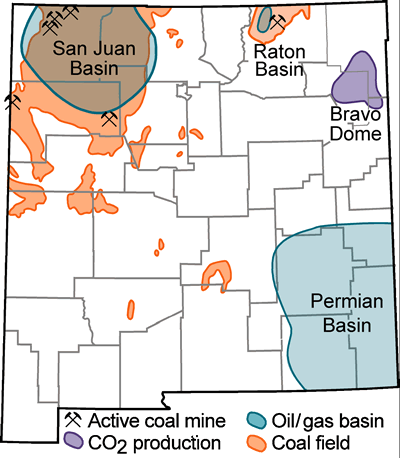 Infrastructure Investments
New Mexico's oil and natural gas industry could attract as much as $174 billion in infrastructure investments through 2030 as its share of the Permian Basin continues to expand, according to a study by consulting firm ICF. Alongside policies to support and promote the energy industry, investments could expand the combined value of oil and natural gas production by 323 percent. According to the study, investments could boost production by 358 percent for oil, 106 percent for natural gas, and 136 percent for natural gas liquids, resulting in an increase in the value of production of $72.6 billion in 2030—up from $17.1 billion in 2017.
With continued growth, the industry's contribution to the state's gross domestic product could triple and local and state revenues from the industry could more than double. The oil and natural gas industry contributed an estimated $13.5 billion to New Mexico's gross domestic product (GDP) in 2017, representing 14 percent of the overall GDP. According to the study, it could increase to as much as $60 billion by 2030, or 45 percent of GDP. The study also noted that industry contribution to state and local governments could be as high as $8 billion annually by 2030.
Conclusion
New Mexico's oil and gas industry is expected to keep growing at a record pace, resulting in more revenue for the state and billions of dollars in new infrastructure investments to get the products to market. New infrastructure investments include new pipelines, access roads, well pad construction, processing plants, and refineries. Along with the investment and production growth come jobs not only in the oil and gas industry but also in adjacent industries that are needed to support the influx of workers. These jobs would be a boon to the residents of New Mexico. It is unclear how those vying for the Democratic presidential nomination, who want to ban fracking and production on public lands, could create an equivalent boom with their proposed policies.