North Dakota's Department of Mineral Resources has announced the oil production numbers for 2011 and the results are pretty stunning. Oil production in North Dakota jumped by 55 percent from December 2010 to December 2011. Total oil production for  2011 was 35 percent higher than 2010.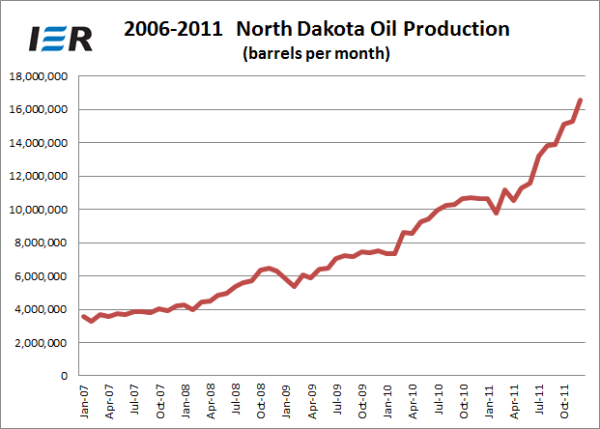 As we have previously explained, North Dakota's rapid oil production increase means that North Dakota's oil production will soon pass California. In fact, if North Dakota's production has increased at all since December, North Dakota is likely now the 3rd largest oil producing state. Amazingly, if North Dakota's production increases in 2012 as much as it did in 2011, then by next year North Dakota's oil production could surpass Alaska's.
This rapid increase once again demonstrates the importance and the promise of hydraulic fracturing. For years, geologists knew there were oil resources in the Bakken formation in North Dakota, but they didn't know how to unlock the oil from the rock. Hydraulic fracturing combined with directional drilling has radically changed oil production in North Dakota by allowing oil production where it was not possible just a few years ago. In fact, oil production in North Dakota has more than tripled over the last 5 years.