Federal offshore oil and gas permits are down 30 percent under President Biden, threatening future domestic energy supplies.
This is consistent with Biden's 5 year offshore leasing plan that has just 3 offshore lease sales—the smallest in history.
Biden's anti-oil and gas actions jeopardize the future energy security of the United Sates, particularly given recent developments in the Middle East.
An E&E News analysis shows a 30 percent decrease in permits issued for new offshore oil and gas wells during the first two years of the Biden administration compared to the equivalent period under the Trump administration. Unfavorable policies are deterring companies from making long-term, capital-intensive investments in the U.S. Gulf of Mexico (GOM), where almost all U.S. offshore drilling occurs. The Bureau of Safety and Environmental Enforcement (BSEE) permitted 105 wells in Biden's first two years, which compares to approving 148 during Trump's first two years in office and 275 during Obama's first two years. Oil companies face tougher regulations under Biden, uncertainty in oil prices, and higher expense as they move into drilling deeper waters.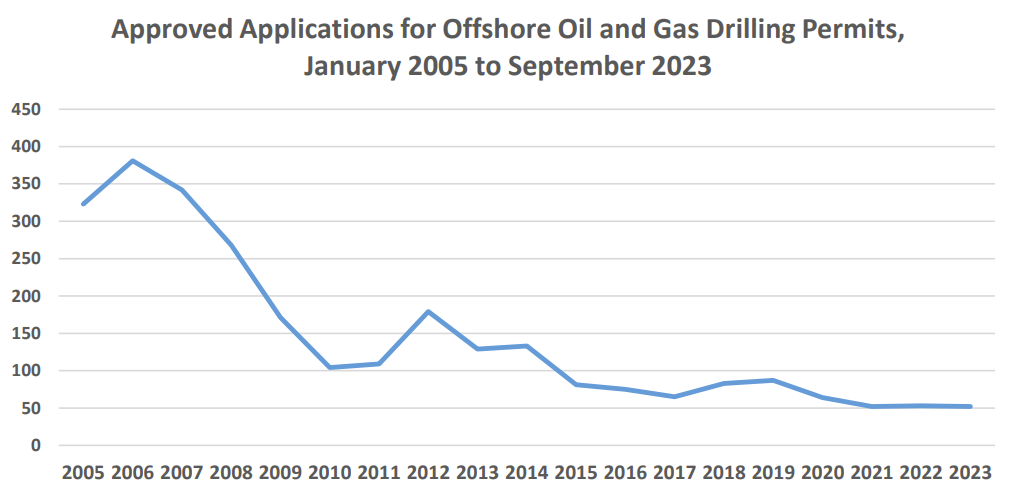 Last month, the Biden administration issued the smallest five-year offshore oil plan in history. Under the plan, the Interior Department will hold just three lease sales between 2025 and 2029. According to drillers, so few opportunities to buy new drilling rights will exacerbate existing pressures to reduce activity in the Gulf of Mexico and undermine national production. The Biden administration tried to reduce the acreage for the next lease sale in the GOM and add restrictions due to a legal settlement with environmentalists to safeguard potential habitat for the Rice whale. According to a study funded by the American Petroleum Institute, the proposed restrictions would lead to a nearly one-quarter decline in U.S. energy production between 2023 and 2040, or more than 500,000 barrels of oil equivalent per day—a higher reduction than Biden's approval of the Willow Project in Alaska would add (180,000 barrels per day). Biden's policies aimed at curbing the scope of the oil program offshore were reversed by litigation from the oil industry and Republican-led states. But, his administration's actions remove the industry's willingness and opportunity to invest in the United States.
However, whenever gas prices spike at the pump, reaching $5 a gallon after Russia's invasion of Ukraine, the president urges domestic drillers to ramp up production with existing, but untapped, permits and begs OPEC to produce more oil. Last year, when these options failed, he tapped the Strategic Petroleum reserve of 260 million barrels of oil before the mid-term election. He still has not refilled the emergency reserve, leaving the United States more exposed to external actions with the Hamas invasion of Israel, which has increased instability in the region.
While permitting may be down, offshore oil production in the Gulf of Mexico has increased during Biden's time in office, reaching 630 million barrels in 2022, but lower than the than 690 million barrels produced in 2019 during the Trump administration. Without major new discoveries of oil, Gulf production is poised to reach a peak in 2025, falling by 2030 and continuing downward, according to an analysis from Wood Mackenzie. GOM natural gas production has been declining since the late 1990s. The Gulf produces about 5 percent of national natural gas supply—down from about a quarter of national supply in 1997, according to the U.S. Energy Information Administration.
As an older oil play, with many areas already drilled in the GOM, operators have become more selective and strategic about projects. Oil reserves are located increasingly in deeper waters where operations are more complex and expensive. Deep water accounted for just over 3 percent of total production in 1989 compared to 93 percent in 2021, according to federal data. That includes some extremely high-pressure and high-temperature developments — BSEE defines high temperature as more than 350 degrees Fahrenheit — that are particularly time consuming and costly. These kinds of wells can take a good portion of a year to drill and complete, leading to fewer wells being drilled overall.
Oil prices also affect interest in drilling. Offshore well permits rose to new highs in 2006 when West Texas Intermediate, the U.S. spot price for oil, pushed toward $100 a barrel. They fell in 2015 when the price of oil suddenly dropped. In 2021, during the global pandemic, oil prices began to climb back from a historic low but permitting did not rebound as quickly. BSEE approved just 52 wells that year.
The decline in new wells includes exploration wells, which operators drill to find new oil and develop new fields, underscoring that the decline trend could become worse in the future. In 2001, companies drilled 149 exploration wells in the Gulf of Mexico compared to just 28 so far this year. Drilling offshore is a time-consuming endeavor from buying up a federal lease to studying geology, contracting to drill and permitting pipelines. Today's production comes from exploration approved many years ago. Likewise, a slowdown in exploration now means potentially fewer new oil fields and less production in the future.
A tougher regulatory environment than in years past has affected how long it takes to permit wells. After the 2010 Deepwater Horizon accident, Obama's Interior bureaus developed a series of new safety standards to prevent well blowouts. That and other updates have made permitting more complex. The well control rule was revised under the Trump administration to ease the burden on industry, but was revised again under the Biden administration. As well control and other standards changed, the permitting process got longer, and the documentation larger with more points for potential litigation by groups opposed to hydrocarbons.
Conclusion
Energy production in the U.S. Gulf of Mexico is critical for meeting current and future energy demand and supporting state and local economies. Any actions to limit offshore exploration and development could increase reliance on foreign regimes for energy and compromise U.S. energy security. This is particularly true with OPEC forecasting oil demand to grow over the next two decades, reaching 116 million barrels per day in 2045, from 99.6 million barrels per day in 2022—over a 16 percent increase. President Biden and his administration are endangering U.S. citizens through their energy policies believing that a net zero carbon future can somehow provide the energy Americans need.