The Biden administration is soliciting bids for up to 3 million barrels of sour oil—one tanker's worth–to refill the emergency reserve stockpile depleted by President Biden's pre-election releases. Deliveries into the U.S. Strategic Petroleum Reserve (SPR) are planned for August, with awards to be announced in June. The announcement marks the agency's second attempt to begin replenishing the Strategic Petroleum Reserve after it released 260 million barrels since November of 2021 to curb high oil and gasoline prices resulting from Biden's oil policies. Releases were continued up until the mid-term election last year and then slightly beyond.
Last fall, the Biden administration indicated it would start to refill the reserve when prices were at or below about $67-$72 per barrel after criticism that they were using the SPR as a political tool. But, its first bid earlier this year ended without a purchase with the administration saying that the cost was too high and the type of oil was not to its specifications. The energy department plans to purchase more oil later this year.
The reserve currently holds nearly 360 million barrels of oil, about half of its total capacity and the lowest level since 1983. The Biden administration recently drained 2.9 million barrels of oil from the SPR, long after it was supposed to have started refilling it. In March, the U.S. Department of Energy's (DOE) Office of Petroleum Reserves awarded contracts for the purchase of oil from the Strategic Petroleum Reserve to meet its Congressional obligation to sell 26 million barrels in Fiscal Year 2023.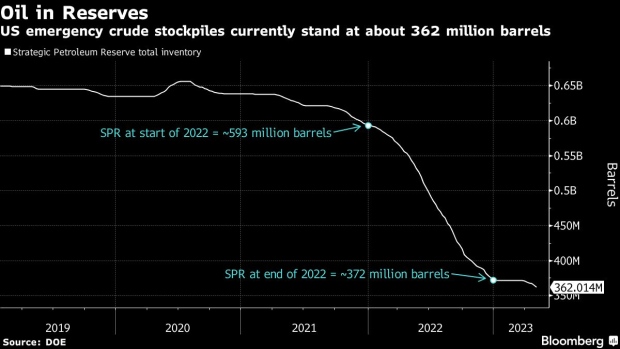 The Energy Department plans to "repurchase crude at a lower price than the average of about $95 per barrel it was sold for in 2022, while strengthening energy security by providing certainty to the industry in a way that helps encourage near-term supply." In addition to direct purchases, the agency indicates that part of its strategy for refilling the reserve includes a return of oil from previous exchanges, and avoiding "unnecessary sales unrelated to supply disruptions." Due to its depleting the oil reserve, the Biden administration was able to cancel about 140 million barrels of oil sales mandated by Congress last year.
Oil traders have been closely watching for any indication that the government would begin refilling the reserve, as its purchases are bound to tighten the market. The sour oil grades sought by the Energy Department are in high demand as OPEC+ has cut output recently, and prices for it are running higher than those for West Texas Intermediate (WTI). Some have pointed out that sellers could get a much higher price on the spot market.
The OPEC+'s 1.16 million barrel per day cut will reduce stocks of sour oils as U.S. oil refiners ramp up purchases for the summer driving season. Middle East oil is priced high to deter any additional buying from U.S. Gulf Coast refiners, leaving them to search for sour seaborne barrels from predominantly Latin America. Shell Plc's shut-in of its 375,000-barrel per day Zydeco line in the Gulf of Mexico last month because of a leak also reduced supplies. Further, exports of U.S. and Canadian sour grades ramped up in March, bought mainly by Chinese refiners. Any additional demand on domestic barrels could raise oil prices, potentially increasing gasoline prices in the middle of the summer driving season, which Biden does not want with a Presidential election looming next year.
Conclusion
Energy Secretary Jennifer Granholm said the government would repurchase crude oil for the reserve after a congressionally mandated drawdown ends in June. She also claimed to refill the SPR as soon as maintenance work is completed. With those delaying tactics, either nothing will happen, or at best the White House will offer to buy a few barrels here and there and claim mission accomplished. A solicitation for purchase does not mean they have begun restoring the SPR, as they found out in a fruitless solicitation earlier this year. Instead, the real buying will probably not begin until there is no choice – just after the next geopolitical shock – and when the price of one barrel is well in the triple digits. Biden's energy and climate policies are raising prices for Americans and it will continue to do so as it releases its regulatory agenda and other policies.