According to oil experts, the global oil map is being redrawn. The future of oil will no longer be the Middle East, but will be shifting to the Americas. Projections from the International Energy Agency and experts such as Daniel Yergin have their sights on Canada, the United States, and Brazil as major oil producers. As Yergin notes, oil sands from Canada, tight oil from the United States, and oil from sub-salt formations offshore Brazil are the reasons for the shift to the Americas for oil supplies.[1] And, these sources of oil, while not making the United States independent of Middle East oil right away, would come close.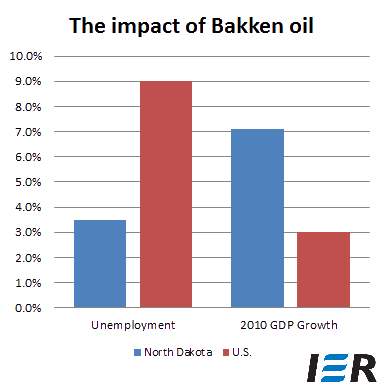 The United States Oil Endowment
The United States is the world's third largest oil producer and the shale oil revolution will continue to change the energy landscape. Oil from the Bakken Shale Oil formation in North Dakota, for example, has made that state prosperous in both jobs and economics.
People are flocking there for work due to the state's 3.5 percent unemployment rate[2], the lowest in the country, and its economic growth of 7.1 percent.[3] Those figures compare to a 9.0 percent unemployment rate[4] for the entire United States and a 3.0 percent national gross domestic product growth rate.[5] North Dakota is now the fourth largest oil producing state in the nation, behind Texas, Alaska, and California,[6] and slated to overtake California next year.[7]
According to Harold Hamm, the Oklahoma-based founder and CEO of Continental Resources, the 14th-largest oil company in America, there are 18,000 unfilled jobs in North Dakota that pay $60,000 to $80,000 per year. The North Dakota economy is expanding so fast that the state has a housing shortage. And because it has a budget surplus, it is considering ending income and property taxes.[8]
The U.S. Geological Survey in 2008 estimated that the Bakken Shale Formation of the Williston Basin Province in Montana and North Dakota could contain as much as 4.3 billion barrels of recoverable crude, 25 times as much as their previous estimate made in 1995.[9] Due to the Bakken oil field, proved reserves in North Dakota almost doubled from 573 million barrels in 2008 to 1,046 million barrels in 2009, according to the Energy Information Administration.[10]
South Dakota may soon follow in North Dakota's footsteps. The Tyler Formation extends from the western part of North Dakota into northwest South Dakota. According to North Dakota State geologist Ed Murphy, the formation may hold up to one-third the volume of oil estimated in the Bakken, the largest continuous oil accumulation that the U.S. Geological Survey had ever assessed.[11]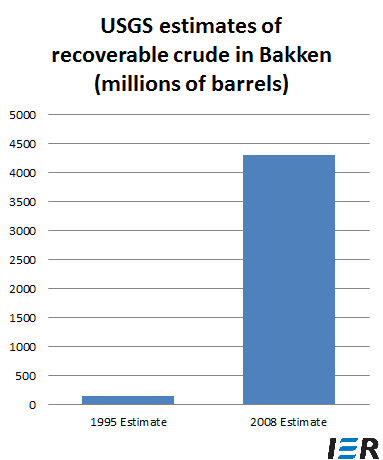 A Texas field, known as the Eagle Ford, is one of about 20 onshore oil fields that could together increase the nation's oil output by 25 percent within a decade. The Eagle Ford field is producing more than 100,000 barrels a day and could reach 420,000 by 2015, according to Bentek Energy. In Dimmit County, Texas, the unemployment rate has fallen to half, and sales tax receipts are up 70 percent.
Ohio is looking to produce oil from the Utica shale oil formation, which spans 8 states and Canada, with the richest deposits in eastern Ohio.[13] It is expected that 204,000 jobs would be created by 2015. The industry is expected to add $22 billion into the economy and $12 billion in related employee wages.[14] The oil would benefit east coast refiners and oil consumers. Refiners in the east coast frequently have to purchase oil based on Brent crude prices, which can cost as much as $24 a barrel more than West Texas Intermediate. [15]Colorado is reassessing the oil in the 90 million-year-old oil bed called the Niobrara, which is estimated to contain two billion barrels that were previously considered too costly to produce. The Niobrara runs into Colorado from southeast Wyoming and Nebraska.[12] These shale oil fields could create more than two million new jobs and that tens of billions of dollars in new tax receipts in Texas, Oklahoma, Colorado, California, Ohio, Michigan and Kansas. According to IHS CERA, an energy research firm, shale and other "tight rock" fields are currently producing about half a million barrels of oil a day but could produce up to three million barrels a day by 2020. In 2011 alone, oil companies are investing an estimated $25 billion to drill 5,000 new oil wells in tight rock fields.[16]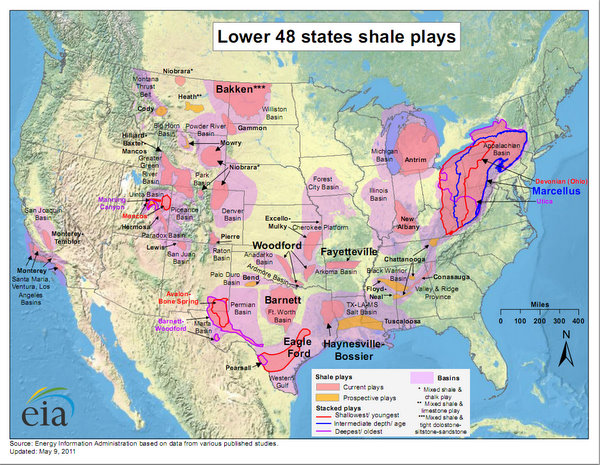 The United States also has vast oil resources offshore in the Gulf of Mexico, along the Atlantic and Pacific coasts, in the Arctic National Wildlife Refuge (ANWR), in the National Petroleum Reserve in Alaska (NPR-A), and in the waters of the Arctic. The Bureau of Ocean Energy Management, Regulation, and Enforcement estimates that the Outer Continental Shelf, which encompasses 1.76 billion acres of submerged, taxpayer-owned lands, contains 86 billion barrels of technically recoverable oil.[17] ANWR alone is estimated by the U.S. geological Survey to have 10.4 billion barrels of technically recoverable oil, and the NPR-A is estimated to have 10.6 billion barrels.[18]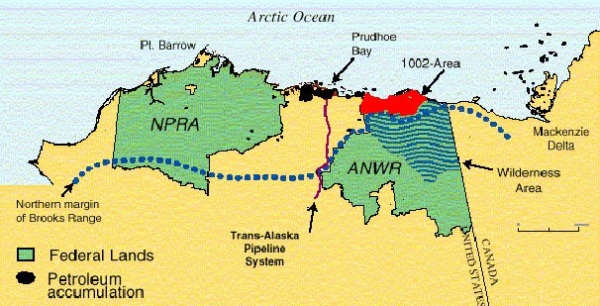 The U.S. Geological Survey's (USGS) mean estimate of the amount of oil in areas north of the Arctic Circle in 33 geological provinces is 90 billion barrels.[19] Alaska's outer continental shelf is estimated to contain 25 billion barrels of oil, approximately equivalent to the reserves of Angola, a member of the OPEC.[20]
Shell has plans to drill for oil in the Beaufort Sea off Alaska's northern coast and has already invested more than $3 billion in exploration and paid $2.2 billion for leases off the northwest coast of Alaska in the Chukchi Sea. The Interior Department estimates that the Beaufort Sea could hold as much as 7 billion barrels of oil and the Chukchi Sea could hold as much as 12 billion barrels of oil.[21] Shell originally planned to begin drilling in 2010, but its efforts were suspended after the Gulf of Mexico oil spill in April when the government put a moratorium on all offshore drilling and then again in 2011 because the Environmental Protection Agency revoked a permit it had previously granted. Moving the equipment and making other necessary preparations is expected to cost more than $100 million for a season (105 days) of energy exploration.[22]
Canada's Oil Endowment
Canada ranks third in proved oil reserves behind only Saudi Arabia and Venezuela.[23] It has 175 billion barrels of proved reserves, consisting mostly of oil sands. Oil sands consist of very heavy oil mixed with clay and sand that requires separation of the impurities before capturing the oil. The process requires more energy than conventional oil production and therefore results in slightly higher carbon dioxide emissions. According to Daniel Yergin, the carbon dioxide emissions of oil sands production are only 5 to 15 percent higher than those resulting from the average barrel of oil consumed in the United States when the entire life cycle, well-to-wheel, is taken into consideration.[24]
Due in large part to oil sands production, Canada has recovered all the jobs it lost in the 2009 recession. Alberta's oil and gas industry supports more than 271,000 direct jobs and hundreds of thousands of indirect jobs in sectors such as construction, manufacturing, and financial services. The province has an unemployment rate of 5.6 percent compared to Canada's national rate of 7.3 percent and the 9 percent unemployment rate for the United States.[25]
The latest controversy surrounding Canada's oil sands is the Keystone XL pipeline proposal to move oil from Alberta to Texas. The U.S. State Department has been considering the permit to cross the border from Canada for more than three years. The pipeline is designed to move 700,000 barrels a day to refineries in Texas by 2013 at a cost of $7 billion.[26] Opponents to the pipeline argue that oil sands are more corrosive than conventional crude and pose unique dangers to aquifers along the pipeline route.[27] The pipeline, which would run 1,700 miles, would add just one percent to the oil pipeline network in this country.[28] The Keystone XL pipeline will provide $20 billion in investment with the construction phase requiring 13,000 direct hires, and indirect new jobs could total 118,000 in the United States.[29]
Whether the United States allows the pipeline to be built or not, the United States will be importing Canadian crude and getting it here by barge, rail, or truck as it does now. Canada is our largest provider of imported oil and over half of it currently consists of oil sands. This share will be increasing in the future. Further, the oil that we do not import from Canada will certainly go to other buyers, such as China.
China is already investing in Canadian oil sands. In the past 18 months, it has invested $15 billion in Alberta alone.[30] The investment will help firms increase production and expand operations at existing projects. Currently, there is no way to get the crude to Asian markets, but a 731-mile pipeline, the Northern Gateway, has been proposed to carry as much as 525,000 barrels per day from Alberta to Kitmat, British Columbia, where it would then be transported by tanker to Asian markets. China has agreed to help finance the pipeline, which is estimated to cost $5.5 billion. The project is currently tied up in disputes with the environmental community.[31]
Brazil's Oil Endowment
Brazil has about 15 billion barrels of proved oil reserves in its sub-salt offshore fields. They lie in a 2 kilometer deep salt layer under the seabed that is estimated to hold up to 50 billion barrels of oil.[32]  These ultra-deep deposits are drilled at up to three times the normal pressure for offshore oil. Estimates have production as much as 5 million barrels a day by 2020.[33] The sub-salt's share of total domestic oil production in Brazil is expected to increase from 2 percent in 2011 to 40.5 percent in 2020.[34]  New breakthroughs in technology made possible the identification and development of these resources.
Argentina's Oil Endowment
Another find in South American unconventional oil is in the Neuquen Province of Argentina where 927 million barrels of shale oil were recently discovered. YPF, Argentina's largest oil and gas firm, has been exploring for shale oil since 2007. The field will roughly double the company's reserves and helps put Argentina in third place behind the United States and China in terms of having the world's third-largest probable reserves of shale oil, according to the Energy Information Administration.[35] The discovery is part of YPF's five-year oil and gas exploration program in Argentina. It expects to invest about $2.9 billion in exploration and production during 2011, the most it has invested in at least 20 years. The company has outlined another 502-square-kilometer area that could contain additional oil and gas resources.[36]
Conclusion
In the 1970s, reports provided to President Carter concluded that our domestic oil resources would be exhausted by the end of the century. At that time, global proven reserves were about 600 billion barrels. Since then, we have consumed over 700 billion barrels of oil globally and proved oil reserves worldwide now exceed 1.4 trillion barrels.
Estimates of oil resources are generated by geologists based on limited physical data, expectations about prices, and existing technology. But expectations and technology change and improve over time. The estimates of the Bakken are one good example. After all, the 2008 USGS estimate of recoverable oil was 25 times larger than the estimate a mere 13 years earlier.
In oil fields, only 35 to 40 percent of oil in place is initially produced. As oil prices increase and as technology changes over time, there are increased incentives to invest in production and technology to squeeze more oil from existing fields. Advances in technology enable companies to increase recovery from existing fields and to produce oil from unconventional sources that were uneconomic at lower prices. As long as the price of alternatives is higher than the price of producing the marginal barrel, it makes economic sense to produce more and to invest in technologies for finding and producing oil.[37]
And so it is with North American and South American oil. The newer finds in Canada, the United States, Brazil, and Argentina are now economic due to technological breakthroughs in drilling and the sustained higher price of crude that make unconventional sources of crude economic. These new finds can make the United States nearly independent of crude oil from the Middle East in the future. To do that, the United States must set policies conducive to their production and consumption in this country.
---
[1] The Washington Post, Oil's new world order, October 28, 2011, http://www.washingtonpost.com/opinions/daniel-yergin-for-the-future-of-oil-look-to-the-americas-not-the-middle-east/2011/10/18/gIQAxdDw7L_story.html
[2] Bureau of Labor Statistics, http://data.bls.gov/search/query/results?cx=013738036195919377644%3A6ih0hfrgl50&cof=FORID%3A10%3BNB%3A1&ie=ISO-8859-1&q=state+unemployment+rate&term.x=0&term.y=0&filter=0&sa=Search#1860
[3] Bureau of Economic Analysis, http://www.bea.gov/newsreleases/regional/gdp_state/gsp_newsrelease.htm
[4] Bureau of Labor Statistics, http://www.bls.gov/cps/
[5] Bureau of Economic Analysis, http://www.bea.gov/national/index.htm#gdp
[6] Energy Information Administration, http://www.eia.gov/state/state-energy-rankings.cfm?keyid=28&orderid=1
[7] Business Week, ND likely to pass Calif. As oil producer this year, October 14, 2011, http://www.businessweek.com/ap/financialnews/D9QCBMBO1.htm
[8] Wall Street Journal, How North Dakota Became Saudi Arabia, October 1, 2011, http://online.wsj.com/article/SB10001424052970204226204576602524023932438.html?mod=WSJ_Opinion_LEADTop
[9] Geology, Assessment of Undiscovered Oil Resources in the Devonian-Mississippian Bakken Shale Formation, Williston Basin Province, Montana and North Dakota, 2008, http://geology.com/usgs/bakken-formation-oil.shtml , U.S. Geological Survey, 3 to 4.3 Billion Barrels of Technically Recoverable Oil Assessed in North Dakota and Montana's Bakken Formation-25 Times More Than 1995 Estimate-, April 10, 2008, http://www.usgs.gov/newsroom/article.asp?ID=1911 .
[10] Energy Information Administration, http://www.eia.gov/dnav/pet/pet_crd_pres_dcu_SND_a.htm
[11] Business Week, North Dakota's booming oil patch swelling south, October 19, 2011, http://www.businessweek.com/ap/financialnews/D9QFL9MG2.htm
[12] New York Times, Drilling in Fast-Growing Areas Ushers in New Era of Tension, October 24, 2011, http://www.nytimes.com/2011/10/25/us/oil-drilling-in-new-areas-ushers-in-era-of-tension.html?_r=1&partner=rss&emc=rss
[13] The Wall Street Journal, Utica Shale Energizes Deal Frenzy in Ohio, September 27, 2011, http://online.wsj.com/article/SB10001424052970204010604576592783750697202.html
[14] Youngstown News, Fracking could create 200K Ohio jobs, September 21, 2011, http://www.vindy.com/news/2011/sep/21/study-fracking-could-create-200k-ohio-jo/
[15] Wall Street Journal, Producers, Refiners Sniff Opportunity in Rust Belt Oil Shale, August 16, 2011, http://online.wsj.com/article/SB10001424053111903392904576512671360899338.html
[16] The New York Times, Shale Boom in Texas Could Increase U.S. Oil Output, May 27, 2011, http://www.nytimes.com/2011/05/28/business/energy-environment/28shale.html?pagewanted=2&_r=2&nl=todaysheadlines&emc=tha2
[17] Institute for Energy Research, https://www.instituteforenergyresearch.org/gas/us-energy-facts/
[18] Institute for Energy Research, https://www.instituteforenergyresearch.org/2008/07/10/alaskas-northern-coastal-plain-npr-a-prudhoe-bay-and-anwr/
[19] U.S. Geological Survey, http://pubs.usgs.gov/fs/2008/3049/fs2008-3049.pdf
[20] New York Times, http://www.nytimes.com/2011/02/04/business/global/04shell.html
[21] U.S. Department of the Interior, The Next Five-Year OCS Oil and Gas Leasing Program (2012-2017), http://www.doi.gov/whatwedo/energy/ocs/QA_2012-2-17.cfm
[22] New York Times, http://www.nytimes.com/2011/02/04/business/global/04shell.html
[23] Energy Information Administration, International Energy Outlook 2011, Table 5, http://www.eia.gov/forecasts/ieo/table5.cfm
[24] The Washington Post, Oil's new world order, October 28, 2011, http://www.washingtonpost.com/opinions/daniel-yergin-for-the-future-of-oil-look-to-the-americas-not-the-middle-east/2011/10/18/gIQAxdDw7L_story.html
[25] The Wall Street Journal, Canada's Oil Sands Are a Job Gusher, September 12, 2011, http://professional.wsj.com/article/SB10001424053111904836104576560933917369412.html?mg=reno-secaucus-wsj
[26] Business Week, Enbridge's Oil Sands Project is Years Early, Says IHS CERA, October 6, 2011, http://www.businessweek.com/news/2011-10-06/enbridge-s-oil-sands-project-is-years-early-says-ihs-cera.html
[27] The New York Times, A White-Hot future for oil and Gas, October 10, 2011, http://www.nytimes.com/2011/10/11/business/energy-environment/a-white-hot-future-for-oil-and-gas.html?pagewanted=3&_r=1
[28] The Washington Post, Oil's new world order, October 28, 2011, http://www.washingtonpost.com/opinions/daniel-yergin-for-the-future-of-oil-look-to-the-americas-not-the-middle-east/2011/10/18/gIQAxdDw7L_story.html
[29] The Wall Street Journal, Canada's Oil Sands Are a Job Gusher, September 12, 2011, http://professional.wsj.com/article/SB10001424053111904836104576560933917369412.html?mg=reno-secaucus-wsj
[30] China invests billions in Canada oil sands, September 19, 2011, http://www.chron.com/business/article/China-invests-billions-in-Canada-oil-sands-2176114.php
[31] China Invests in Canadian Oil Sands, September 19, 2011, http://www.chron.com/business/article/China-invests-billions-in-Canada-oil-sands-2176114.php
[32] Petrobas chief bullish on Brazil oil output, August 1, 2011, http://www.ft.com/intl/cms/s/0/0db3473c-bc59-11e0-acb6-00144feabdc0.html#axzz1XOgKrBf1
[33] The Washington Post, Oil's new world order, October 28, 2011, http://www.washingtonpost.com/opinions/daniel-yergin-for-the-future-of-oil-look-to-the-americas-not-the-middle-east/2011/10/18/gIQAxdDw7L_story.html
[34] Petrobas chief bullish on Brazil oil output, August 1, 2011, http://www.ft.com/intl/cms/s/0/0db3473c-bc59-11e0-acb6-00144feabdc0.html#axzz1XOgKrBf1
[35] Business Week, Respol Gains Most in 13 Months After Argentine Unit Oil Find, November 8, 2011, http://www.businessweek.com/news/2011-11-08/repsol-gains-most-in-13-months-after-argentine-unit-oil-find.html
[36] Wall Street Journal, YPF Finds 927 million barrels of Shale Oil in Argentina, November 7, 2011, http://online.wsj.com/article/BT-CO-20111107-712759.html
[37] Fuel Fix, Flawed Forecasts Can't Trump Innovation and Technology, October 11, 2011, http://fuelfix.com/blog/2011/10/11/flawed-forecasts-cant-trump-innovation-and-technology/