A mere week into his presidency, President Biden signed an executive order that paused new oil and gas leasing on federal lands and directed the Department of the Interior to launch a "rigorous review" of existing programs related to fossil fuel development. In March 2021, 13 states filed a lawsuit against the "pause" because the states established they would suffer injury from it and noted that federal laws required lease sales. A federal court in Louisiana ruled against Biden's pause and ordered that the lease sales that had already been scheduled by the Trump administration go forward. The Biden administration, however, appealed that decision and on August 17, 2022, the appeals court vacated the lower court's decision to block the pause on new oil and gas leasing on federal land and waters and sent the case back to the lower court for further proceedings.
Not only does federal law require the lease sales, but Senator Joe Manchin insisted that the "Inflation Reduction Act" require the lease sales that the Biden administration canceled from the 2017 lease plan be held and that the November 2017 lease sale be reinstated, which a judge had invalidated. Specifically, the offshore lease sale held in November 2021 (Lease Sale 257) must be reinstated with high bidders receiving their leases and canceled lease sales 258, 259, and 261 in the Gulf of Mexico and offshore Alaska must be held by specified dates all occurring by September 30, 2023. Shell, BP, Chevron and Exxon Mobil offered $192 million for the rights to drill in the Gulf of Mexico in the November 17, 2021 lease sale—the largest offshore oil and gas lease sale in the nation's history.
Department of Interior officials are reviewing the appeals court decision, and it is unclear whether the new climate and tax law – the "Inflation Reduction Act," makes the legal issue moot. The law also requires the Interior Department to hold periodic oil and gas lease sales and offer at least 60 million acres of offshore parcels and 2 million acres onshore during the prior year before it can approve any renewable energy leases. In June, the Biden administration sold leases on about 110 square miles of federal land, mostly in Wyoming.  Legal challenges of those sales by environmentalists are pending.
U.S. Anti-Oil and Gas Policies Make Oil Companies Look Elsewhere
Indian oil explorer and producer Oil and Natural Gas Corporation signed a Heads of Agreement (HoA) with Exxon Mobil for deep water exploration off India's East and West coasts. India is the world's third largest oil importer and consumer. It imports over 85 percent of its oil supplies from overseas and wants to monetize its own oil and gas resources to reduce its reliance on imports and increase its national and economic security. India needs expertise from companies that have experience in deep sea exploration and production because 53 percent of India's basin area is offshore where huge potential is expected for oil development.
Europe's Ban on Russian Oil Approaches
Russia is still exporting oil to countries such as China and India and even Europe. Europe's ban on Russian oil does not go into effect until December 5, 2022, and its ban on imports of Russian petroleum products does not go into effect until February 5, 2023. Nevertheless, Europe has increased its imports of U.S. oil with recent weekly shipments reaching 5 million barrels a day, surpassing a high set less than a month ago. The weekly jump of 2.89 million barrels a day was also a record, indicating how much the world is turning to American suppliers for their energy needs. This is occurring at a time when President Biden is trying to ban oil leasing in the United States, instead begging OPEC to produce more oil to little or no avail. He is also depleting the Strategic Petroleum Reserve at a rapid clip, nearing the lowest point in those reserves in 40 years. Adding to pressure on tight crude markets, Libyan oil exports fell precipitously last month, prompting European refiners to depend even more on the United States for oil supplies. About 45 million barrels of U.S. oil are expected to reach Europe in August.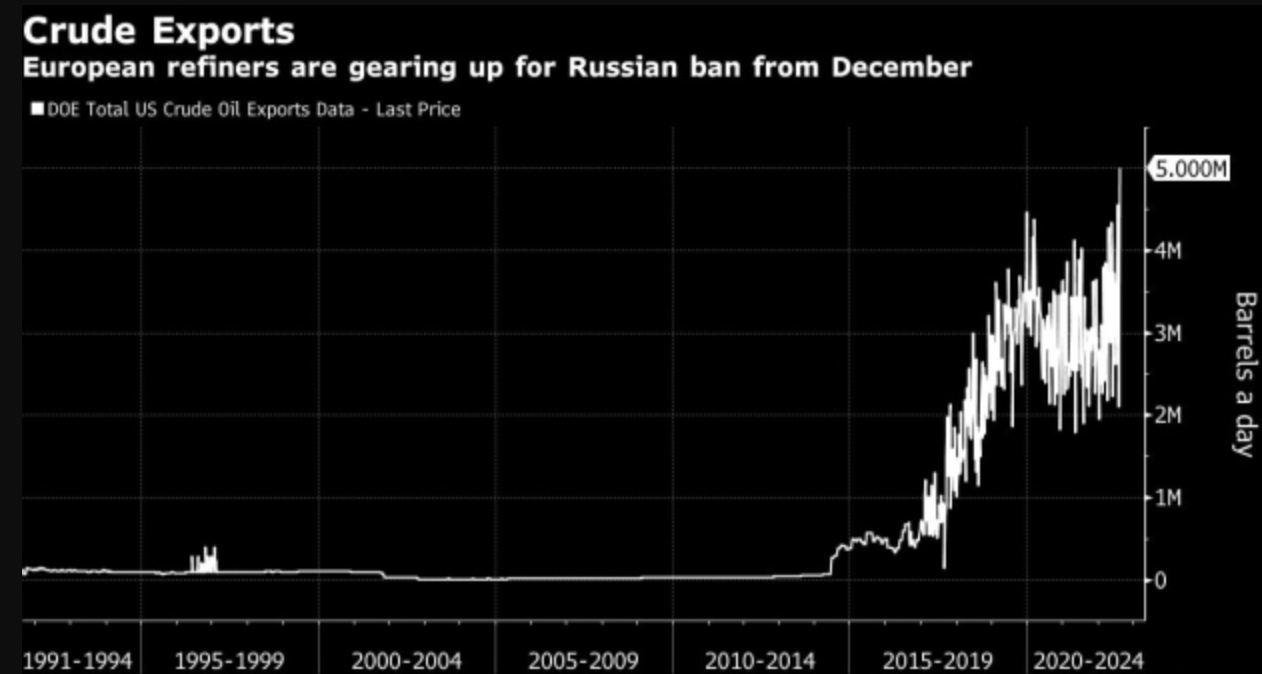 In addition to Europe's growing reliance on U.S. oil markets, global markets are switching to oil to generate electricity as natural gas prices have soared since Russia curtailed its supplies to Europe in retaliation to oil sanctions. Natural gas has been reaching prices of $60 per million Btu, equivalent to oil prices around $360 a barrel.  According to Russian data, higher oil export volumes and rising natural gas prices are expected to increase Russia's earnings from energy exports to $337.5 billion this year, a 38 percent increase from last year. Russia is using these earnings to finance its invasion of Ukraine and its planned war games with China and North Korea at the end of August.
Conclusion 
A recent appeals court decision allows Biden's ban on oil leasing to continue as the lower court continues its proceedings regarding a lawsuit from a number of states. The recently signed climate and tax bill, however, mandates that the lease plan produced under the Trump administration be reinstated and that oil and gas leases continue. It is currently unclear how the recent climate law affects the court ruling. Nevertheless, U.S. oil is in demand both domestically and as exports overseas, particularly to Europe as its ban on Russian oil goes into effect in December. Biden is releasing oil from the Strategic Petroleum Reserve to keep gasoline prices at bay. But the reserve will have depleted half of its capacity by the end of October because of these sales. As a result, Goldman Sachs expects gasoline prices to be back up to $5 a gallon by year-end.