Household vehicle travel across the contiguous United States fell by 68 to 72 percent during the last two weeks in March and first week of April, compared with the first week in March. The data below show that as the outbreak unfolded in early March, some states shut down faster than others. By the week of March 8, vehicle travel was down by 10 to 15 percent in states along the West Coast and in parts of the Northeast where concern about the virus first originated. By the following week, the first week after President Trump declared a national emergency, vehicle travel was down nationwide by nearly half. And by the week of March 22, when the shutdown was basically complete, the number of miles driven nationally was down by two-thirds. Assuming that vehicle travel remained at that level for the rest of April, the coronavirus pandemic would result in at least a 5 percent decline in vehicle miles travelled for the entire 2020 year.
Factors affecting the future of car travel will, of course, include how quickly people go back to work and how telecommuting will affect the quickness or extent of that return. Other factors include the price of gasoline which in the past has caused a resurgence in car travel when very low, the demand for services that have been postponed during the pandemic such as hair styling, dog grooming, nail grooming, routine doctor visits, personal training, and perceptions of safety on public transportation, resulting in more car traffic instead.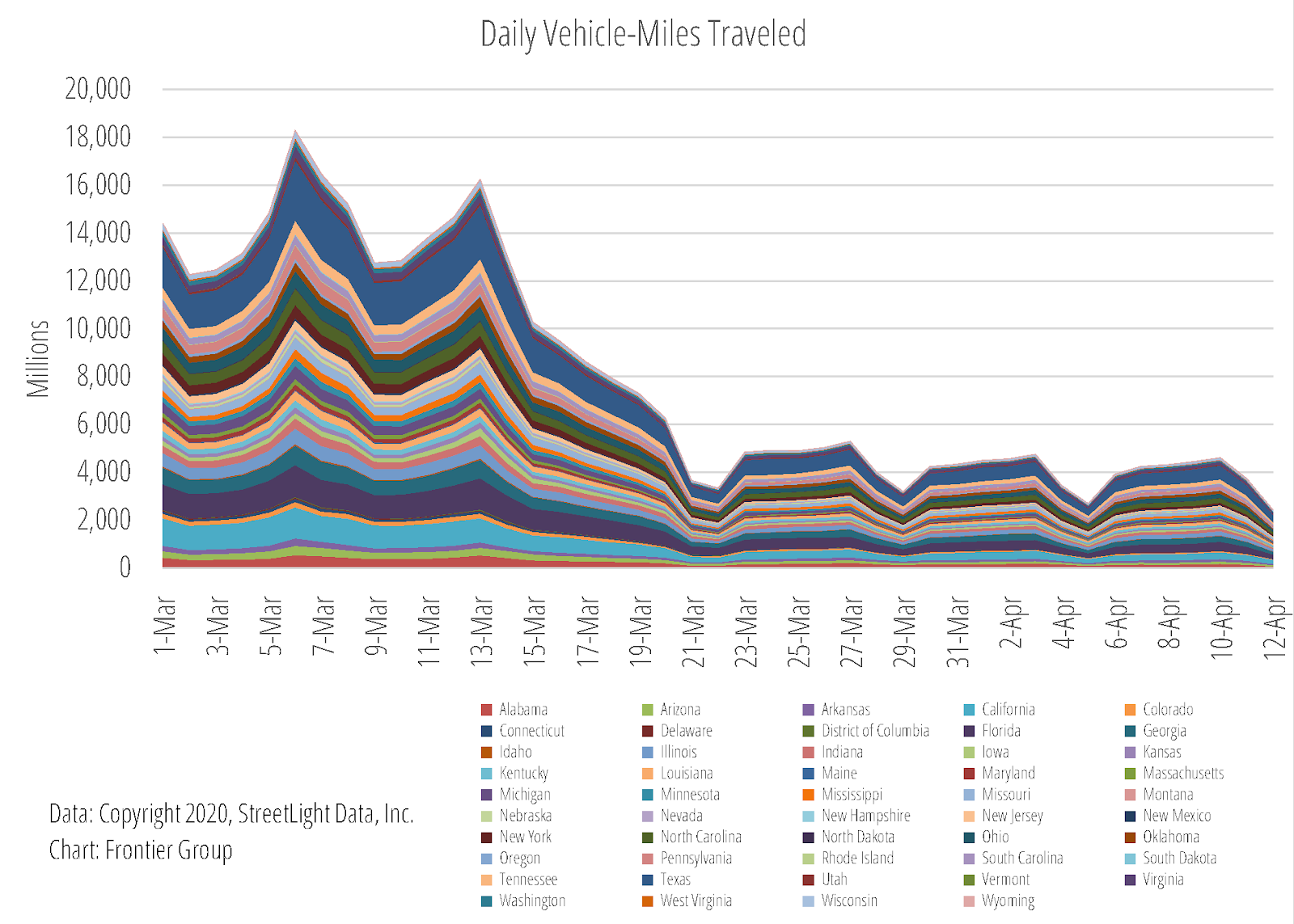 State Differences in Vehicle Mile Reductions
The District of Columbia had the most dramatic drop in home-based travel, with an 89 percent decline in vehicle miles traveled. Other states that have experienced the most serious outbreaks or that locked down the most completely have seen declines in household vehicle travel of 75 percent or more. In Wyoming, which experienced the slowest decline in driving, household-based vehicle miles travelled in early April was down by over 60 percent.
Percent of Miles Travelled in the Week of April 5 Compared to the Week of March 1 for Selected States and DC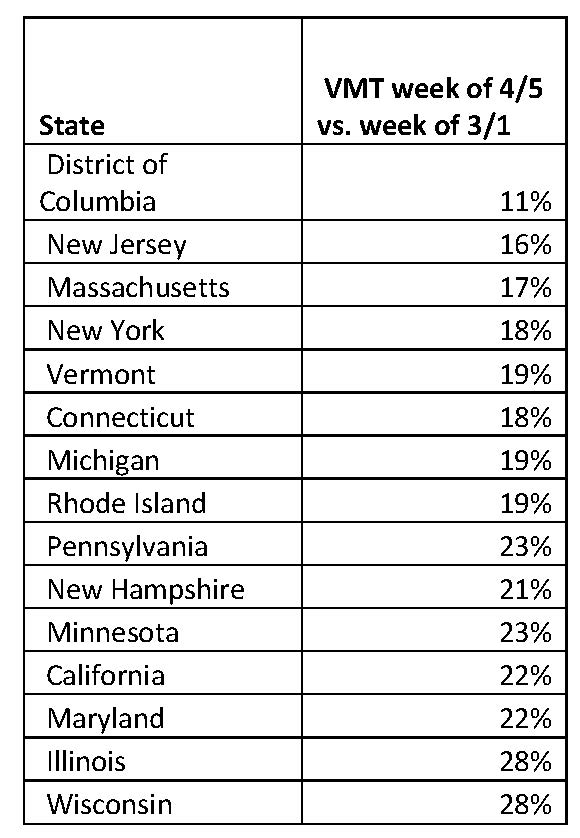 More Recent Trends
A different source of data shows that traffic is starting to rebound. Apple's Mobility Trends report indicates that traffic in the United States and other countries like Germany has about doubled in the past three weeks. The data is based on Apple Maps, so driving to known places such as grocery stores is not included. According to Apple Maps, between Monday January 13 and Monday April 6, there were 72 percent fewer trips by bus, train, or subway, and 56 percent less driving by car.  (See graph below.)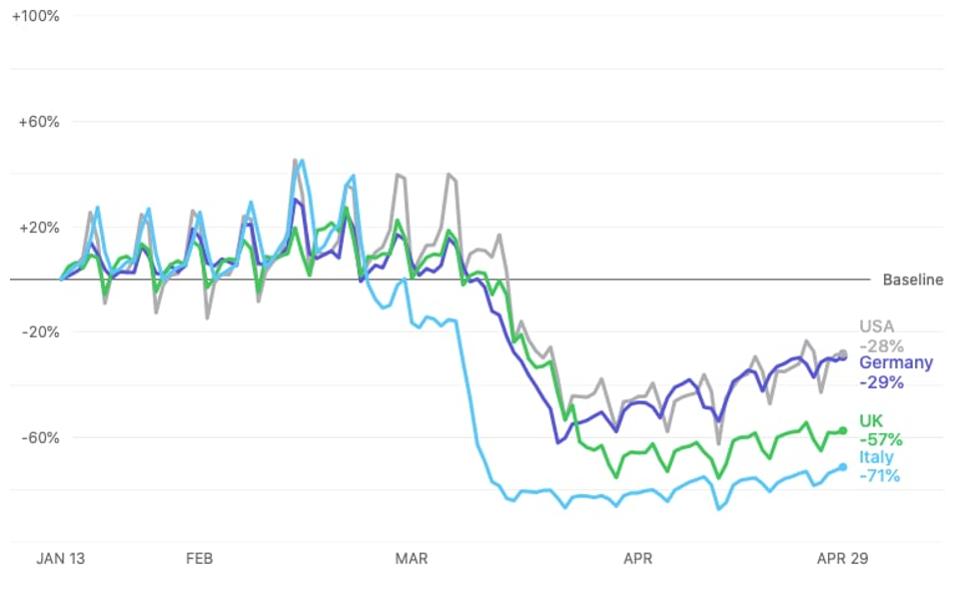 According to another data source, Foursquare, customer traffic at gas stations has returned to pre-COVID-19 levels in the Midwest and in rural areas throughout the country. While gas station visits are still down in other regions and in suburban and urban areas, visits have increased slightly across the board since mid-April. More men have resumed visits to gas stations than women. Gas station visits by men were down by 3 percent as of April 24 compared to pre-COVID-19 levels, whereas visits by women were down 13 percent. Customer traffic to gas stations increased the most amongst consumers 45 to 64 years old.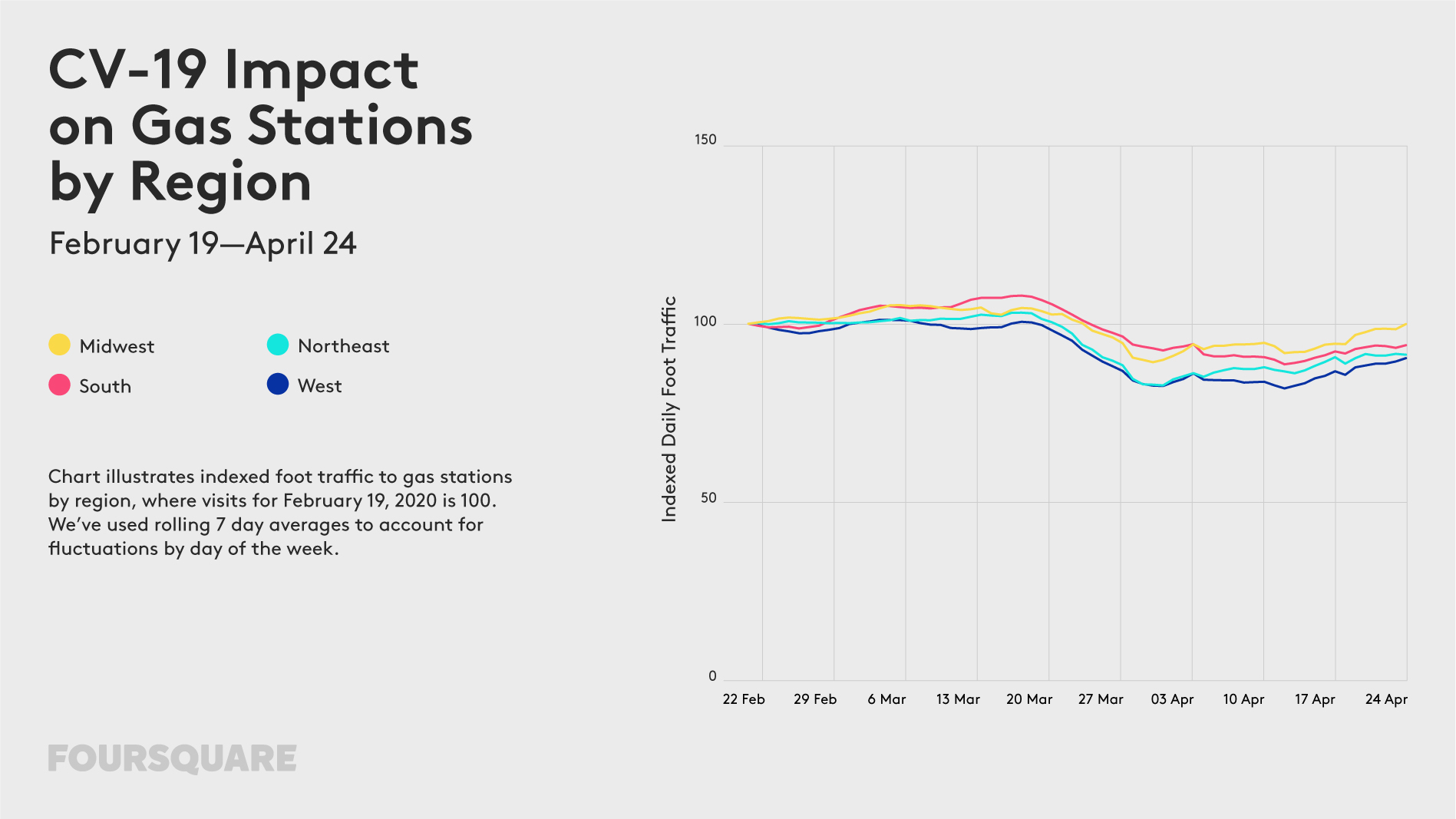 One measure of recovery can be based on grocery store visits because at the beginning of the coronavirus pandemic, consumers stockpiled many household supplies. According to Foursquare, the surge behavior settled down by around March 23, as social distancing became the norm. In most cases, foot traffic has since returned to roughly normal levels: foot traffic to grocery stores returned to pre-COVID-19 levels around the week ending April 12. Grocery store visits are slightly up in the Midwest and Northeast, and roughly normal in the West and South as of April 24. While grocery store traffic is still down in urban areas by 6 percent, in rural areas it is up by 8 percent.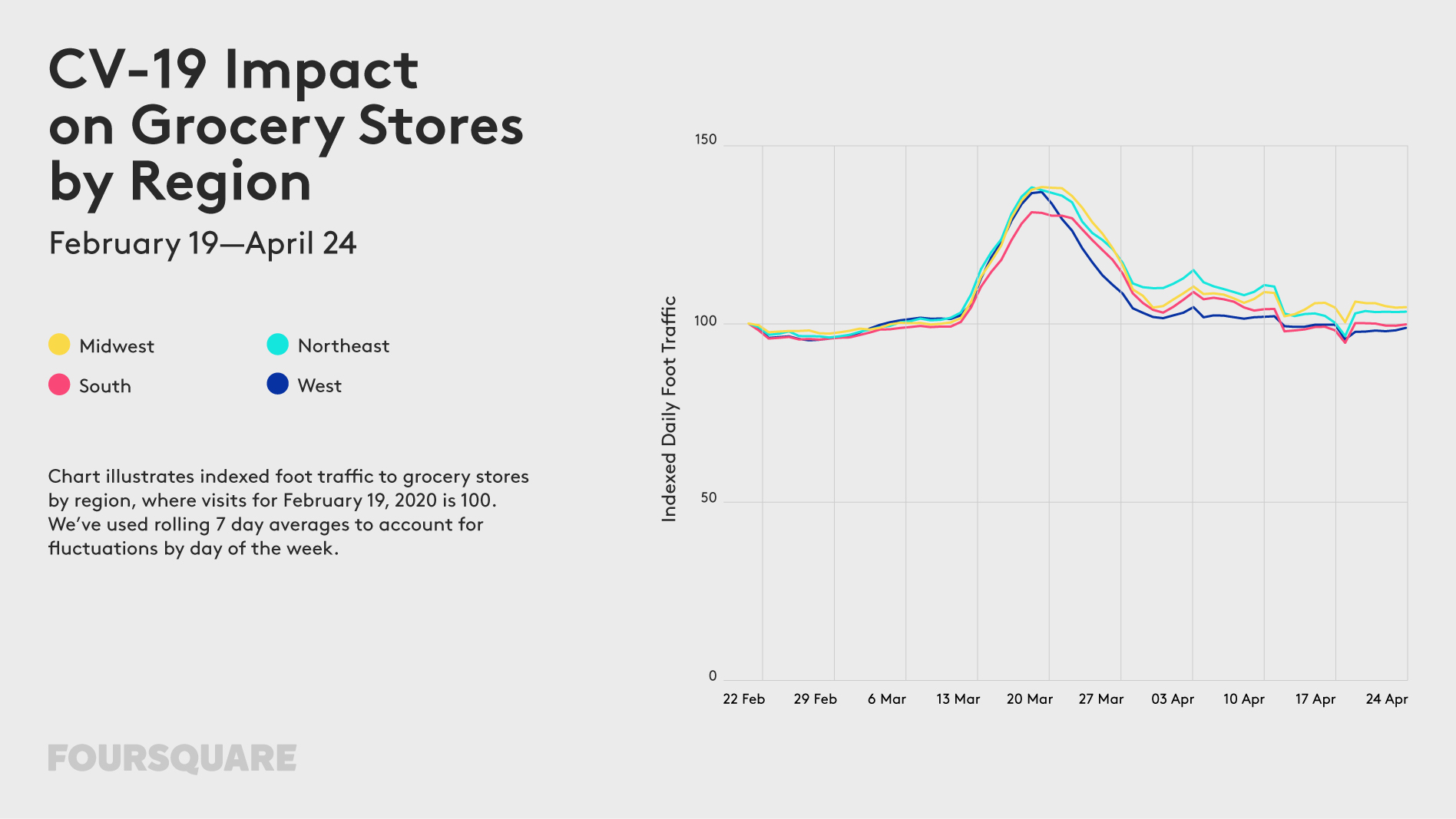 While people are becoming more mobile, certain industries are still being impacted very hard:
Gyms: down 65-69%
Clothing stores: down 72%
Furniture stores: down 56-60%
Movie theaters: down 75%
Nail Salons: down 38-42%
Hotels: down 63 to 70%
Data Sources
A number of different data sources are used throughout this article to give a sense of where the country has been during the pandemic and how and where it is recovering first. The vehicle miles travelled data is from StreetLight Data and is based on cellphone data. It is household data and does not include miles driven by truck traffic. The Apple data are measured by people searching Apple Maps for directions. The Foursquare data captures people visiting actual locations based on 13 million Americans that have granted the company permission to use their data in privacy-safe ways. Because of the different sources measuring different variables, the data cannot be compared directly between the sources.
Conclusion
The coronavirus pandemic has hit the United States very hard and impacted peoples' lives in many ways. As states are slowly returning to pre-COVID 19 operations, more travel variables will return to levels closer to what was originally expected. Some trends are already showing that people want more freedom and are becoming more mobile. Despite the grocery store flux subsiding, there is still a ways to go to get Americans comfortable with schools, restaurants, service establishments, public transportation and other venues where social distancing must continue.