Energy independence, where our energy exports exceed our energy imports, took over 50 years to reach in 2019—a major milestone—but President Biden is trying to give it away as quickly as he can by limiting domestic energy production and asking for more oil imports from OPEC to squelch increasing gasoline prices. Gasoline prices are now at their highest level in a decade. However, now that OPEC+ is sticking to its oil production plan, Biden is asking for help from domestic producers without giving them back any of the tools he took away—the Keystone XL pipeline, production in the Arctic National Wildlife Reserve or Alaska's Petroleum Reserve, a ban on new oil and gas leases on federal land and waters, and pressure on banks not to lend to the oil and gas industry.
Relying on imports rather than domestic production only hurts consumers as it raises prices and creates a national security issue. The same greenhouse gases will be released if the United States produces the oil or if a foreign country does because demand is still increasing and someone will supply the necessary oil. Shutting off American supplies simply moves production to other nations, making them stronger while denying good jobs and energy as well as economic and national security to Americans.
Oil and Gasoline Prices
Oil prices surged to a seven-year high, surpassing $85 per barrel. Gasoline prices are the highest level in 10 years, topping $3.399 per gallon, according to AAA's national average on October 28. That gasoline price is a 58 percent increase over the price a year ago, which was $2.151.
Domestic Oil Production vs. Oil Imports
U.S. oil production is still below pre-pandemic levels. For the first 9 months of this year, it is averaging 11 million barrels per day—down by 0.4 million barrels per day compared to the first 9 months of 2020 and over 1 million barrels per day lower than in the first 9 months of 2019. Oil imports are averaging 8.5 million barrels per day for the first 9 months of this year—7 percent more than the same period in 2020.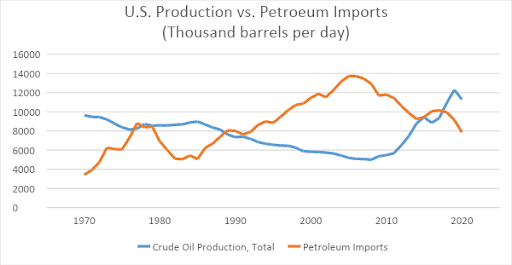 Looking at the data closer, however, one finds some disturbing results. Last year, production in Alaska fell to an average of 448 thousand barrels a day, a 20-year-low. In July of this year, Alaskan oil production was 380 thousand barrels per day, dangerously close to levels where the Trans-Alaskan Pipeline System (TAPS) can no longer operate because of lack of throughput. What TAPS needs is more oil. But, oil companies did not want to invest in Alaskan oil projects during the pandemic due to extremely low oil prices. Further, drilling approvals granted by the Trump administration were withdrawn by President Biden in response to the cries of anti-oil groups. And, under pressure from environmental groups, the six largest U.S. banks have pledged in recent years not to finance additional Arctic drilling, even though they willingly involve themselves in fossil fuel projects in China. 
Also disturbing is that the United States has upped its oil imports from Russia—a Biden request for more production as a member of OPEC+—with the first 9 months of Russian oil imports increasing by over 60 percent from levels in the first 9 months of 2019. In July 2021, Russian oil imports were 761 thousand barrels per day—fully double the oil output of Alaska that month.
Pipelines Keep Transportation Costs Down
Biden's cancellation of the Keystone XL pipeline will mean that oil will be transported by rail and/or truck, both of which are more expensive modes of transportation than pipelines and less safe. The higher costs will be passed onto consumers, and further oil development dis-incentivized because of the lower prices Canadian and Bakken producers receive for their oil due to higher transportation costs. This, of course, is the goal of the "keep-it-in-the-ground" movement.
 Biden Administration Creates Uncertainty
The Biden administration is creating so much uncertainty in the industry that price spikes, shortages and transportation issues arise. From new regulations, to slow-walking leasing, to proposed new taxes to increasing risk in financial markets involved in funding energy development, the Biden administration is sending a strong signal that American energy is not welcome. This makes Biden's pleas for more oil from foreign sources look disingenuous to those suppliers who know that the United States has vast resource potential as was identified by the American energy renaissance that culminated with U.S. energy independence under President Trump. And, the uncertain domestic market makes industry reluctant to invest when it is unclear what the Biden administration will do next to harm it.
Oil Investment
Global oil and gas exploration spending, excluding shale, averaged about $100 billion a year from 2010 to 2015, dropping to an average of around $50 billion in the following years after a crash in oil prices. Total global oil and gas investment this year is expected to be down about 26 percent from pre-pandemic levels to $356 billion, according to the International Energy Agency.
Some OPEC countries are increasing investment as they expect their share of the market to increase in the future, in the wake of the Biden administration's attacks on the U.S. domestic industry. Aramco, Saudi Arabian Oil Co., plans to increase its oil production capacity from 12 million to 13 million barrels a day by 2027. Abu Dhabi National Oil, the main oil producer in the United Arab Emirates, plans to spend $122 billion in part to boost its oil production capacity to five million barrels a day by the end of the decade, from about four million a day today.
Overall, OPEC estimates the world is projected to require $11.8 trillion in oil-and-gas investment through 2045 to meet growing demand. In a report released last month, it predicted its members' oil will constitute 39 percent of global crude consumption in 2045, up from about 33 percent now.  Meanwhile, Russia is developing its $110 Billion Vostok Project in the Arctic, including the construction of the largest Arctic Oil Port.
Conclusion
With all the volatility in energy worldwide, it is important that the United States maintain its domestic oil production and sustain its energy independence. Becoming dependent on foreign countries for oil will endanger national security. Significant leasing restrictions will harm U.S. national security, energy independence and the economy by forcing the United States to rely more heavily on oil produced in foreign nations with lax environmental controls. With global oil demand picking up and global supply constrained, prices will increase. The Biden administration policies will further constrain supply over the long term, which will send a signal to consumers that the administration is not providing affordable and reliable energy, while giving foreign suppliers of oil much more leverage of U.S. decision-making and providing them the wealth to further their own national interests.