In recent weeks, the number of air travel passengers has increased in the United States, after a precipitous drop in April 2020 due to global travel restrictions in response to the COVID-19 pandemic. In March 2021, the number of passengers processed by the U.S. Transportation Security Administration (TSA) averaged 1.2 million per day, the most in any month since the onset of the COVID-19 pandemic in spring 2020. In April 2020, TSA passenger numbers fell to 100,000 passengers per day. They increased gradually but remained below 900,000 passengers per day on a monthly average basis until March 2021. By April 2021, TSA passenger numbers increased to an average of 1.4 million per day and the number of passengers hit 1.6 million on May 2; still significantly less than in 2019, but on the uptick.
TSA tracks the number of passengers that move through TSA airport checkpoints daily. In February 2020, before responses to the COVID-19 pandemic resulted in substantial reductions in air travel, TSA processed an average of 2.2 million air passengers per day.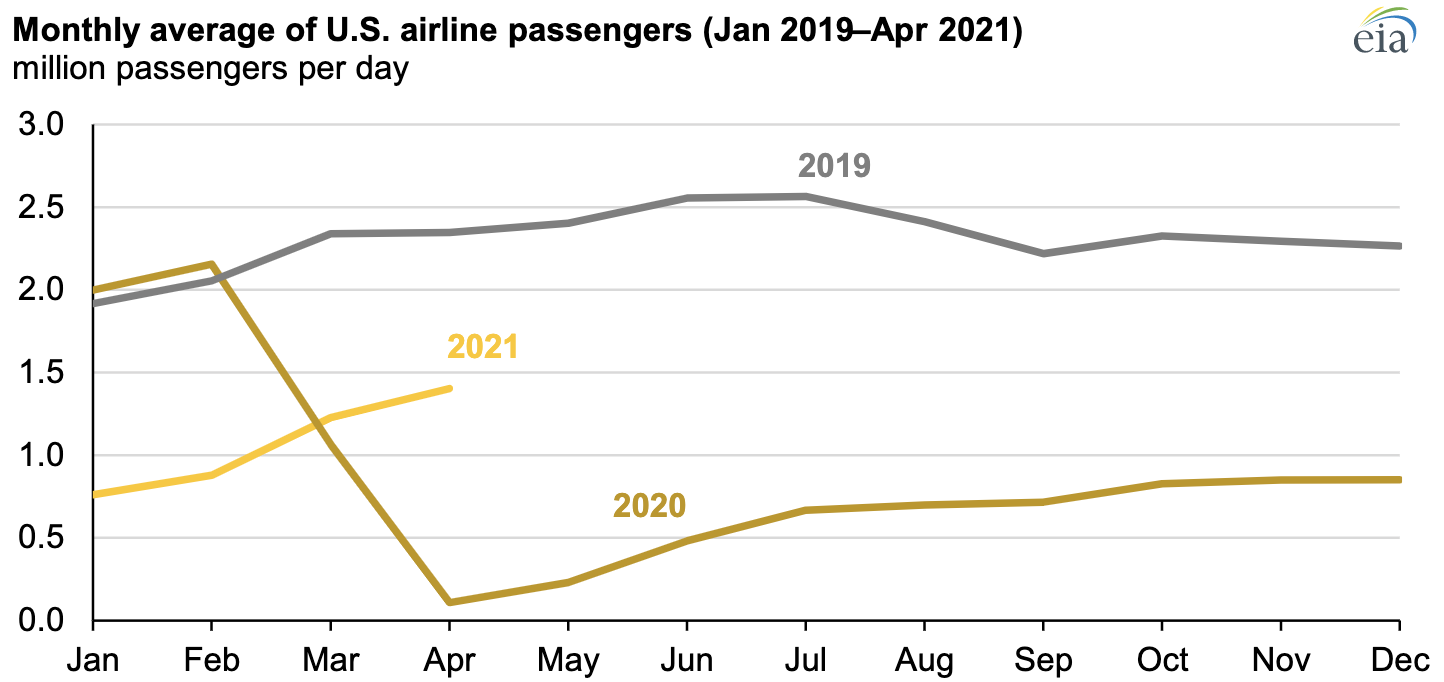 By most U.S. airline accounts, it looks as if the pent-up demand for air travel from the coronavirus pandemic is finally being unleashed, as bookings increase and the summer travel period approaches. That demand, however, is mostly leisure travel and concentrated in the domestic and short haul international markets. Corporate travel is still an unknown as virtual conferences and meetings have taken hold. However, demand is beginning to thaw, and some operators believe that a 50 percent recovery in U.S. business travel could occur before the end of the year.
The market for long haul travel is still questionable as the virus is still plaguing areas. However, the European Union has signaled it would allow U.S. vaccinated travelers to visit the region this summer and is seeking agreement with China to allow for much more Chinese tourism. Despite EU lessening the travel restrictions on U.S. vaccinated travelers and wanting more Chinese tourism, projected global 2021 air traffic continues to drop, primarily as a result of continued delays to vaccination programs in much of Europe and an increase in international travel restrictions in response to emerging Covid-19 variants.
Despite domestic air travel coming back somewhat this year, a full global recovery will take a long time. The outlook for global air travel demand is not expected to reach pre-COVID levels until 2022 at the earliest, and maybe not until 2023 or 2024, after registering a decline of more than 60 percent in 2020.
Jet Fuel Demand
The increase in airline travelers is expected to result in an increase in jet fuel demand. Jet fuel demand has been at historic lows since April 2020. According to EIA's Weekly Petroleum Status Report, the four-week average consumption of jet fuel from April 9, 2021, through the most recent data (as of April 23, 2021) was over 1.2 million barrels per day, but still a good 500,000 barrels per day below 2019 levels. This level of consumption was about 200,000 barrels per day higher than the four-week average that ended on March 26, 2021. The low point in 2020 was just over 500,000 barrels per day. (Product supplied is used as a proxy for jet fuel consumption.)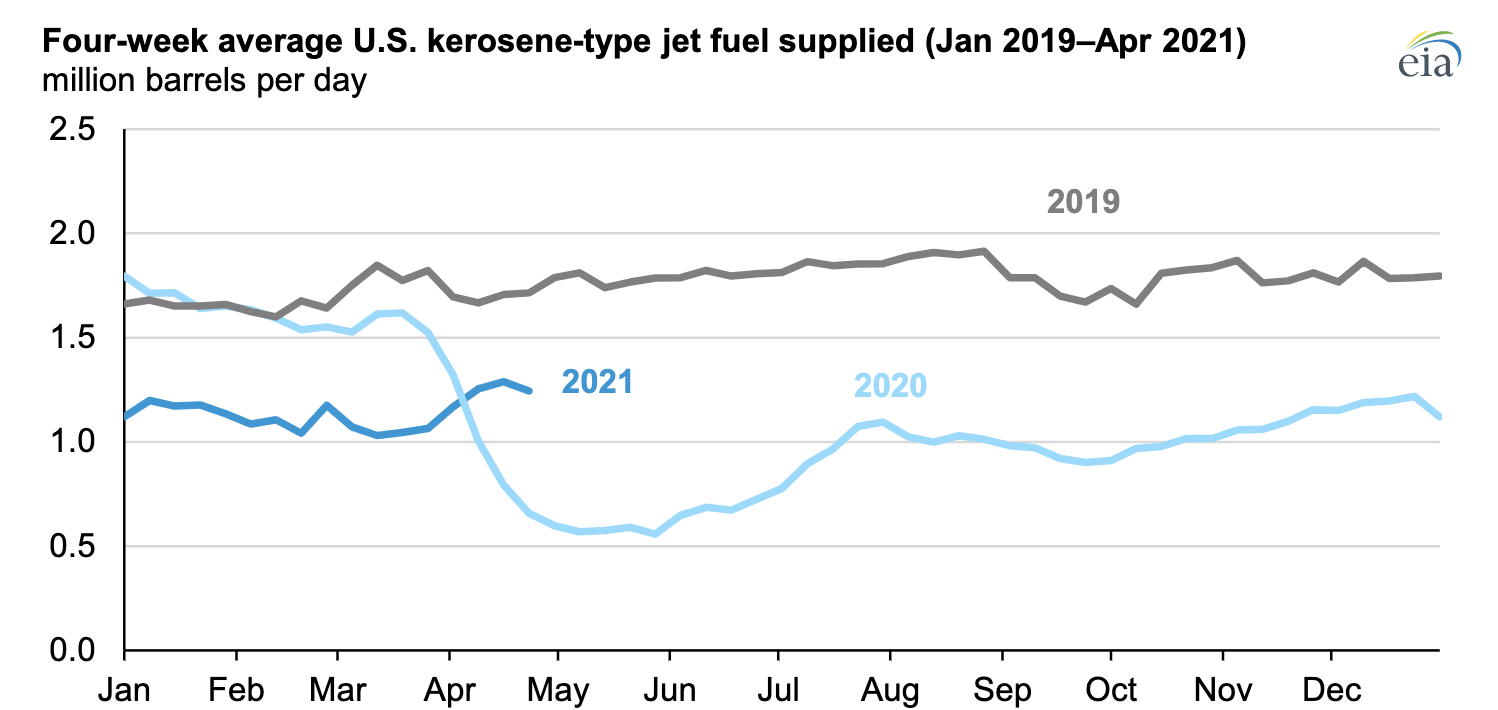 Conclusion
Global air travel is not expected to recover before next year at the earliest due to delays in vaccinations and the emergence of COVID variants. The U.S. domestic market, however, is showing signs of recovery as Americans get vaccinated with the products produced by Operation Warp Speed and begin normalcy from being pent up for too long and longing to see loved ones. With domestic air travel on the uptick, the demand for jet fuel is showing signs of a slow recovery.