According to the Energy Information Administration (EIA), U.S. natural gas consumption set a new record in 2019, reaching 31 trillion cubic feet—3 percent more than in 2018. The increase was due to greater demand from the electric power sector and low natural gas prices. Natural gas has replaced coal as the major generating fuel in the United States. Natural gas now supplies 38 percent of U.S. generation—up from 35 percent in 2018—while coal supplies just 23 percent. Natural gas is expected to supply over 40 percent of our power this summer. While coal capacity is shrinking, totaling just 229 gigawatts, natural gas capacity is growing. Natural gas electric capacity additions increased in 2019, especially in the PJM Interconnection, which serves the U.S. mid-Atlantic region.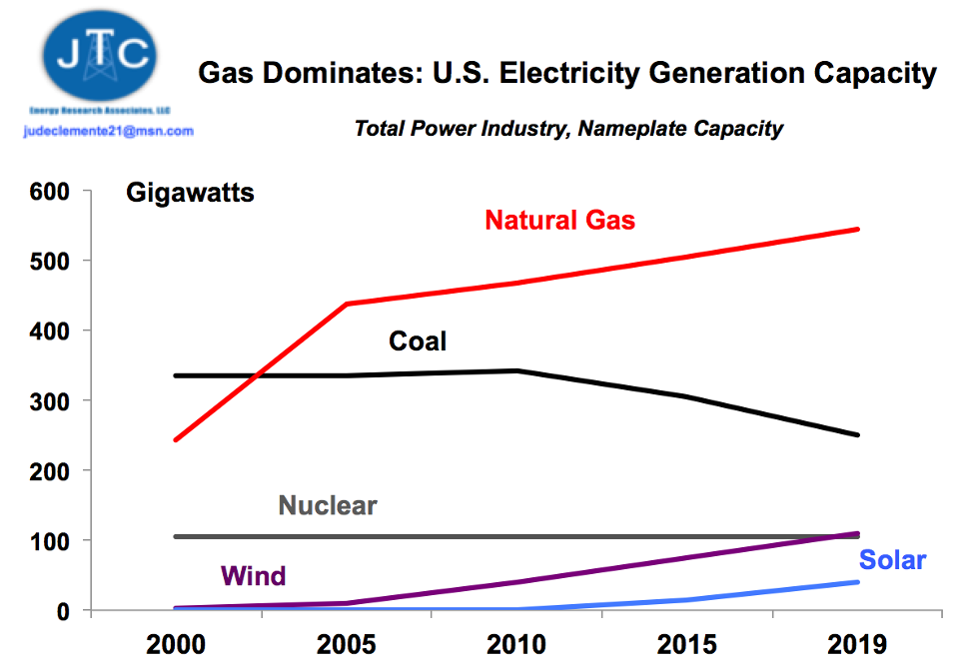 PJM Interconnection
In the mid-Atlantic region, which is mostly in the PJM Interconnection transmission area, the electricity industry added over 12 gigawatts of new natural gas-fired generating capacity since the beginning of 2018—an increase of 17 percent. This new natural gas capacity replaced retiring coal and nuclear capacity: 6 gigawatts of coal-fired capacity, the Oyster Creek nuclear power plant in New Jersey, and the Three Mile Island nuclear plant in Pennsylvania that recently shut down its last reactor.
EIA expects that natural gas will fuel 39 percent of electricity generation in the PJM region in 2020—up from 31 percent in 2018. In contrast, coal is expected to generate 20 percent of PJM electricity next year—down from 28 percent in 2018. In 2010, coal supplied 54 percent of the region's electricity generation, and natural gas generated 11 percent.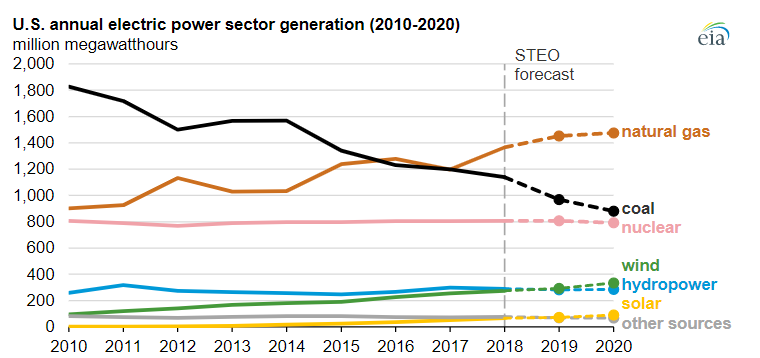 Natural Gas Production 
The U.S. abundance of natural gas and its low price is due to a combination of horizontal drilling hydraulic fracturing, which collectively and popularly is referred to as "fracking." Fracking accounts for about 80 percent of U.S. natural gas production and represents almost all of our incremental domestic gas supply. Most of the dry natural gas production comes from natural gas formations in shale basins such as the Marcellus and Utica in the East region and the Haynesville in the Gulf Coast region. A smaller but still significant portion of the growth is from natural gas production in oil formations (known as associated gas), especially in the Permian Basin.
Dry natural gas production totaled 33.7 trillion cubic feet in 2019—10 percent higher than in 2018. In EIA's Annual Energy Outlook 2020, EIA projects that U.S. dry natural gas production will reach 45 trillion cubic feet by 2050. Production growth results primarily from continued development of tight and shale resources in the East, Gulf Coast, and Southwest regions, which more than offsets production declines in other regions. Dry natural gas production from these three regions accounted for 68 percent of U.S. dry natural gas production in 2019 and is projected to account for 78 percent of dry natural gas production in 2050.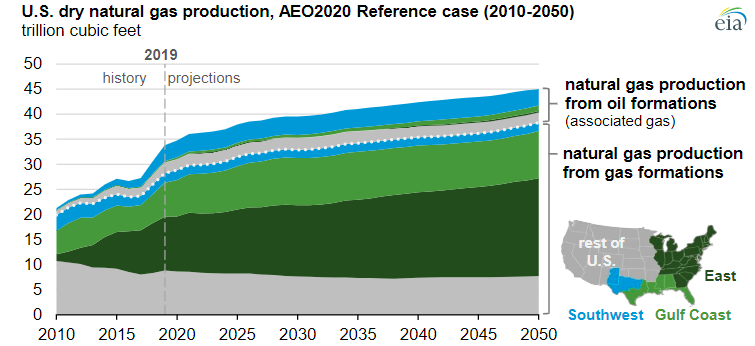 State Restrictions on Natural Gas Use and Supply
Despite the benefits of natural gas, anti-production and anti-pipeline policies of California, New York, and New England are causing their residents to be denied natural gas through city and local area bans on using natural gas in new buildings, banning hydraulic fracturing from producing natural gas in the state, and/or constraining supply through limiting new pipelines. Because natural gas is the primary source of electricity in these states, their policies have resulted in their residential electricity prices being about 50 percent higher than the national average and they often must import energy from other states or countries. Massachusetts has had to import liquefied natural gas from Russia over the previous two winters. California, in some years, has imported 95 percent of its natural gas and 33 percent of its electricity.
Conclusion
The United States has a bright future in natural gas production and use with low prices and abundance of the commodity. Besides being versatile, reliable and low cost, it has helped the United States reduce its emissions of carbon dioxide—a feat which few countries have accomplished. But despite its benefits and record production and use, several states are denying or limiting their residents access to the commodity, causing them to pay more for energy while other states are able to enjoy its benefits and low prices.