The United States is becoming a leader in oil and natural gas exports. Canada and Mexico are purchasing natural gas shipped by pipeline from the United States and Cheniere Energy is shipping liquefied natural gas (LNG) from its Sabine Pass export terminal to Europe, Asia and South America. Since 2015, when the ban on crude oil exports was lifted by Congress, U.S. oil companies have been exporting crude oil and are continuing to export petroleum products to areas around the world. China has become a regular recipient of U.S. oil and natural gas and in the first ten months of 2017 was the second largest importer of U.S. crude oil. The boom is due to U.S. ingenuity in applying horizontal drilling and hydraulic fracturing to extract oil and natural gas from shale rock, making the United States the largest oil and gas producer in the world and lowering energy prices for consumers.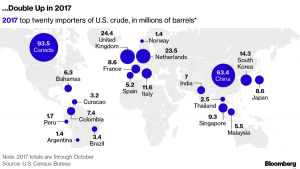 Source: Bloomberg
U.S. Oil Exports
U.S. oil exports totaled $13.5 billion through September 2017; this is already a record high. In 2011, oil was the nation's 146th-ranked export. Through September 2017, it ranked 15th.[i] And through September 2017, the United States sent oil to 31 nations, up from ten countries in 2015 and four in 2011.
Asia is attracted to U.S. crude for a number of reasons: its refineries are configured to process high quality light, sweet crude that the U.S. oil companies produce from shale oil basins; U.S. crude is less expensive as the WTI trades at a discount to other oil benchmarks such as Brent; and cargoes can be bought on a spot basis, providing refiners flexibility to balance the conventional Middle Eastern supplies that are sourced via long-term contracts. [ii] In contrast to Asian refineries, the U.S. refining system operates with a heavier slate of crude oil.
When OPEC and Russia agreed to cut oil production to balance oil's supply-demand fundamentals, the Middle East's oil exports to China fell, encouraging China to diversify its suppliers. In 2017, China became the largest single buyer of U.S. seaborne crude. U.S. light, sweet crude is available for export from multiple U.S. terminals, is shipped in vessels of all sizes, is easy to process, helps to meet tightening product sulfur specifications in China and is priced to be exported. Nine ships carrying 369,000 barrels a day of crude oil left the United States for China in October 2017—a record high.[iii]
In November 2017, 19.7 million barrels of U.S. oil was due to arrive across Asia, equivalent to about 657,000 barrels per day based on vessels that are currently underway, and those that are discharging or have discharged their cargoes. This is over 50 percent more than the 427,000 barrels per day that was offloaded in Asia in October, and above the previous record-high month for U.S. crude shipments to Asia of 541,000 barrels per day in June. In December, there are already 11 vessels carrying a combined 16.5 million barrels of crude in route from U.S. Gulf ports to Asia.[iv]
U.S. Natural Gas Exports to China
The United States shipped $139 million of LNG to China in the first seven months of this year, higher than last year's total of $137 million. U.S. transport costs to Asia are low and Asian LNG prices have fallen to the weakest level in more than a decade. Chinese buyers are purchasing U.S. LNG from third parties in short-term spot trades.[v]
Chinese natural gas demand could grow from 206 billion cubic meters (7.27 trillion cubic feet) in 2016 to 330 billion cubic meters (11.65 trillion cubic feet) in 2020—an increase of 60 percent. The government wants to increase the role of natural gas within the country's energy mix from six percent in 2016 to 8 to 10 percent by 2020.[vi] China's natural gas demand is met by a combination of domestic supply, pipeline imports and LNG. According to the Energy Information Administration, China has the world's largest technically recoverable reserves of shale gas and by 2030, China could provide for about a third of its own gas needs.[vii] Wood Mackenzie expects LNG to account for about a third of China's growing consumption through 2025. However, the United States will have to compete with Qatar, Australia, and Russia for China's natural gas import market.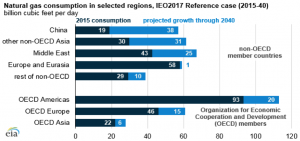 Source: Hellenic Shipping News
Currently there is only one company, Cheniere Energy, capable of exporting large shipments of LNG from the United States. U.S. capacity to process LNG is set to grow nearly seven-fold by 2019 as five export terminals open. (See graph below.) Exporting LNG is a central theme of President Trump's plan to achieve "energy dominance" for the United States.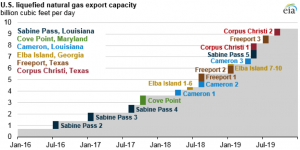 Source: Energy Information Administration
Conclusion
The United States is the world's largest producer of oil and natural gas because of the ingenuity of U.S. oil and gas producers in applying hydraulic fracturing and directional drilling in shale basins. U.S. exports of oil and gas are soaring and Asia, particularly China, is a major recipient of U.S. oil and natural gas exports. U.S. light, sweet crude is in demand by Asian refiners whose equipment is configured for their use. And, low U.S. natural gas prices make U.S. LNG attractive to Asian markets.
---
[i] Forbes, A Major Disruptive Force In The Global Economy? Look No Further Than U.S. Oil Exports, November 30, 2017, https://www.forbes.com/sites/kenroberts/2017/11/30/a-major-disruptive-force-in-the-global-economy-look-no-further-than-u-s-oil-exports/#64f6ce4163c2
[ii] Nasdaq, U.S. Crude Export to Asia Swells: Is OPEC Losing the Game?, November 30, 2017, http://www.nasdaq.com/article/us-crude-export-to-asia-swells-is-opec-losing-the-game-cm885158
[iii] The Hill, US crude oil setting sail for China in record numbers, November 16, 2017, http://thehill.com/opinion/energy-environment/360641-us-crude-oil-setting-sail-for-china-in-record-numbers
[iv] Hellenic Shipping, U.S. crude oil exports to Asia soar, complicating OPEC's efforts: Russell, November 14, 2017, http://www.hellenicshippingnews.com/u-s-crude-oil-exports-to-asia-soar-complicating-opecs-efforts-russell/
[v] Hellenic Shipping, Trump's China trip is a test for US natural gas exports and his 'America First Energy Plan', November 10, 2017, http://www.hellenicshippingnews.com/trumps-china-trip-is-a-test-for-us-natural-gas-exports-and-his-america-first-energy-plan/
[vi] The Maritime Executive, U.S., China LNG Deals Face Challenges, November 8, 2017, https://maritime-executive.com/article/us-china-lng-deals-face-challenges
[vii] CNBC, Trump's China trip is a test for US natural gas exports and his 'America First Energy Plan', November 8, 2017, https://www.cnbc.com/2017/11/08/trumps-china-trip-is-a-test-for-us-natural-gas-exports.html