According to the International Energy Agency (IEA), when accounting for most of the global growth in petroleum supplies, the United States is expected to overtake Russia to become the world's largest producer of oil by 2023. Other forecasters are also expecting that outcome including the Energy Information Administration, Exxon Mobil, and BP. U.S. crude oil production is expected to reach a record of 12.1 million barrels a day in 2023, up 2.8 million barrels a day from current levels due to technological advances, improved efficiency, and an oil price recovery that has shale oil companies ramping up their drilling. American oil production would then surpass Russian oil production, currently the world's largest crude producer at about 11 million barrels a day.
U.S. crude-oil production is expected to rise in the next five years. Cumulative change since 2017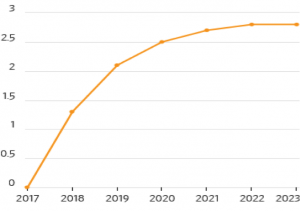 Source: International Energy Agency  Note: 2018 onward are projections
U.S. crude oil exports are expected to more than double to 4.9 million barrels a day by 2023. The IEA expects the United States to be among the world's biggest oil exporters in five years—a major change since 2015 when U.S. law would not allow the export of crude oil.
Counting all liquids, including condensates and natural gas liquids, U.S. production is expected to increase to nearly 17 million barrels a day by 2023 from 13.2 million barrels a day today—far more than Saudi Arabia or Russia.
OPEC's Role Diminishes
According to IEA, the Organization of the Petroleum Exporting Countries (OPEC) is expected to see demand for its crude fall below current production in both 2019 and 2020. In 2017, OPEC and certain non-OPEC oil producing countries (e.g. Russia) agreed to cut their output to reduce global oversupply of oil. That deal improved the outlook for other producers, including U.S. shale oil producers, as prices increased throughout the year. IEA expects OPEC to moderate production to avoid a return to oversupply and lower prices despite an increase in capacity of 750,000 barrels per day.
IEA expects the United States to dominate oil markets despite Saudi Arabia's crude-output capacity, which is expected to reach 12.3 million barrels a day in 2023. Thus, Saudi Arabia could compete with the United States for the top spot as a producer. However, IEA does not expect that to happen since Saudi Arabia has historically pumped below their capacity to maintain their position as a swing supplier that can increase or decrease output as the market needs.
IEA's Forecast
IEA expects robust oil demand growth through 2023 with China continuing to be the main driver. Oil demand is expected to rise above 100 million barrels a day for the first time next year, increasing by a total of 6.9 million barrels a day to 104.7 million barrels a day by 2023. The IEA believes there is "no peak oil demand in sight," but demand growth will start slowing down to about 1 million barrels per day by 2023. The agency expects the gap between demand for crude and producers' capacity to produce it to shrink to its lowest level since 2007—when oil prices were skyrocketing to record levels above $140 a barrel.
Oil production is expected to also increase in Canada, Brazil, and Norway. IEA expects those three countries and the United States to produce enough barrels to meet growing consumption to the end of the decade. Of the 6.4 million new barrels of oil per day that are forecast to be produced between now and 2023, almost 60 percent is expected to come from the United States. Within OPEC, only the Middle East is expected to increase output, as some members such as Venezuela struggle with domestic problems.
IEA expects Canada's production to increase to 5.6 million barrels per day by 2023, compared to the current 4.8 million barrels per day. However, IEA warns that pipeline constraints could be a problem to development and are part of a wider capacity crisis in North America. Growth in projected North American oil supply from 2018 to 2023 raises the question of whether there is enough pipeline capacity to transport and sell that oil. If sufficient capacity is not built, the increase in production would be at risk, with serious implications for global markets.
IEA also cautions that more investment is needed outside the United States or growth in oil production would likely begin to slow after 2020. The slump in oil prices since 2014 has lowered investment in the sector outside of U.S. shale basins. According to the IEA, investment in the oil and gas sector fell by 25 percent in both 2015 and 2016, and was flat last year as Brent oil prices plummeted from $112 per barrel to $30 a barrel, before recovering due to the OPEC and non-OPEC production cuts. The IEA warned that companies will need to start spending again to avoid the potential for crude-oil shortages that could cause prices to surge.
IEA Executive Director Fatih Birol said: "Upstream investment shows little sign of recovering from its plunge in 2015-2016, which raises concerns about whether adequate supply will be available to offset natural field declines and meet robust demand growth after 2020."
Conclusion
IEA and other forecasters expect oil production to grow in the United States, making it the top oil producer by 2023, and that oil demand will continue to be robust. But IEA cautions that investment is needed in the oil sector in areas besides the United States to meet future demand and to avoid skyrocketing prices.