Residents of Westchester, New York, just north of New York City, are finding that they are being deprived of an abundant and affordable energy source in the United States—natural gas—purely because of their politicians. First, Governor Cuomo banned hydraulic fracking in the state, which would have helped produce natural gas from the state's own deposits of shale gas, but his administration is also denying permits for pipelines, which, if they had been approved, would have brought inexpensive supplies of natural gas from neighboring Pennsylvania. Due to the lack of natural gas availability, Con Edison had to impose a moratorium on new firm service in southern Westchester, no longer accepting applications for new service beginning March 15. This means that effective that date, residents in that area can no longer switch from oil to natural gas and businesses cannot obtain natural gas service for new construction projects.
Further, a 37-mile pipeline that would stretch from New Jersey, across Lower New York Bay and into Queens is in doubt, despite National Grid's indication that it needs more pipeline capacity to avoid moratoriums in the city and on Long Island. The rejection of new gas infrastructure is hurting projects that Governor Cuomo has sponsored. In the case of National Grid, Governor Andrew Cuomo's planned new facility for the National Hockey League's New York Islanders will need to find an alternative for its heating needs if the pipeline is not approved. In New Rochelle, a project that has received $10 million from Cuomo's downtown investment program would be stalled. In Yonkers, Mayor Mike Spano indicated it would stop a "building boom" in the state's fourth-largest city. Westchester County projects that the construction of 16,000 homes and 2 million square feet of retail and commercial space could be suspended due to the moratorium, according to a preliminary economic analysis.
The slowing of economic development resulting from New York's political actions is a testament to what happens when energy becomes politicized. As problems accrue owing to the state government's bias against pipelines, whole parts of New York State risk becoming "green-lined" into "no investment zones."
Con Edison's Predicament
Con Edison has a conservation plan that includes getting customers to cut back on their usage, the deployment of ground-source heat pump technology and other non-pipeline alternatives to avoid blocking new gas hookups, but the proposals were not enough to alleviate the need for a new gas pipeline. The utility is continuing to pursue non-pipeline solutions, reduced reliance on fossil fuels through renewable technologies, and opportunities for gas infrastructure projects that can meet New York State requirements. That includes electric heating options, such as heat pumps, and taking interruptible service for commercial projects which would require an on-site fuel supply when the gas system is constrained, which is typically oil. The company is also exploring an oil-to-electric conversion pilot, but a recent analysis by the New York State Energy Research and Development Authority found that electric heating options are not cost-effective, compared to natural gas in the downstate region.
However, until the utility can align demand and available supply, applications for new natural gas connections in most of its Westchester service area will be terminated. The Public Service Commission indicated that it will monitor the utilities' interactions with customers to make sure they are aware of the alternatives. Con Edison also warned that moratoriums may eventually be necessary in New York City.
To beat the March 15 date, many property developers applied for a gas hook-up. The utility received about 420 applications for gas service in the targeted area in the three weeks after the moratorium was announced in January—more than double the normal number.
National Grid's Predicament
National Grid needs the approval and permitting of the Northeast Supply Enhancement Pipeline Project, which is currently scheduled to be in service by December 2020, and is designed to deliver additional gas supply to National Grid's system and to support the Belmont Project for the new facility for the Islanders hockey team. New York Arena Partners expects to invest about $1 billion in the project. The development plan includes an 18,000 seat arena, a new 200 room hotel and 435,000 square feet of retail space. Governor Cuomo has also committed the Long Island Rail Road to expanding service there year-round.
Alternatives to natural gas were not proposed for the facility. On-site solar and wind to support electric heating are not considered viable options because of the intermittent nature of the resources and their large acreage requirements. Electricity costs on Long Island are particularly high, making natural gas a much more cost-effective option for heating.
Cost of Home Heating
Natural gas is clearly the way to heat one's home in the Northeast. According to the Energy Information Administration, it will cost an average $743 to heat a home in the U.S. Northeast with natural gas this winter, compared with $1446 for electricity and $1,529 for heating oil. Residents denied access to natural gas can therefore pay twice as much or more to heat their homes in what is ultimately a hidden political tax on their energy options.
Average U.S. Northeast Winter Heating Costs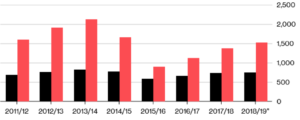 Source: Bloomberg
Conclusion
Due to the Cuomo administration's rejection of permits for most new gas pipeline projects in recent years, pipeline developers have shied away from proposing projects in the state. As a result, Con Edison has declared a moratorium on new service beginning March 15 and National Grid may have to do the same if a pipeline it needs is not approved. The lack of pipelines is devastating development in Westchester, including affordable housing initiatives, and Cuomo administration projects. The new facility proposed by Governor Cuomo for the New York Islanders could be in jeopardy and will need to find an alternative source to heat the facility to survive. The lack of foresight by New York politicians has created an untenable situation that threatens to get worse. If the trend continues, New Yorkers will be left without reliable, affordable heat.