In 2019, Australia became the world's leading liquefied natural gas (LNG) exporter, exporting 77.5 million metric tons of LNG compared to 75 million metric tons for Qatar. That event did not come as a surprise since forecasters have expected Australia to take the lead both because the country has the natural gas resources and because it is situated close to Asian markets. The United States came in third, exporting 34.3 million metric tons of LNG in 2019.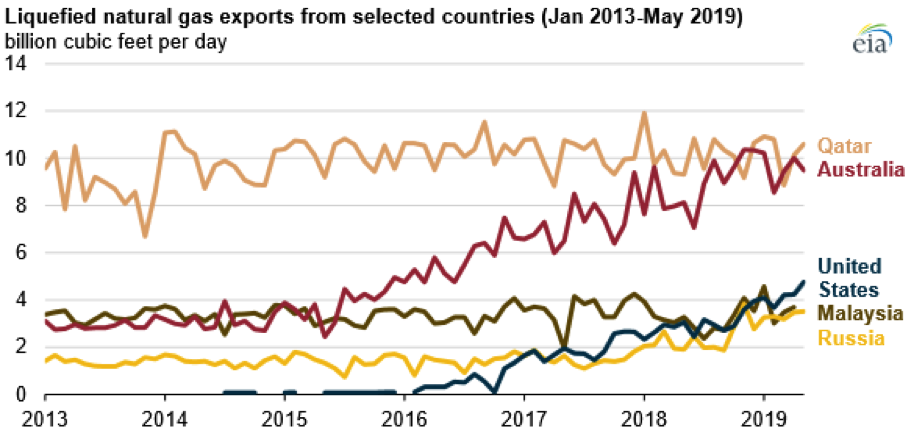 Australia's LNG shipments from its 10 LNG projects were 11.4 percent higher in 2019 than in 2018, primarily due to growth in production from the Ichthys project in Darwin. The 10 LNG projects have a combined capacity of 87.8 million metric tons. Since only 88 percent of that capacity was used in 2019, Australia's LNG shipments can increase further. In contrast, Qatar's LNG capacity is 77 million metric tons.
Australian LNG export revenue totaled $33.8 billion U.S. in 2019, up from 29.9 billion in 2018 and $6.5 billion in 2010 when the Australian LNG development boom began. Australian LNG is exported to Japan (the largest importer of Australian gas), China, South Korea, Taiwan, Singapore, India, and other countries in the Asian region via the spot market.
Western Australia dominates the country's LNG output at 57 percent of the national total, with Queensland contributing 29 percent. The largest percentage growth was from the Ichthys project operated by Japan's INPEX in the Northern Territory, producing 7.5 million metric tons in 2019—an increase of 900 percent from its commissioning volumes in 2018.
Seven LNG export projects are located in northwestern Australia: Pluto, Gorgon, Wheatstone, North West Shelf, Prelude, Darwin, and Ichthys. The total LNG export capacity in northwestern Australia is 62 million metric tons. In 2020, Gorgon is expected to add a fourth LNG train and in 2023, Pluto is expected to add a second LNG train.
In eastern Australia, three LNG export projects were completed in 2015 and 2016 on Curtis Island in Queensland—Queensland Curtis, Gladstone, and Australia Pacific—with a combined nameplate capacity of 25 million metric tons. All three projects in eastern Australia use natural gas from coalbed methane as a feedstock to produce LNG.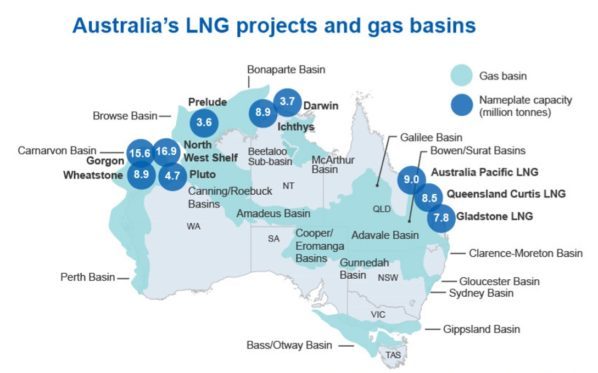 Conclusion
Australia is a clear leader in the export of LNG due to its abundance of natural gas resources and its proximity to Asian markets that demand the gas. In 2019, it exported over twice the amount of LNG that the United States exported. The United States, however, has additional LNG terminals coming on line and also has an abundance of natural gas resources that can be tapped for export.