Some people falsely surmise that because China's capacity addition of wind and solar power is the largest in the world that the country is generating most of its power from these sources. However, China still gets most of its power from thermal energy (coal, natural gas, and oil), generating 75 percent from such sources as of the second quarter of 2018 compared to 6.7 percent for wind and solar power. Further, China's increase in thermal generation was over three times more than its growth in wind and solar generation over the past year—176.9 terawatt hours for thermal generation compared to 51 terawatt hours for wind and solar generation. The increase in China's thermal power represented 72 percent of its increased generation over the past year.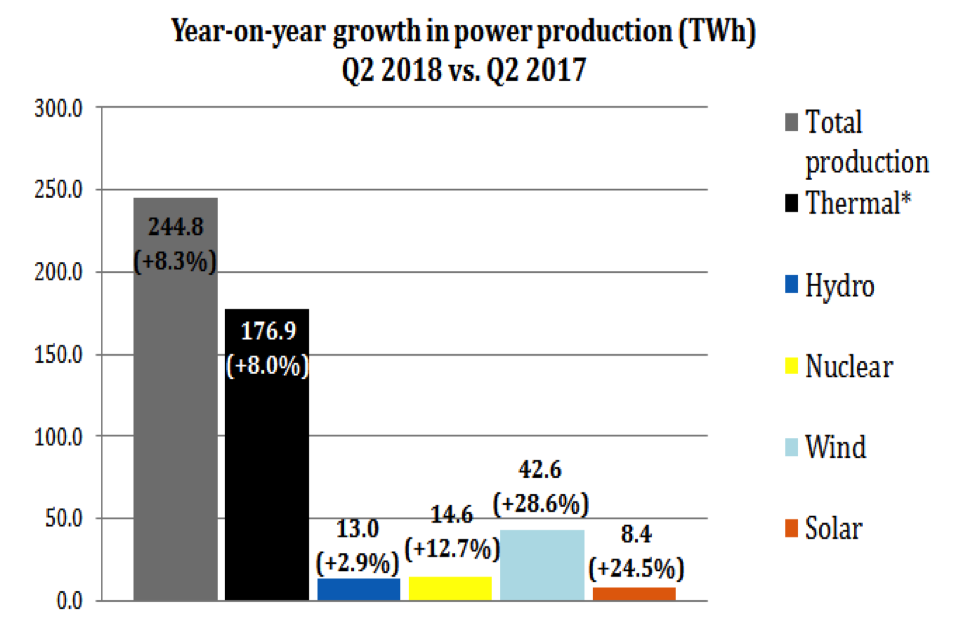 Wind and solar capacity in China represent 17 percent of total capacity, yet they only produce about 7 percent of the country's electricity, while China's thermal capacity represents 64 percent of total capacity and generates 75 percent of the country's generation, according to China's statistical agency. Capacity is much different than actual generation, and this is especially true of intermittent, non-dispatchable sources like wind and solar.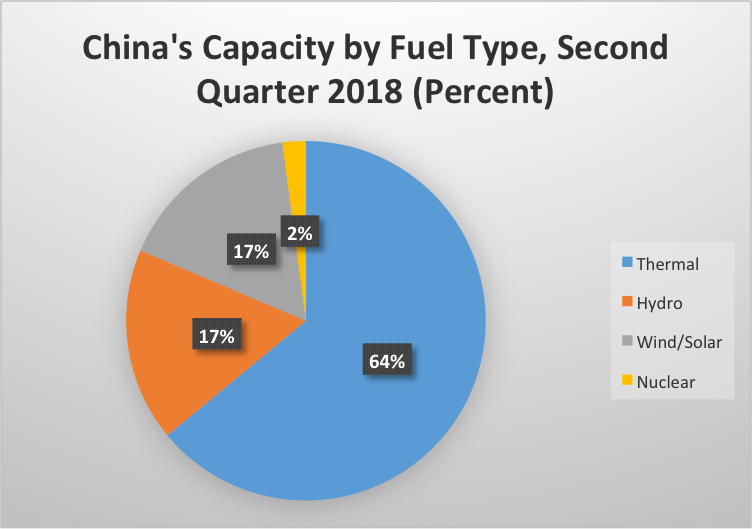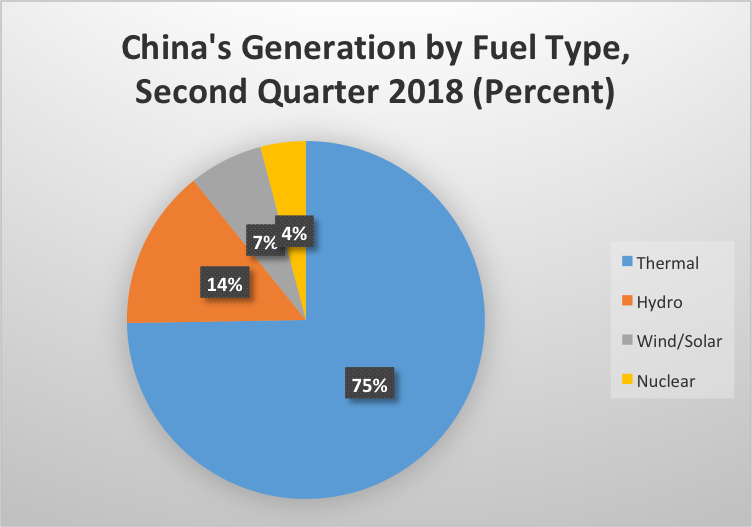 According to BP's Statistical Review of World Energy, China generated 67 percent of its generation from coal in 2017, compared to 31 percent for the United States. U.S. generation is much more diversified than that of China, as the figure below shows. And, the United States gets a greater share of generation from non-hydroelectric renewables than China—10 percent for the United States compared to 7 percent for China. Total generation in China is over 50 percent greater than that of the United States, however. Generation in China exceeded that of the United States beginning in 2011.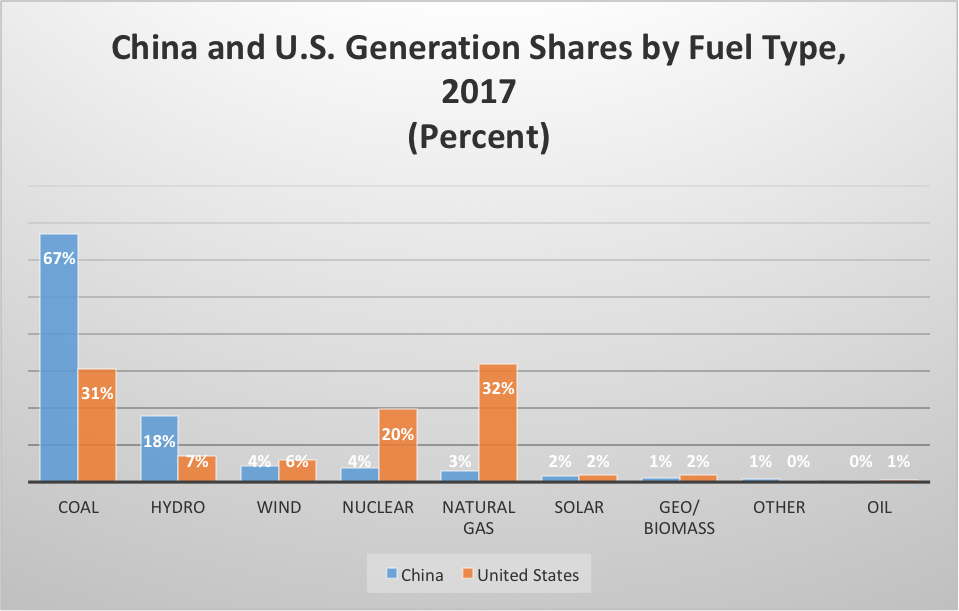 As of 2017, coal remained the largest source of energy in China at just over 60 percent of its energy mix. After declining for 3 straight years, China's coal demand increased by 0.2 percent due to an especially cold winter and a natural gas shortage. China's coal production increased by 3.3 percent in 2017 to over 3.5 billion metric tons—5 times greater than that of the United States. More recently, in July, China's coal output fell 2 percent from the prior month to 281.5 million metric tons—the lowest in two years, according to its National Bureau of Statistics.
Because of capacity cuts in its domestic mining sector, China's coal imports increased, driving global prices for thermal coal, burned to generate electricity, to their highest level since late 2016. China's coal imports increased 15 percent to 175.2 million metric tons in the first seven months of this year from the same period last year, according to customs data.
Under its Paris Agreement non-binding commitment, China is expected to increase the share of non-hydroelectric renewable energy to 20 percent of its energy mix by 2030 and to reduce coal to 58 percent of its energy mix by 2020. In fact, Apple is helping these goals by launching a $300-million clean energy fund in China to fund renewable energy generation.
Conclusion
China has a long way to go to meet its commitments to the Paris Agreement, decreasing its coal share of energy consumption and increasing non-hydroelectric renewable energy use. China's commitments include peaking its carbon dioxide emissions by 2030. Currently, it is the world's largest consumer and producer of coal and the largest generator of coal-fired electricity. It produces 5 times the amount of coal that the United States produces, supporting coal's 60-percent share of China's energy consumption. Even with that amount of coal production, China is importing coal to meet its coal demand.