China is about to unseat the United States as the world leader in petroleum refining, a position the United States has held for over a century.  One result of the coronavirus pandemic is the loss of U.S. refineries as the demand for petroleum products is reduced due to global lockdowns. Almost 10 percent of U.S. refining capacity is offline due to weak gasoline, diesel and jet fuel demand; plant repurposing; or extended turnarounds. About 1 million barrels per day of refinery capacity is expected to be idled permanently and about 700 thousand barrels per day are offline for extended work or partial operations.
However, as the United States is decreasing its refinery production, China is increasing its own. According to the International Energy Agency, China is expected to dethrone the United States as the number one petroleum product producer as early as next year. About 50 years ago, the United States had 35 times the refining capacity of China. But today, oil exporters are selling more crude to Asia and less to customers in North America and Europe. China's refiners are becoming a growing force in international markets for gasoline, diesel and other fuels, putting other refiners out of business. Shell, for example, recently announced that they will halve capacity at their Singapore refinery.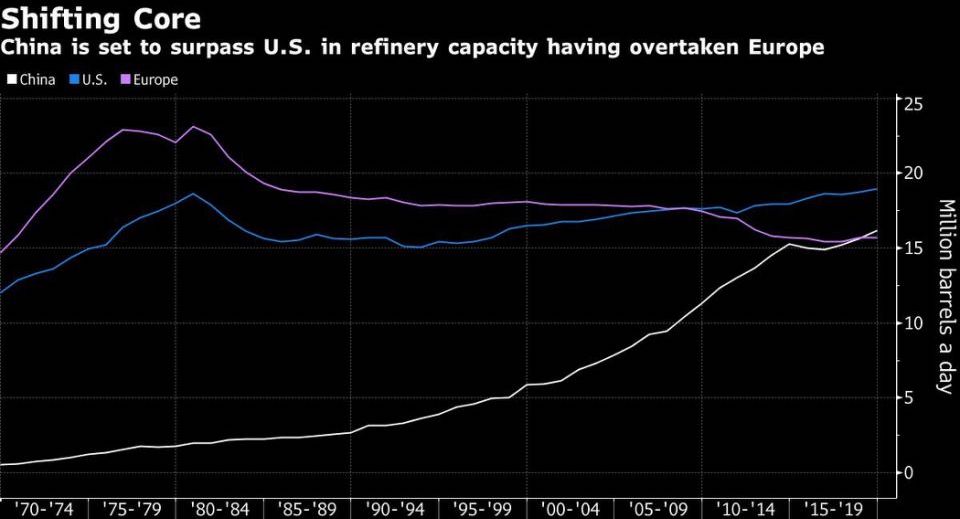 Chinese refining capacity has nearly tripled since 2000 as it worked to keep pace with the rapid growth of diesel and gasoline consumption. The country's crude processing capacity is expected to climb to 20 million barrels per day by 2025 from 17.5 million barrels per day at the end of this year.
China is firing up a new unit at Rongsheng Petrochemical's giant Zhejiang complex in northeast China, which is just one of at least four projects underway in the country, totaling 1.2 million barrels a day of crude-processing capacity—equivalent to the U.K.'s entire fleet.
India and the Middle East
India is also boosting its processing capability by more than half to 8 million barrels a day by 2025, including a new 1.2 million barrels per day mega project. Middle Eastern producers are building new units with at least two projects totaling more than a million barrels a day that are set to start operations next year.
Europe
About two thirds of European refiners are not making enough money in fuel production to cover their costs. Fuel is taxed heavily in Europe to discourage driving by citizens, which lowers demand. Europe still needs to reduce its daily processing capacity by a further 1.7 million barrels in five years or sooner as refiners grapple with the economic crisis from the coronavirus and the transition away from fossil fuels to meet climate targets.
U.S. Refining Status
The U.S. refining sector is reeling from the lack of demand due to the coronavirus lockdowns. Some of the U.S. refining capacity has already been shut permanently such as Marathon's 27,000 barrel per day Gallup, New Mexico plant—one of the first plants shut due to reduced demand. Other refineries will be repurposed such as the HollyFrontier refinery in Cheyenne, Wyoming, which will be turned into a renewable diesel facility as well Marathon's Martinez, California, plant.
Other U.S. refineries are running at partial capacity. For example, PBF Energy shut a crude unit, coker and fluid catalytic cracking unit down at its Paulsboro, New Jersey, plant, taking 85,000 barrels per day of crude processing capacity offline and sending unfinished feedstock to its nearby Delaware City, Delaware plant for finishing. Phillips 66 shut its 255,600 barrels per day Alliance refinery in Belle Chasse, Louisiana, on September 13 for Hurricane Sally and accelerated planned work on the plant. It will restart in 2021 "if economic." In the third quarter, Phillips 66's global refining system ran at 77 percent of capacity.
Marathon Petroleum and Valero Energy – the two largest U.S. refiners – have plans to run their refineries at lower rates in the fourth quarter than they did in the third. Marathon expects to run 2.265 million barrels per day of crude oil in its refineries in the fourth quarter, compared with the 2.390 million barrels per day it processed in the third when it ran at 84 percent of capacity. Valero expects to process 2.48 million barrels per day compared with the third quarter's 2.526 million barrels per day.  Coronavirus lockdowns have reduced demand for travel by consumers who have become home-bound.
Plastic Demand a Driver
The COVID crisis has hastened a seismic shift in the global refining industry as demand for plastics and fuels grows in China and the rest of Asia, where economies are quickly rebounding from the pandemic. Over half of the refining capacity that comes on line from 2019 to 2027 will be added in Asia and 70 percent to 80 percent of this will be focused on plastics.
Asia's integrated refineries are still net importers of feedstocks like naphtha, ethylene and propylene as well as liquefied petroleum gas, used to make various types of plastic. But, these new massive and integrated plants make life harder for smaller rivals, who lack the scale, flexibility and government cooperation to switch between fuels and the ability to process dirtier, cheaper crudes.
Conclusion
U.S. crude oil utilization is being adjusted for market conditions, primarily as a result of the coronavirus lockdowns. As such, some U.S. refineries are closing, others are being retooled to biofuels, and still others are running at reduced capacity. The U.S. situation is the opposite of China's, where the refining sector is adding more capacity, not only to meet gasoline and diesel demand but for the manufacture of plastics. China's refining sector is expected to overtake that of the United States as early as next year.