New-vehicle sales across China dropped 42 percent in the first quarter of 2020 after the halt in production and distribution because of the pandemic. Although the market started coming back in April, the industry remained pessimistic. That changed in September when new-vehicle sales increased 17.4 percent to almost 2.6 million with year-to-date volume down just 6.9 percent to about 17.1 million. In October, sales increased another 12.5 percent (2.6 million), resulting in a total vehicle sales decline of 4.7 percent to about 19.7 million from a year earlier. The faster-than-expected market recovery is attributed to the resumption of live auto shows, promotional events and favorable government policies, such as a vehicle scrappage program and subsidies for new-vehicle sales.
September sales of new commercial vehicles including trucks and buses increased 40 percent to about 477,000 due to a massive investment initiative by the national government on domestic infrastructure projects. Deliveries of new light vehicles, including sedans, crossovers, SUVs, multipurpose vehicles and minibuses, increased 8 percent in September to about 2.1 million. In October, passenger vehicle sales increased by 9 percent and commercial vehicles sales increased 30 percent.
According to the Ministry of Industry and Information Technology, auto sales in China are expected to drop 3 percent this year with total sales around 25 million and return to growth next year. U.S. auto sales, for comparison, were 17.1 million in 2019.
Monthly Auto Sales in China, August 2019 to August 2020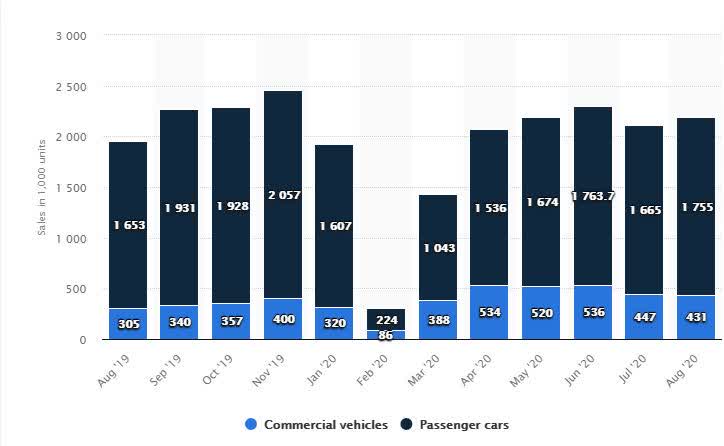 China's New Energy Vehicles
In October, sales of new energy vehicles which include pure battery electric vehicles, fuel-cell cars, and plug-in hybrids increased 105 percent to 160,000, and are expected to increase to about 1.1 million this year, according to China Association of Automobile Manufacturers.
By 2025, sales of electric, plug-in hybrid and hydrogen-powered vehicles in China are expected to increase to 20 percent of new car sales compared to just 5 percent currently but lower than a 25 percent goal stated in a policy proposal published by China's Ministry of Industry and Information Technology last year. Many of China's electric vehicle sales are "micro EVs" sold in rural areas with low speeds and minimal regulations and they are super cheap.
China is making owning an electric vehicle more convenient by building more efficient electric vehicle charging and battery swapping networks. According to the International Energy Agency, the number of public charging stations totaled 862,118 worldwide, with China having 60 percent of them.
The Chinese government also intends to improve the green car quota system so automakers will make more environmentally friendly vehicles after NEV subsidies end in two years and boost NEV sales for public uses such as bus and trucks.
While subsidies in China are being dialed back, electric vehicles are much cheaper in China than elsewhere. Tesla, the world's biggest electric vehicle producer, reduced the price of its China-made Model 3 sedan to 249,900 yuan ($36,800), less expensive than anywhere else, due primarily to supply chain localization, especially batteries. Also, in Shanghai, for example, it costs $13,000 for a license plate for a vehicle with a combustion engine whereas registration plates are free for electric vehicles.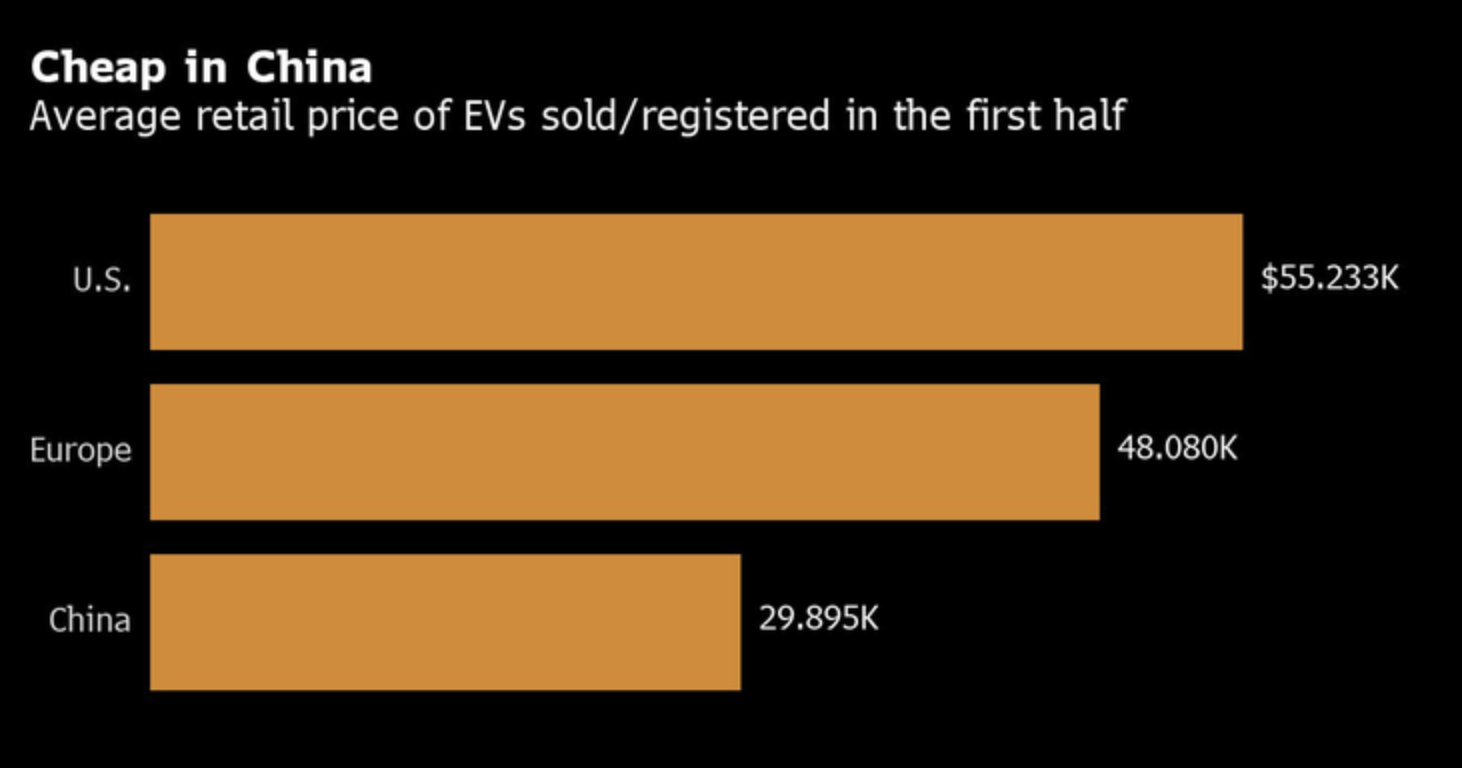 China's New Energy Vehicle (NEV) industry has improved its technology and competitiveness, the State Council said in a policy paper as part of the release of the country's 14th five-year plan through 2025. China helped its domestic manufacturing industry by ensuring imported vehicles were not eligible for subsidies for a long time, and were subject to import tariffs.
Currently, there are 138 different electric vehicle models in China, 60 in Europe and 17 in the United States. China plans to become a global automotive superpower and considers wider penetration of its own electric vehicles essential to that objective. With average retail prices of electric vehicles about half of those in the United States, it may be well on its way.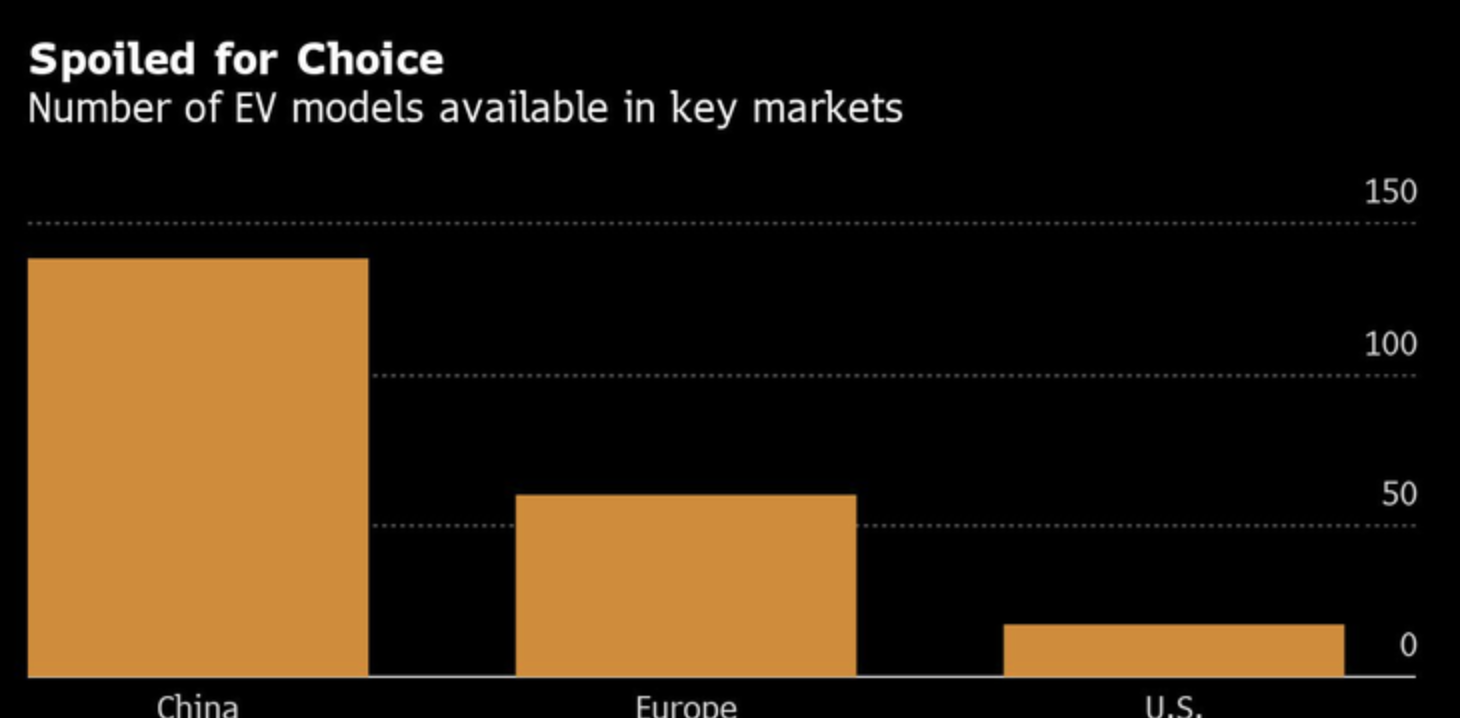 In Europe, the electric vehicle market has been bolstered by tighter emissions regulations. Electric vehicle sales in Europe in the first half of 2020 exceeded those in China for the first time since 2015. While the coronavirus pandemic hurt all car sales, including electric vehicles, which dropped 15 percent globally in the second quarter, the market for electric vehicles is still expected to increase about 7 percent this year.
China Dominates Critical Minerals Needed for Electric Vehicles
The one million electric vehicles currently on U.S. roads account for just 0.5 percent of America's cars but contain more cobalt than one billion smartphones. Producing one single electric vehicle battery, weighing about 1,000 pounds each, requires about 500,000 pounds of materials—more than a 10-fold increase in the cumulative quantity of materials used by a standard car over its entire operating life.
Some electric vehicle materials are rare-earth elements, such as neodymium, and others are copper and nickel. Electric vehicles use twice as much copper as conventional cars. The global demand for nickel to make batteries is expected to increase 1,500 percent in the coming decades. Overall, the global push for electric vehicles will increase in the demand for "critical" energy minerals by 200 to 8,000 percent.
This massive increase in critical minerals will serve to reduce—not eliminate—oil demand. In fact, in two decades, optimistic forecasts show a barely 10 percent reduction in the world's petroleum use when 500 million electric vehicles are expected on the world's roads.
The United States is 100 percent dependent on imports for about 17 key minerals and imports over half its needs for another 28. China supplies about  90 percent of rare-earths for the world and has gained control of over 90 percent of the battery industry's cobalt refining.
In early October, the Chinese government advanced legislation to be enacted in 2021 that will "allow" banning exports of "strategic minerals" to companies and nations that China considers a national security threat. This means that if foreign companies are seen as harming China's interests, or having links with parties that harm China's interests, then China will restrict or prohibit export of strategic resources, most notably rare earths to them. These foreign companies will be put on a "blacklist". The draft legislation was published three years ago and has been reviewed twice since then. It is expected that the latest review will be conducted at the National People's Congress in November before it is implemented in 2021.
Conclusion
China is the world's biggest auto market and the world's largest electric vehicle market. It dominates in the number of electric vehicle models offered and in the lowest average retail prices in hopes to eventually dominate the world's electric vehicle sales market. It is well on its way since it dominates the battery supply chain and other critical minerals needed to build electric vehicles. The United States needs to be careful regarding China's pending legislation to restrict or prohibit export of strategic resources to nations that it considers a national security threat since our critical minerals mining industry is decades away from being competitive to China's.