The February freeze in the U.S. led to chemical plant shutdowns that are further disrupting global supply chains and causing a shortage of raw material that first occurred because of the lockdowns from the coronavirus pandemic. The power outages brought about by the February storm resulted in the closure of the world's largest petrochemical complex, and now, many of those factories remain offline. As a result, prices for polyethylene, polypropylene, and other chemical compounds used to make auto parts, computers, and other plastic products reached their highest levels in years. For example, prices for polyvinyl chloride, or PVC, have more than doubled since last summer. At the peak of the forced shutdowns, 75 percent of polyethylene capacity was shut, 62 percent of polypropylene capacity, and 57 percent of PVC.
The rise in polypropylene and polyethylene prices was the largest and fastest increase in at least a decade, which will result in higher prices for consumers. A huge expansion of petrochemical plants occurred over the past two decades in the U.S. Gulf Coast due to hydraulic fracturing unleashing new supplies of domestic natural gas and other fossil-fuel byproducts that could be converted into chemicals and plastics. The boom helped make the United States one of the largest exporters of plastics and other petrochemical products in recent years, and plastics are the new building blocks of our modern society.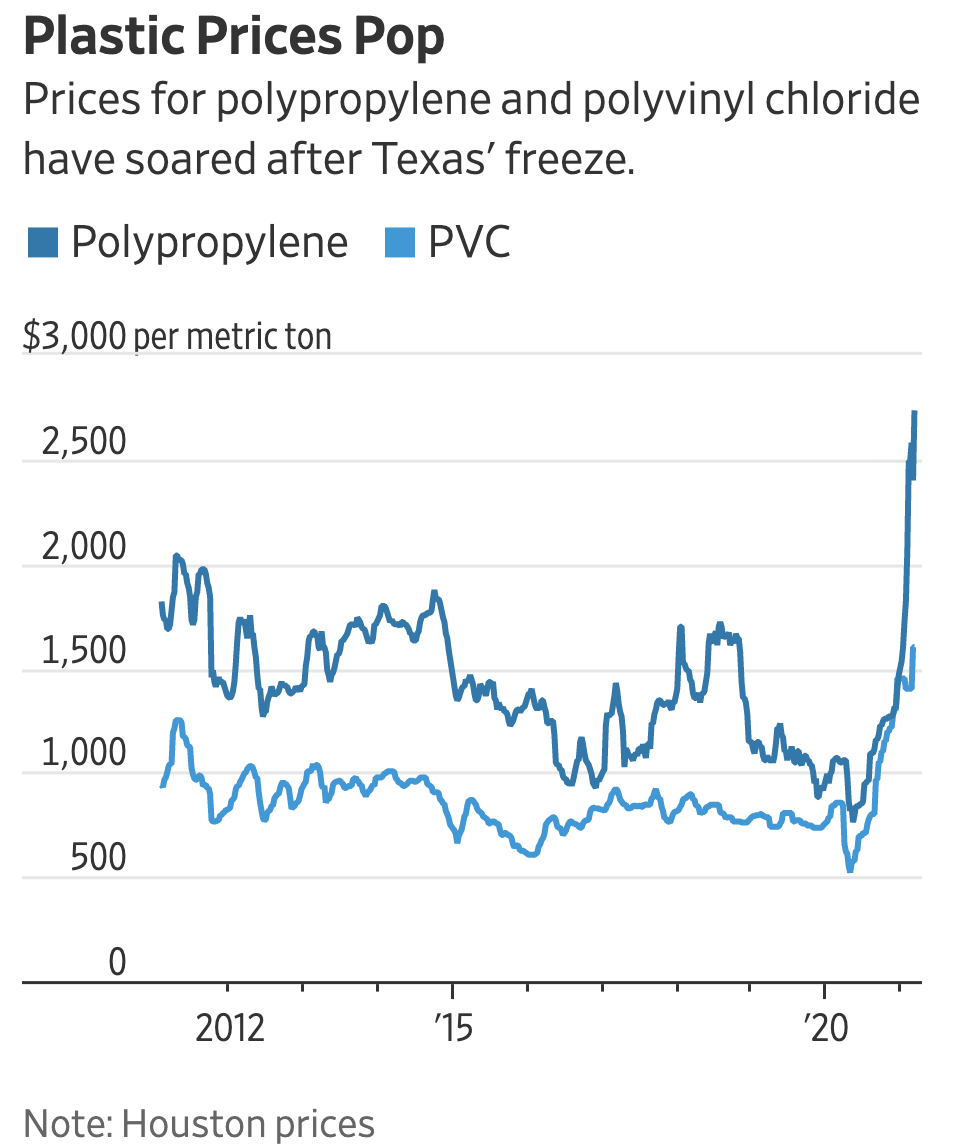 High winds, a dust storm, and poor visibility led to a container ship in the Suez Canal going aground on March 23, 2021, resulting in the blockage of over 420 vessels from proceeding through the canal and further exacerbating supply chain problems. The ship, the Ever Given, which is nearly a quarter-of-a-mile-long and weighing 247,000 tons, was heading north in route from China to the Netherlands. Once refloated, which occurred on March 29—almost a week after it went aground, it could take 7 to 14 days to clear the shipping backlog. The alternative is to divert around Africa, adding up to 12 days to the trip. As much as 30 percent of the world's shipping container freight passes through the Suez Canal every day, taking around six hours and accounting for about 12 percent of the total goods traded globally. Lloyd's List estimates that more than $9 billion worth of goods pass through the 120-mile waterway each day, translating to around $400 million per hour. The effects of the blockage will be felt for months and could even exacerbate an ongoing chip shortage that's hindering global car production.
Impact of Supply Chain Shortages
The weather conditions caused some semiconductor companies to idle production capacity, threatening to exacerbate a chip shortage that has already prompted carmakers to curtail output at some plants, which is expected to result in cost increases and delays for automakers, home builders, and other businesses that will ultimately impact consumers. The car industry has been hit hard by the chip shortage amidst fast-growing demand. Volkswagen AG, General Motors Co., Ford Motor Co., and others responded by trimming vehicle production. Even before the two weather events had occurred, the chips shortage was projected to cause the global auto industry to produce nearly 700,000 fewer cars than planned for the first three months of 2021.
Honda Motor Co. also indicated it would halt production at most of its U.S. and Canadian car factories, citing supply-chain issues including the fallout from U.S. winter storms. Toyota Motor Corp. indicated that a shortage of petrochemicals will affect production at its car plants as well. Paint maker PPG Industries Inc. indicated that a number of its suppliers have been affected by the problems in Texas. Container Store Group Inc. indicated that the shortages could influence profit margins at the storage and shelving retailer.
Suppliers to a Houston-based homebuilder expect shortages of everything from siding to adhesives to insulation, which will mean delays for home starts and further increases in costs for home buyers, which have been climbing in the midst of a housing shortage. Several manufacturers of PVC piping indicated that they could not fulfill their contractual obligations immediately after the freeze.
Petoskey Plastics, which makes car-seat covers, protective gowns for healthcare workers, and numerous other products, indicated that raw-material costs were up nearly 150 percent from last summer, as suppliers that had already announced price increases before the Texas freeze have issued more in its aftermath.
Due to the big demand for vaccinations along with the disruptions caused to plastics production, there is a shortage of sharps containers that hold used needles. Hospitals have begun waiting until their sharps containers are full before throwing them out instead of tossing them weekly.
Conclusion
The aftermath of the Texas freeze and other weather events is adding to the problems facing a global supply chain that was severely affected by the Covid-19 pandemic, which has struggled at times to meet the demand for the past year. The virus caused a surge in purchases of many goods as consumers remain at home and made it more difficult to produce them given enhanced worker safety rules and social-distancing requirements. As plants slowly restart from the freeze, it will take months for inventories to recover, increasing prices for consumers. As the world has grown wealthier, healthier and people are living longer, the direct link between petroleum products, petrochemicals, and other modern miracles has become more prevalent. When supplies are disrupted or delayed, it ripples through the economy in ways that may adversely impact those who take everyday conveniences for granted.