The International Energy Agency (IEA) annually estimates global fossil-fuel consumption subsidies that measure what many developing countries spend to provide below-market-cost fuel to their citizens. In 2019, IEA found that fossil fuel consumption subsidies totaled around $320 billion, 27 percent lower (about $120 billion less) than in 2018. According to IEA, this decrease is partly due to lower average fuel prices throughout the year. Oil subsidies made up 47 percent ($150 billion) of the total fossil fuel consumption subsidies, while electricity made up 36 percent ($115 billion), natural gas 16 percent ($50 billion) and coal 0.8 percent ($2.5 billion). According to the IEA, the United States does not have any consumption subsidies for oil, coal, natural gas, or electricity. This is contrary to many political and media discussions in the United States suggesting that such subsidies exist.
The IEA is a part of the Organization for Economic Cooperation and Development (OECD), which represents the developed nations of the world. IEA's subsidy study found that many developing countries artificially lower energy prices to their citizens, paying the difference from their government budgets. These wealth transfers are differentiable from subsidies that are intended to support uneconomic energy sources such as wind and solar technologies toward commercialization. The United States and other developed countries support energy production of all types in the form of tax credits, loan guarantees or mandates, which are not included in IEA's fossil fuel consumption subsidy calculations since they are directed towards production rather than consumption of the fuel.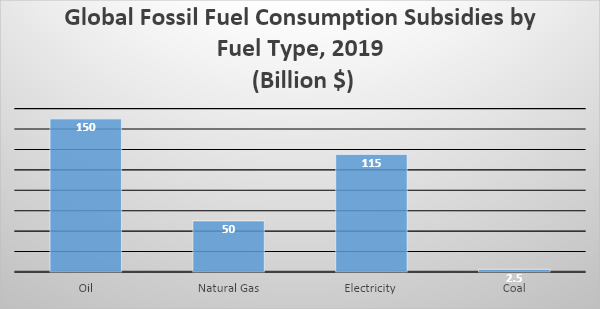 Almost all countries had lower estimated subsidies with the only exceptions being Iran, Bahrain, and Sri Lanka. Consumers receiving these subsidies paid on average around 85 percent of the competitive market reference prices for the energy products consumed.
Iran leads the world in fossil fuel consumption subsidies providing $86 billion in 2019 to lower the cost of fossil fuels to end-users in its country, despite an increase of at least 50 percent in gasoline prices in November. Of the $86 billion in fossil fuel consumption subsidies Iran paid, 21 percent covered oil, 60 percent went to electricity, and the rest to natural gas.
China is the second largest subsidizer of end-use fossil fuel prices, providing 59 percent of its $30.5 billion in fossil fuel consumption subsidies to oil and 41 percent to electricity. Saudi Arabia ranked third with $28.7 billion in fossil fuel consumption subsidies, 63 percent covering oil, 16 percent covering natural gas, and 20 percent going to electricity. Russia came in fourth with $24.1 billion in fossil fuel consumption subsidies—electricity garnered 57 percent and natural gas 43 percent. India ranked fifth with fossil fuel consumption subsidies totaling $21.8 billion, 96 percent covering oil and 4 percent covering natural gas.
Indonesia ranked sixth funding $19.2 billion in fossil fuel consumption subsidies—100 percent to oil. Egypt ranked seventh with fossil fuel consumption subsidies totaling $15.8 billion in 2019 with oil receiving 57 percent, electricity 40 percent, and natural gas 2 percent. Algeria, Venezuela, and Iraq ranked eighth, ninth, and tenth in fossil fuel consumption subsidies, respectively, with subsidies totaling $13.1 billion (Algeria), $12.8 billion (Venezuela), and $7.4 billion (Iraq).
Coal received $2.5 billion in fossil fuel consumption subsidies, just 0.8 percent of the total. The countries that subsidized coal consumption in 2019 were Kazakhstan, Vietnam, Argentina, and South Korea.
Many of the countries providing fossil fuel consumption subsidies own state energy companies, including countries that comprise the Organization of Petroleum Exporting Countries, such as Iran, Saudi Arabia, and Venezuela. Net exporting countries see these subsidies as an opportunity cost that benefits their citizens by providing lower cost transportation fuels and reducing other energy costs.
Developed countries, such as the United States, do not have fossil fuel consumption subsidies.
Energy Fossil Fuel Consumption Subsidies in the Top 25 Countries, 2019 (Billion USD)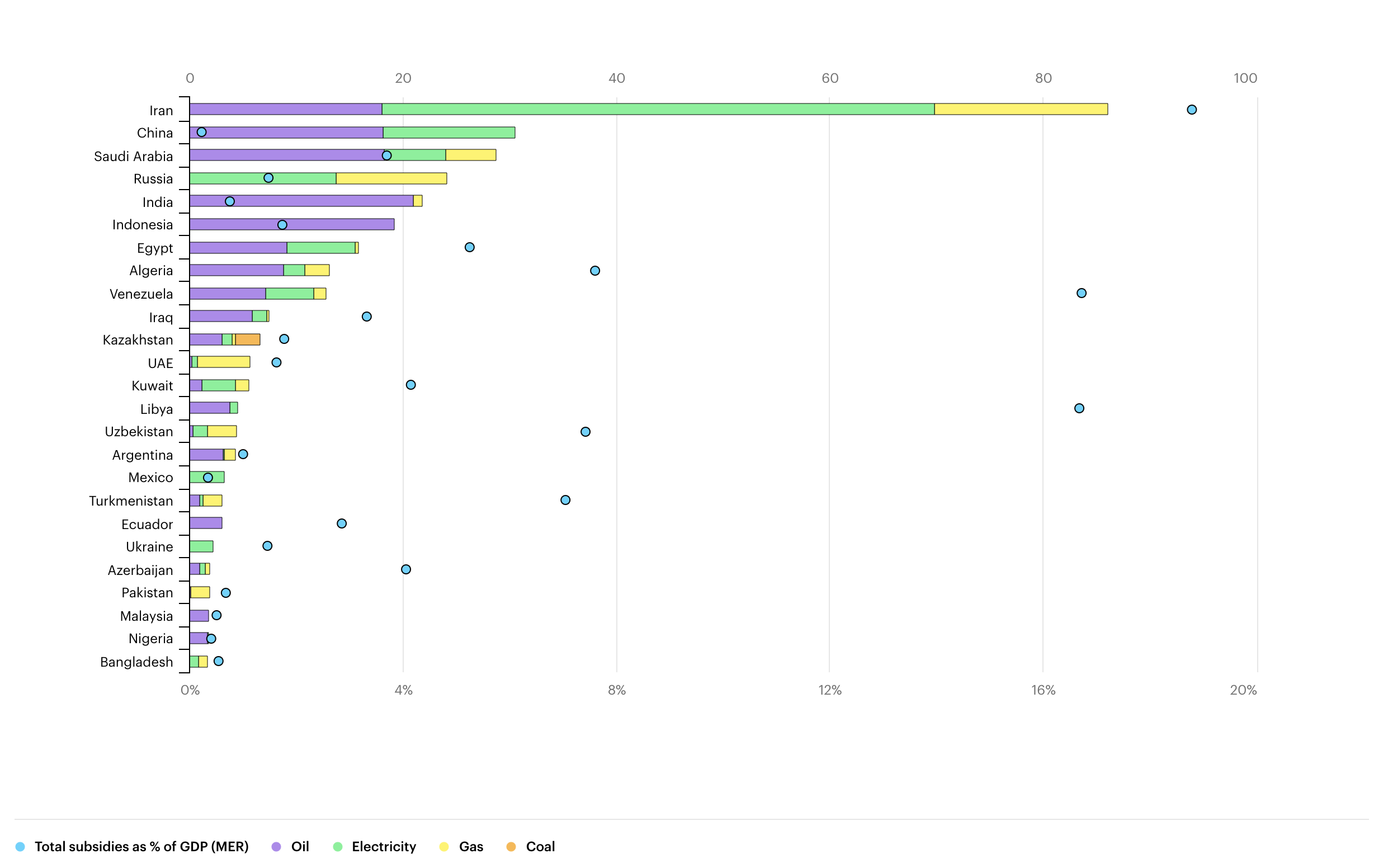 Energy Consumption Subsidies Were Intended to Alleviate Poverty
Fossil fuel consumption subsidies are often used by developing countries to alleviate energy poverty, but are an inefficient means for doing so, creating market distortions that result in wasteful energy consumption. As such, there has been political pressure to remove fossil fuel consumption subsidies, especially from OECD countries focused on climate change.
IEA Estimates Much Lower Fossil Fuel Consumption Subsidies for 2020
The drop in fossil fuel prices and consumption caused by the coronavirus pandemic is expected to reduce global fossil fuel consumption subsidies to $180 billion in 2020—a drop of 44 percent—which would be the lowest annual figure since the IEA started tracking the data in 2007. The lockdowns and economic slump have brought market-based fuel prices closer to the artificially low end-user prices that prevail in many countries, decreasing the value of the subsidy per unit of consumption. Lower consumption in many countries has further reduced the estimate, primarily the reduction in transportation demand.
Conclusion   
Many Americans are confused by the large amount of global fossil fuel consumption subsidies that the IEA calculates, not realizing that these subsidies have nothing to do with tax policy, research, and development or loan guarantees, where most U.S. programs are directed. In fact, most liberalized countries do not offer fossil fuel consumption subsidies that artificially lower the end-use price of the fuel. Fossil fuel consumption subsidies are common and even pervasive in the developing world, particularly in economies with state-owned energy companies. The IEA has been advocating for years that fossil fuel consumption subsidies should be eliminated since they encourage wasteful consumption.  It is also true that the richer nations of the OECD who tax energy consumption heavily and use their taxation and subsidy programs to encourage renewable energy might be concerned about poorer countries inducing economic growth with the use of more conventional fuels.
Fossil fuel consumption subsidies in developing countries are welfare transfers that can be differentiated from subsidies in the name of commercializing or sustaining uneconomic energy sources such as on-grid wind or solar, which OECD countries have been subsidizing and/or mandating—for example through the wind production tax credit (PTC) in the United States. These latter forms of energy subsidies that help promote production of uneconomic energy sources can be abolished without detrimental effects to the U.S. economy or its citizens.
The OECD countries find fault with developing countries for subsidizing the costs of energy purchased by their citizens, but those same OECD nations are busy subsidizing and mandating the use of uneconomic and inefficient forms of energy which will make energy more expensive and less reliable for their citizens. The economies would be better off if all such supports by governments were abolished.