Globally, $1.3 trillion is currently being invested in liquefied natural gas (LNG) expansion, which includes $507 billion in the United States. Global LNG demand is expected to grow significantly, increasing by 9.8 percent to a record high for a fifth consecutive year in 2018. The top global LNG producers are Qatar, Australia, and the United States.
United States
There are now four large-scale LNG export facilities in operation in the United States. The United States currently exports LNG to 35 countries—almost double the number of export destinations when President Donald Trump took office. At the beginning of 2017, U.S. exports of LNG averaged less than 1.7 billion cubic feet per day. Since then, it has more than doubled, to over 4.2 billion cubic feet per day as of March 2019.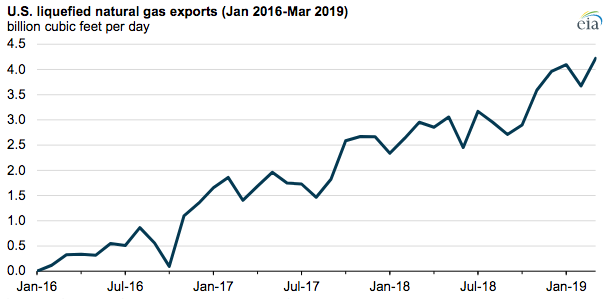 Cheniere Energy located at the Sabine Pass at the border between Texas and Louisiana exported its first LNG cargo in early 2016. Since then, U.S. LNG exports increased as additional liquefaction trains at the Sabine Pass, Cove Point, and Corpus Christi LNG export facilities entered service.
On May 31, 2019, the Cameron LNG export facility shipped its first cargo, becoming the fourth facility in the United States to enter service since 2016. Cameron LNG's export facility is located in Hackberry, Louisiana, next to the company's existing LNG-import terminal. Phase 1 of the project includes three liquefaction trains that will export about 12 million tons per year of LNG—about 1.7 billion cubic feet per day.
Train 1 at the Cameron LNG facility is shipping commissioning cargos while the facility is undergoing final testing and inspection and until it receives approval from the Federal Energy Regulatory Commission to begin commercial shipments. Trains 2 and 3 are expected to come online in the first and second quarters of 2020. Cameron LNG has regulatory approval to expand the facility through the construction of two liquefaction units that would increase the facility's capacity to about 3.5 billion cubic feet per day. A large portion of the LNG shipments is expected to fulfill long-term contracts in Asian countries, as are other LNG-export facilities located near the Gulf of Mexico.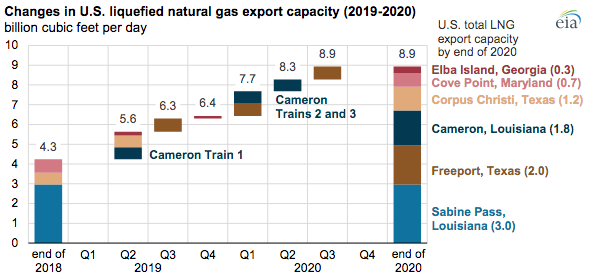 Currently, two additional liquefaction facilities are being commissioned in the United States—the Elba Island LNG in Georgia and the Freeport LNG in Texas. Elba Island LNG consists of 10 modular liquefaction trains, each with a capacity of 0.03 billion cubic feet per day. The first train at Elba Island is expected to be placed into service in mid-2019, and the remaining nine trains will be commissioned during the following months. Freeport LNG consists of three liquefaction trains with a combined baseload capacity of 2.0 billion cubic feet per day. The first train is expected to be placed in service during the third quarter of 2019.
The United States has supplied LNG to China, providing a peak of about 10 percent of its overall imports last year. But those shipments have declined significantly after Beijing enacted a 25 percent tariff on U.S. LNG as part of its trade dispute with President Trump. The tariffs make U.S. LNG less cost-competitive for Chinese buyers, who have had to consider alternatives.
Australia
Australia was the world's largest LNG exporter in November 2018 when it loaded 6.5 million metric tons of LNG for export while Qatar exported just over 6.2 million metric tons. The two countries will jockey for the lead as both are adding additional LNG units.
There are currently seven LNG production facilities in Australia. By 2020, Australia will be operating ten LNG export facilities with an export capacity of over 80 million metric tons of LNG per year.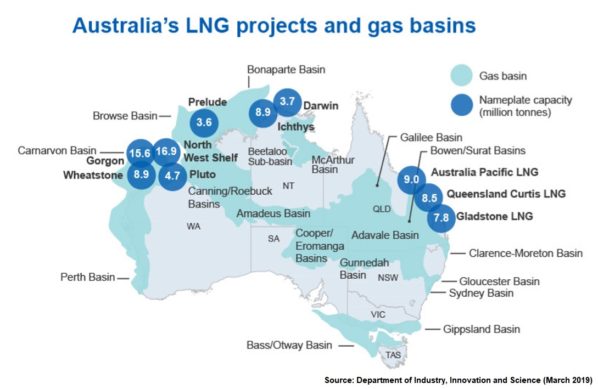 Australia supplied over 53 percent of China's LNG imports during the first five months of 2019—up from about 40 percent in 2016.
Royal Dutch Shell's Prelude facility delivered its first LNG cargo last month from northwest Australia. The Prelude project completes a $200 billion LNG construction boom in Australia.
Over the next five years, Australia is expected to drop to third place as the United States brings more LNG production capacity online. The International Energy Agency expects that Qatar, the United States, and Australia will supply almost two-thirds of the global LNG market by 2023, with U.S. LNG suppliers expected to capture the largest part of the market's growth.
Qatar
Qatar has 14 LNG trains with a total annual production capacity of 77 million metric tons. Qatar's state-owned producer plans to enhance production capacity by 2024 to 110 million metric tons per year.
This year Qatar is celebrating its 10th anniversary supplying LNG to China, having delivered over 50 million metric tons of LNG to China, or over 22 percent of China's LNG imports, during the decade.
Conclusion
Global natural gas demand is growing significantly and with it LNG demand. The United States, Australia, and Qatar are expected to be the major suppliers of LNG to the global market. All three countries are expanding LNG capacity and are expected to supply two-thirds of the global LNG market by 2023. The development of the United States as a major supplier of natural gas to the world also provides foreign policy and foreign exchange opportunities heretofore inconceivable. The shift of the United States from natural gas poverty to natural gas abundance has been a success story that is now paying dividends.