Amid speculation that oil demand would be reduced due to lockdowns in China from the spread of the Omicron coronavirus variant and improved negotiations between Russia and Ukraine, oil prices fell below $100 a barrel on March 15 after previously approaching $130 a barrel. Tens of millions of residents in Chinese provinces and cities including Beijing, Shanghai, and Shenzhen are under lockdown, causing travel to be cut off between cities, production lines to stop, and shopping districts to close. China's lockdown measures could continue to snarl global supply chains that are struggling to recover from pandemic disruptions by slowing down key factory and transportation networks. Unfortunately, this week oil prices are back up with Brent oil at $111.46, and U.S. futures at $108.25 after Russia-Ukraine talks appeared to yield no sign of progress and markets continued to fret over tight supply.
Like oil, coal is reaching record high prices as electric utilities are turning to it due to low natural gas stocks and high gas prices, particularly in Europe, and as consumers are wary of the availability of Russian coal. Russia supplies about 70 percent of Europe's coal imports. Coal accounts for about 35 percent of global electricity production with both China and India huge consumers of coal. Prices for thermal coal recently topped $462 a metric ton before easing back to about $380 a metric ton.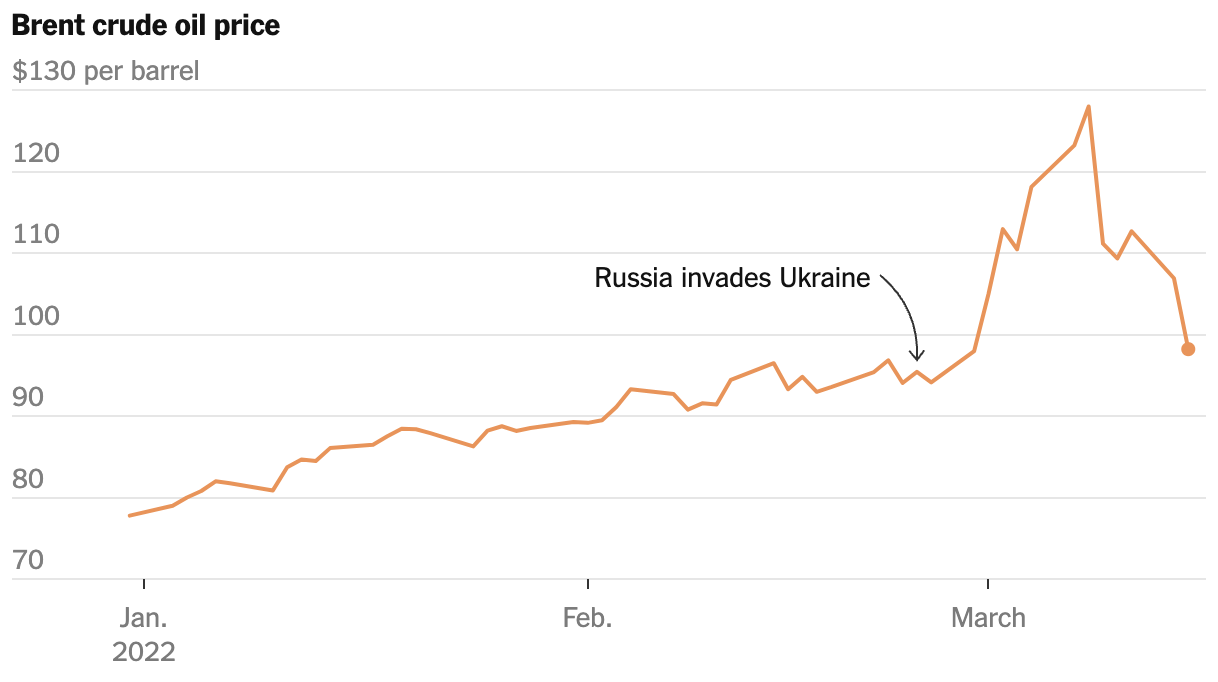 Oil Market 
In the middle of March, oil prices dropped over 20 percent, reversing much of the increase after Russia's invasion of Ukraine added volatility to an already tight market. Brent oil, the global benchmark, dropped 7.4 percent to $99.91 a barrel on March 15, its lowest price since late February. West Texas Intermediate oil, the U.S. benchmark, fell 6.4 percent to $96.44 a barrel. Gasoline prices, which had been rising for weeks, also fell slightly with the average price of a gallon of regular gasoline at $4.305, down from a high of $4.325. Again, unfortunately, those declines did not last with oil prices regaining some of the loss.
The Biden Impact
When President Biden took office on January 20, 2021, the average price per gallon for gasoline was $2.46. The week before the Russian invasion of Ukraine, the average price per gallon had risen $1.16, or 47 percent, to $3.62. Since the invasion, the average price had increased by $0.70, or 19 percent, to $4.325. Biden's actions since the beginning of his term have resulted in lower oil production, resulting in more reliance on other countries—including Russia. Biden canceled the Keystone XL Pipeline, shut down all drilling leases in Alaska's Arctic National Wildlife Refuge and Naval Petroleum Reserve-Alaska and stopped new drilling leases issued by the federal government on the almost 2.5 billion acres of subsurface they own. His Build Back Better bill threatened a huge tax on methane emissions. His administration has pushed banks to fund renewable energy, and avoid funding oil, natural gas and coal. These actions occurred before the Russian invasion of Ukraine and added over a $1.00 to the price of gasoline.
Instead of reversing these actions, Biden is blaming the entire price increase on Russia's invasion of Ukraine and he is begging other nations to produce more oil, finding that the only domestic policy he can tolerate is to release more oil from the Strategic Petroleum Reserve. Even with other nations that he cajoled into joining in the release of their strategic oil reserves, the impact was less than two days' global supply, which was only "background noise" in prices.
Most recently, to replace Russian oil imports that he embargoed, he sent a delegation to Venezuela. Venezuela's President/Dictator Nicolás Maduro confirmed that he met with the U.S. delegation for a two-hour meeting at the presidential palace in Caracas. Maduro said the two countries "agreed to work on an agenda moving forward." He said Venezuela's state-owned oil company, once recovered, is prepared to ramp up production "for the stability of the world." However, while Venezuela is rich in oil, its production capacity has been destroyed by its nationalized oil company which has been used as a piggy bank for its corrupt government. Any production increases would require long lead times.
Besides Venezuela, the Biden administration is rushing to approve a new Iran nuclear deal, in hopes of getting Iran's oil back on the global market. China and Russia are negotiating with Iran as part of this deal, and China has been importing increasing amounts of Iranian oil for their refineries. If climate change is the reason for Biden's war on U.S. fossil fuels, he should take note that the U.S. fossil-fuel industry is a lot cleaner than Russia's, Venezuela's or Iran's.
In contrast, President Trump promoted U.S. energy production and gained energy independence for the first time in over 60 years in 2019. Recently, Senator Ted Cruz introduced the Energy Freedom Act to reverse Biden's energy policies. The legislation's goal was to make "America energy independent again by accelerating federal permitting for energy projects and pipelines, mandating new onshore and offshore oil and gas lease sales, approving pending LNG (liquefied natural gas) export licenses, and generally speeding up solar, wind, and geothermal development." But even if the bill were to pass Congress, which is unlikely, Biden would veto it.
Conclusion
President Biden is pretending his energy policies do not affect the oil and gasoline price increases and that the high energy prices are someone else's fault—Russia is currently the easy scapegoat. But, Russia's invasion of Ukraine only accelerated what Biden had started before the invasion as the data above indicate. President Biden and his administration are good at passing the buck when it comes to energy prices which have risen because of his direct policies. Americans need to be vigilant and aware that the president's excuses do not hold up to scrutiny.