Sales of electric vehicles in the world's biggest market are slowing. Electric vehicle sales declined 5 percent and 11 percent year over year in July and August, 2019, respectively, in China, which raises concerns regarding the interest of the public in buying these vehicles. Consumers are concerned about the range, the convenience of charging and the value retention of electric vehicles. Worldwide, electric vehicle sales in July declined 14 percent to about 128,000 plug-in passenger electric vehicles for the month, with declines in both China and North America.
Electric vehicle sales in China last year totaled 1.26 million—60 percent of the global market. Chinese vehicle sales fell for the first time in decades last year, declining 3 percent, before falling 11 percent in the first eight months of 2019. Several factors contributed to the decline: its slowing economy, the trade war with the United States, reduction in government subsidies, and removal of sales restrictions on traditional cars.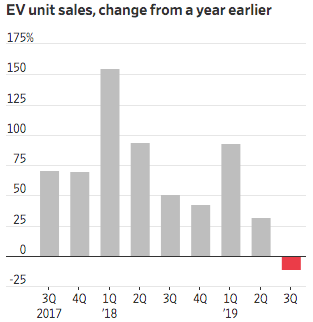 China's retail sales of sedans, sport utility vehicles, minivans, and multipurpose vehicles in July declined 5.3 percent from a year earlier to 1.51 million units, for the 13th decline in the past 14 months. (See graph below.) The increase shown in June appears to be an anomaly probably caused by dealers offering heavy discounts to clear inventory. Rising trade tensions, a slowing economy and stricter emission rules left carmakers and dealerships in a prolonged slump.
Change in Retail Car Sales in China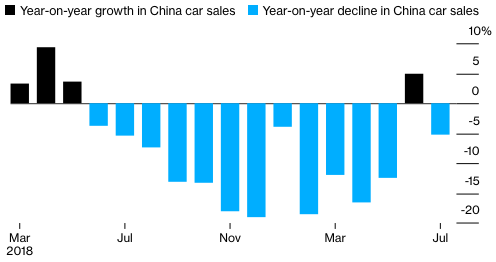 Subsidy Reduction
The decline in electric vehicle sales is in part due to a cut in government subsidies. China spent $58 billion on direct and indirect subsidies through 2018. In July, however, the government drastically reduced these subsidies, and it will discontinue them next year. One reason the government cut subsidies is due to frauds from firms claiming money for padded or fake sales. The subsidy cuts average about a half of the original subsidies. In Shanghai, the maximum subsidies for an electric vehicle in 2018 were 90,000 yuan; in 2019, they dropped to 25,000 yuan. China's change in its electric-car subsidy policy is intended to strengthen the industry by "eliminating the inferior."
China will replace subsidies in 2020 with a credit-trading system, called the New Energy Vehicle credit system. Similar to California's zero emission vehicle program, China's system will assign a credit value to each zero-emission vehicle (fuel cell and other alternative fuels are included in the program), based on range and efficiency, and require manufacturers to trade for those credits.
Restrictions on Vehicle Purchases
Another change to the vehicle market was made earlier this year when China instructed cities that had imposed limits on gasoline-car purchases to loosen their restrictions to help boost general auto sales. Because buying a traditional car was almost impossible in some areas, people bought electric vehicles, particularly in China's megacities. But, this is no longer a major motivating factor for car buyers. For example, in September, the city of Guiyang eliminated purchase restrictions when previously it had issued just 2,000 new license plates a month.
Conclusion
China's auto sales and its electric vehicle sales are in a slump due to its slowing economy, trade war with the United States, reduction in subsidies, and changes in emission rules and policies regarding the sale of electric vehicles vs. gasoline vehicles. China is the world's largest electric vehicle market with a 60 percent market share. Its declining sales are affecting worldwide sales of electric vehicles that have also experienced a decline.