South Korea plans to invest $35 billion in its electric vehicle battery industry by the end of the decade to compete with China, which has a dominant position in the market now. South Korea will provide incentives to companies so that they can seek to become global leaders in the battery market and it plans to grow the industry so that electric vehicle battery manufacturing will become a major part of the country's economy. South Korea has some of the world's biggest makers of batteries for electric vehicles, accounting for a third of the global market in the first five months of this year. Its companies are expanding and adding facilities overseas to meet the growing demand for electric vehicles promoted by national governments. Their production capacity almost quadrupled to 217 gigawatt-hours in 2020 from 59 gigawatt hours in 2016. Expectations are that the global battery market will surge to about $352 billion in 2030 from $46 billion last year.
South Korean electric vehicle battery suppliers have aggressive expansion plans in the United States and globally. LG Energy Solution Co., SK Innovation Co., and Samsung SDI Co. will be key players, driving investment in R&D and battery production. LG Energy, for example, has plans to invest $4.5 billion in the United States through 2025. It expects to build two new U.S. plants and hire about 4,000 people. LG Energy plans to invest $13.2 billion by 2030, including $8.5 billion in R&D. It plans to build an institute in South Korea for training in battery technology, expected for completion in January 2023. The company said it has a backlog of EV battery orders worth over $157 billion.
China's Dominance
Just one Chinese company, China's Contemporary Amperex Technology Co. Ltd., or CATL, accounted for 31 percent of battery sales this year through May.
While China is not necessarily endowed with all of the raw materials for the battery supply chain, it dominates in the processing of those ores. Nickel, cobalt, and manganese dominate global lithium ion electric vehicle battery production. While the Democratic Republic of Congo is the source of more than two-thirds of global cobalt production with China owning about 50 percent of the production from these mines, China alone controls over 80 percent of the cobalt refining process. Cobalt demand is expected to increase to 270,000 metric tons by 2030 from 141,000 last year—almost double.
China mines only 6 percent of the globe's manganese, but in 2019, it had 93 percent of the chemical refining. Nickel mining, unlike cobalt and manganese is fairly evenly spread around the world. Electric vehicles only account for around 7 percent of overall nickel consumption and 35 percent of the chemical processing is outside China (i.e. China processes 65 percent of the world's nickel). Global nickel supply is estimated at around 2.6 million metric tons this year.
China's refiners are also responsible for 60 percent of midstream production of lithium. Lithium demand is expected to increase above two million metric tons by 2030—over a 4.5 fold increase from 2020.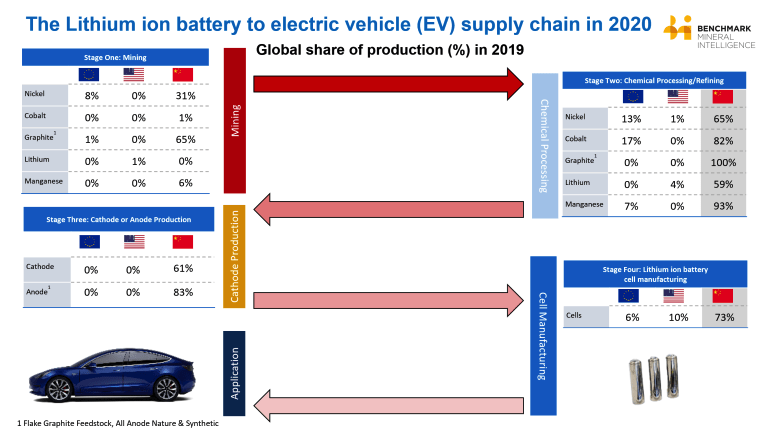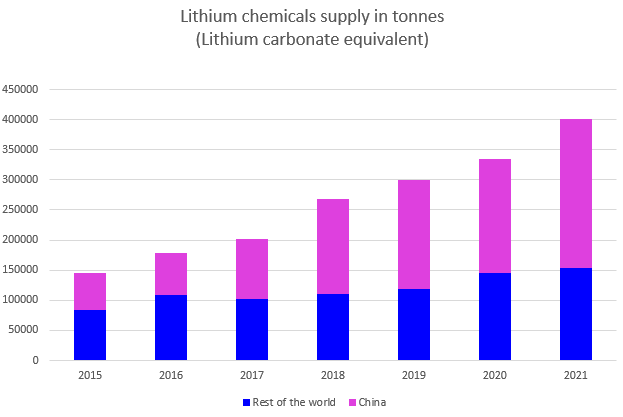 China's direct investment overseas in mines and projects topped $1 billion in 2017 and peaked in 2019 at nearly $2.2 billion with cobalt and lithium investments dominating. China spent $16.1 billion from 2011 to 2021 on foreign copper projects. There are currently 30 operating copper projects owned by Chinese companies in foreign locations, and a further 38 in the exploration stage. China is engaged in 52 primary copper projects in Africa and Europe, which account for 60 percent of its total foreign projects.
Also needed for electric vehicle battery production are rare earth minerals, which China also dominates with 85 percent of the processing capability.
U.S. Coal Operations Have Minerals Needed for Electric Vehicle Battery Production
Coal and its byproducts contain many of the critical minerals necessary to produce electric vehicle batteries. For instance, the top layer of rock and sediment under which coal lies contains rare earth minerals, such as neodymium, europium and terbium. Despite these minerals being critical for battery production, the sediment containing the minerals is often disposed of as refuse after coal is mined. Also, the ash from burning coal, 140 million tons produced annually, contains cobalt and nickel.
A current problem, however, is that coal ash holds only trace amounts of critical minerals for battery production, which means companies need an abundance of coal ash and a proven way to process volumes of it to make a profit. Although the process for extracting critical minerals from coal refuse is proven, few companies have made the broad investments needed because the minerals are not uniformly concentrated in the sediment found above coal. Research into perfecting the coal-rare earth mineral process remains in the early stages, largely because research funding has been limited from both the federal government and the private sector. The Department of Energy, however, has recently announced $19 million in grants toward studying the topic.
The Biden White House has an aversion to coal because of its carbon content and that aversion benefits China. In 2019, China produced 80 percent of the raw materials used for electric vehicle advanced batteries. Last year, the United States imported about 80 percent of its rare earth minerals and compounds from China.
Conclusion
South Korea is looking to give China competition in electric vehicle battery production through providing incentives for its local industry. China is in a dominant position, however, because it dominates the battery supply chain in critical minerals needed for battery production—rare earths, lithium, manganese, cobalt, nickel. While China does not necessarily have a dominant position in the mining of the ore, it has a dominant position in refining the ore. The Biden White House is promoting a transition to electric vehicles, but that risks subjecting the U.S. to the whims of the Chinese government. Coal mining and coal ash could provide the United States with critical minerals, but the Biden White House has an aversion to coal and investment and research in its processing would be needed.