A new report by the U.N.'s Intergovernmental Panel on Climate Change (IPCC) advises that warming needs to be limited to 1.5 degrees Celsius to avoid catastrophic climate change. The IPCC Report on climate change indicates that the goal is possible within the laws of chemistry and physics but doing so would require unprecedented behavioral changes and massive funding. The 1.5-degree scenario would require cutting carbon dioxide emissions by as much as 45 percent over the 20-year period from 2010 to 2030 and to a net zero by 2050, which means that all carbon dioxide released would need to be captured and stored or reused. The cost would be $2.4 trillion every year until 2035. Given that last year, the total spent on renewable energy was $333.5 billion, it appears that the $2.4 trillion number is not very doable. The IPCC report admitted as much: "These options are technically proven at various scales, but their large-scale deployment may be limited by economic, financial, human capacity and institutional constraints."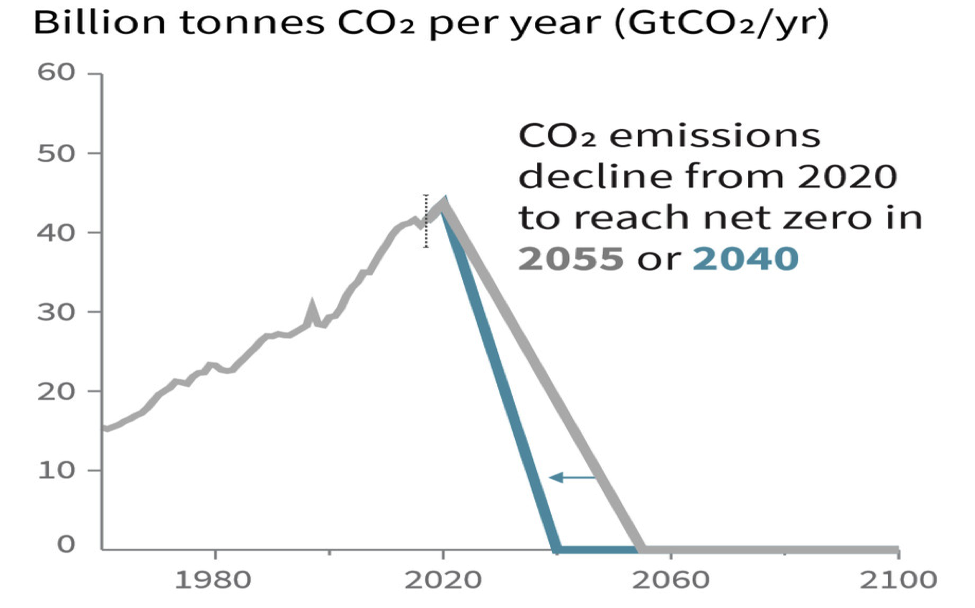 According to the IPCC, a tax on carbon dioxide emissions would need to be as high as $27,000 per ton at the end of the century. That is equivalent to a $240 per gallon tax on gasoline in the year 2100. In 2030, the carbon tax would need to be as high as $5,500, which is equivalent to a gasoline tax of $49 per gallon. As a result, the IPCC envisages a future where people travel independently less, use forms of transportation like car sharing, and hybrid and electric cars, and use vehicles swaps and mass transit.
European Union Approach to Cutting Transportation Sector Emissions
The European Union (EU) members compromised on a 35-percent cut in car emissions by 2030 with a revisions clause for 2021. The revisions clause was needed because the extent that carbon dioxide emissions can be cut from the transportation sector would depend on the market penetration of electric cars and other vehicles with alternative propulsion systems to the internal combustion engine, and to the speed at which networks of charging stations can be installed.
Germany's automakers said the 35-percent target was unrealistic and it would cost jobs. The original proposal, which was for a 40-percent cut by 2030, for example, would result in the loss of about a quarter of VW's factory jobs, or 100,000 positions. According to the company, a 35-percent cut would do little to alleviate that hardship.
But, electric vehicles may not be the answer. Recent studies show that lithium-ion battery production is taking place in countries that use coal extensively for producing electricity. By 2021, batteries are expected to be built for over 10 million cars running on 60 kilowatt-hour packs and most of the battery supply will come from countries like China, Germany and Poland that heavily rely on coal for their electricity. To build each car battery—weighing upwards of 1,100 pounds for sport-utility vehicles—would emit up to 74 percent more carbon dioxide than producing an efficient conventional car if it is made in a factory powered by fossil fuels. As a result, drivers in Germany or Poland may still be better off with an efficient diesel engine.
U.S. Automakers, SUVs, and Pick-Up Trucks
U.S. automakers are responding to consumer demand by scaling back on cars and doubling down on pickup trucks and sport utility vehicles that emit more carbon dioxide emissions than cars. All of the U.S. Big Three automakers—GM, Ford, and Fiat Chrysler—have shifted toward big, heavy vehicles rather than smaller automobiles. U.S. passenger vehicle production, which was 65 percent cars in 2013, dropped to 55 percent by 2016, according to EPA's most recent annual fuel economy trends report, which also reported that the U.S. Big Three automakers were in last place for fuel economy among the 13 automakers selling in the U.S. market.
For example, SUVs and other light trucks make up over three-quarters of GM's passenger vehicle sales in the United States—an increase from less than 60 percent five years ago. GM announced plans for 20 new electric vehicle models by 2023, but the majority of them are destined for China, where that government has new EV mandates. GM sells more cars in China than it does in the United States, but it gets only a fraction of its profits. The company has announced no plans for electric versions of any of the big vehicles that are the preference of the American public.
GM's sales for light trucks increased from 60 percent in 2013 to 70 percent in 2016, including an increasing number of "crossover" SUVs, like the Chevy Traverse (fuel economy 20 mpg) and Trax (28 mpg). Light trucks have a less stringent fuel economy standard to meet than vehicles categorized as cars.
GM has plans to steadily boost fuel economy across its fleet with more efficient engines, better aerodynamics and lighter-weight materials, and other advances. For example, one of the options consumers can select on the 2019 model of GM's best-selling Silverado pickup truck is a smaller turbocharged engine, which at 20 miles per gallon city fuel economy is 13 percent more efficient than the larger engine it is replacing.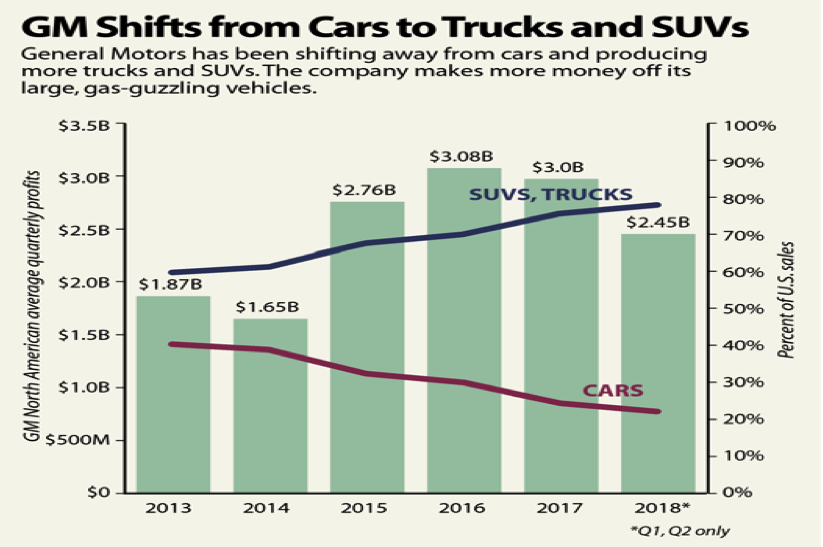 Shifting to larger vehicles to meet consumer demand results in larger profits for automakers. According to the Center for Automotive Research, auto manufacturers make profits of at least $10,000 per vehicle on light trucks, but just a few hundred dollars on some car models.
GM supposedly earns $35,000 profit on every Escalade SUV it sells. In contrast, when GM rolled out its all-electric Bolt in December 2016, GM lost as much as $9,000 on every one it sold at a retail price of $36,650. GM's Chevy Volt, introduced in 2011, is the highest selling plug-in vehicle on the market, but the 139,000 Volts (and 35,000 Chevy Bolt EVs) sold in seven years are dwarfed by the trucks and SUVs that make up the growing share of the 3 million passenger vehicles GM sells annually in the United States.
Across the industry, EV technology accounted for just $9.8 billion of the $119.5 billion in investments automakers made in North America from 2009 to 2017, according to the industry-funded Center for Automotive Research. Among the 485 passenger vehicle models in the U.S. market, the more than 50 models of battery electric and plug-in hybrid vehicles accounted for only 1 percent of the 17 million cars sold in 2017.
Conclusion
According to the IPCC, a failure by countries to meet voluntary targets to limit global warming to "well below" 2 degrees Celsius, or 3.6 degrees Fahrenheit, would be devastating for some countries. Renewable energy and improved efficiency are catching on after years of subsidies, increasing mandates and incentives, but, according to the IPCC, avoiding catastrophic climate change would require much more effort, including unproven and risky attempts to extract carbon already in the atmosphere. Just deploying wind farms and solar farms in developing countries is not solving the problem.
Solving the problem, the IPCC maintains, would require a huge structural shift in how we use energy and in everything we do, along with a massive amount of funding that is unlikely to happen. In the transportation sector, the changes would be enormous, requiring a much different lifestyle. The American public prefers SUVs and pick-up trucks and automakers prefer them as well because they get much larger profits from selling them. And automakers cannot simply rely on electric vehicle sales which are losing money with each unit produced. It is unlikely that the American public will buy into the IPCC solution, particularly in the transportation sector.