According to the China Association of Automobile Manufacturers, vehicles sales in China declined by 3.9 percent in July from a year earlier, making July the 13th consecutive month for vehicle sales decline. The car slump is primarily the result of the slowdown in the Chinese economy, stricter emissions rules, and the trade war with the United States. Sales of sedans, sport utility vehicles, minivans, and multipurpose vehicles in China fell to 1.53 million units in July.
Similarly, in India vehicle sales in July declined by 30.9 percent for the ninth straight month of declines, according to the Society of Indian Automobile Manufacturers. The decline primarily resulted from a liquidity crunch in India's banking sector that reduced lines of credit to both automobile dealers and potential car buyers. The reduction in India's vehicle sales is the worst since December 2000, when the industry sold a fifth of the vehicles it currently sells. The auto sector accounts for nearly half of India's manufacturing output, resulting in major personnel layoffs. India's unemployment rate increased to 7.51 percent in July from 5.66 percent a year earlier.
China
China has the largest vehicle fleet in the world, totaling 340 million motor vehicles, including 250 million cars. In 2010. China surpassed the United States as the world's largest vehicle market. Among the countries of the world, China ranks eighty-first with 179 motor vehicles per 1,000 people. That compares to the United States, which ranks fifth, with 811 motor vehicles per 1,000 people.
China's vehicle sales dropped more than 12 percent in the first six months of 2019 compared to last year's sales and totaled 12.3 million. Last year, China recorded its first annual decline in vehicle sales since 1990. In June, China's auto sales fell 9.6 percent to 2.04 million from a year ago.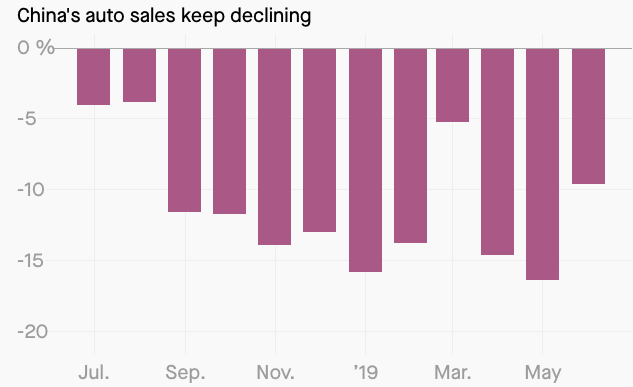 China's electric vehicle sales rose in June before China cut its government subsidies to EV manufacturers at the end of the month, reducing their subsidies on average by half for electric and hybrid vehicles (New Energy Vehicles). The reduction is intended to "advance the industry by selecting the superior and eliminating the inferior."
As a result, EV buyers moved up their purchases in case car makers decided to raise prices. The national and local governments provided domestic manufacturers about $60 billion from 2009 to 2017, including subsidies and other incentives, allowing them to sell vehicles more cheaply, and creating the largest electric vehicle market in the world. Last year, China's sales of electric and hybrid vehicles totaled 1.2 million.
India
Domestic passenger vehicle production in India was down nearly 17 percent in July. Motorcycle and scooters sales fell 16.8 percent to about 1.51 million units, passenger car sales fell 36 percent to 122,956 units, and commercial vehicles sales fell 25.7 percent to 56,866 units. Companies working in the sector, including manufacturers, auto parts makers, and dealerships, have cut as many as 350,000 jobs.
Before the slump in car sales, India was predicted to overtake Germany and Japan as the world's third largest vehicle market by 2020—behind only China and the United States. Besides troubles with India's consumer finance providers, new safety and emission regulations have driven up prices and a broader economic slowdown made consumers reluctant to spend on vehicles. Vehicle purchases are very price dependent generally, especially in developing countries.
India's auto industry is looking for the government to introduce stimulus measures such as tax cuts and to provide easier access to finance for dealers and buyers. The Indian government levies a 28 percent goods and services tax on cars, with the effective rate including other duties rising as high as 48 percent for some vehicles.
Conclusion
Auto sales are down in two of the world's largest auto markets. In China, sales were down 3.9 percent in July for the thirteenth consecutive month of declines. In India, they were down by almost 31 percent in July for the ninth consecutive month of declines. Various factors have contributed to the slump, including an economic slowdown, a cut in government subsidies, problems with the lending sector, and changes in environmental regulations. Because both these nations depend significantly upon auto manufacturing as a substantial part of their manufacturing economies, it has a large impact on their economic output and employment.