California Democratic lawmakers approved a bill that could provide a penalty for supposed price gouging at the gasoline pump, allowing regulators the power to fine oil companies for supposedly profiting from gas price spikes similar to those that California experienced last summer. Democratic Governor Gavin Newsom called for a special legislative session to pass a new tax on oil company profits after the average price of gas in California hit a record high of $6.44 per gallon, according to AAA. State regulators, however, did not pass a new tax because they were worried about supply shortages and higher prices as oil companies pass the new tax onto consumers.
Instead of instituting a new tax, California lawmakers agreed to have the California Energy Commission make the decision as to whether to penalize oil companies for supposed price gouging. This allows elected officials to argue that they "have done something about high gas prices." The bill requires oil companies to disclose their pricing methodology to state regulators. The companies would report this information, most of which is supposed to be kept confidential, to a new state agency, the Division of Petroleum Market Oversight, empowered to monitor and investigate the petroleum market and subpoena oil company executives. The commission will rely on the work of the new agency, plus a panel of experts, to decide whether to impose a penalty on oil company profits and how much that penalty should be as well as referring what it deems to be violations to the California attorney general for prosecution.
Existing law requires California refiners to submit gasoline production information to the commission 30 calendar days after month-end, including gross gasoline refining margins. This bill requires refiners to also report the net gasoline refining margin per barrel — the gross margin minus the refiners' operational costs, such as labor, electricity and natural gas.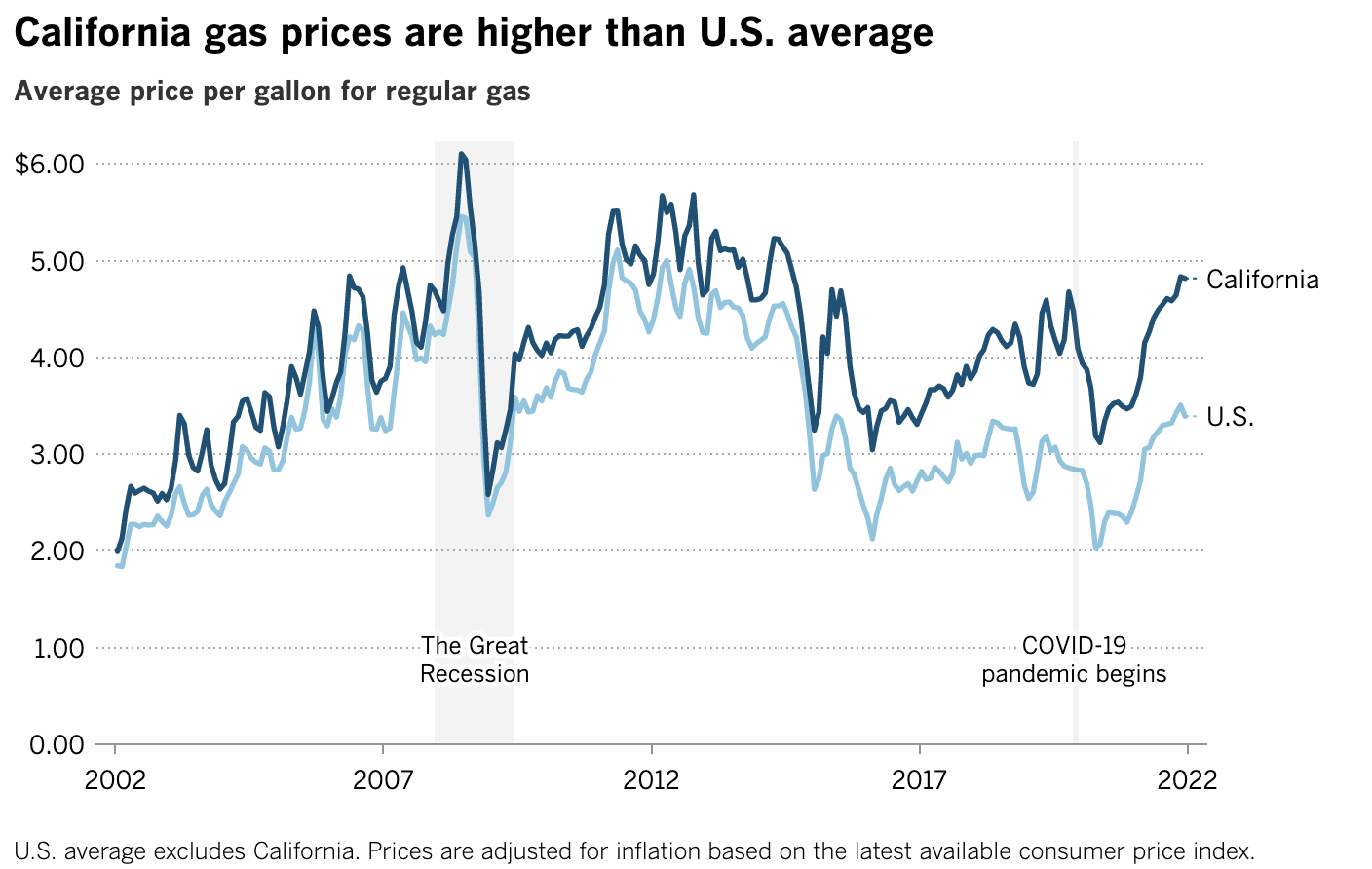 California lawmakers believe that disclosing this information will result in not needing a penalty because the disclosure will stop oil companies from "gouging"consumers.  As such, the bill is deemed a "transparency measure."
The Reality
California's gasoline prices are higher than the rest of the country because of the state's taxes and regulations. California has the highest gas tax in the country at 68 cents per gallon, compared to 39 cents for the national average, and it requires a special blend of gasoline that is more expensive to produce. California also has a cap-and-trade program and low-carbon fuel standard that add about another 46 cents a gallon. These are taxes for which the State of California and its legislatures and governors are responsible. But state regulators believe those taxes and fees are not enough to explain prices last summer, when the average cost of a gallon of gasoline in California was more than $2.60 higher than the national average. The $2.60 price differential is more than triple the 75-cent price difference due to California's tax and climate policy.
The difference can be explained as the result of insufficient supply to meet demand caused by reduced production of gasoline from refineries undergoing delayed maintenance due to Governor Newsom's policies and from fewer operating refineries. Governor Newsom asked California refineries to switch to their winter blend gas, which is typically cheaper, earlier than normal, but which requires down time to make the changes. And, many oil refiners have been driven out of the state—refiners that make California's special blend of gasoline that no one else makes because of California's and the federal government's policy decisions. California refineries, as well as other U.S. refineries, have been closing due to an onerous regulatory environment, rich inducements to switch to biofuels and to demand destruction due to COVID lockdowns. Many refineries are converting to producing biofuels that are more profitable because of large government subsidies and higher profits.  In California, refiners can receive as much as $3.70 per gallon in benefits by switching to producing biofuels instead of making petroleum-based products.
California lost 12 percent of its refining capacity between 2017 and 2021 and is set to lose another 8 percent by the end of 2023. There are six refineries that are either undergoing planned or unplanned maintenance that has caused gasoline supply on the West Coast to drop to its lowest level in a decade and caused wholesale gas prices to skyrocket. Shuttered refineries resulted in West Coast fuel inventories being at their lowest level in a decade last year. Total motor gasoline inventories on the West Coast were at 24.9 million barrels for the week ended September 23—the lowest level since 2012.
Even more refiners could leave California should regulatory oversight tighten more. Refiners Chevron, Marathon Petroleum, PBF Energy, Phillips 66 and Valero produce 98 percent of the gasoline in California according to California Energy Commission data. Newsom's policies including onerous regulations and boutique fuel blends reap huge financial benefits for California refineries. For example, the gross profit for a refiner on the Gulf Coast for gasoline is about $6.60 per barrel of oil. In Los Angeles, it is about $101. Only large refiners and producers, however, can sustain the state's steep regulatory costs; smaller businesses cannot.
Further, since California does not have a pipeline to get oil into the state from other U.S. oil producing states, it must import oil that it does not produce itself, which costs more. California is the seventh largest producer of oil in the United States but its climate bill has put restrictions on oil and gas drilling in the state that most other oil producing states have not followed. The bill includes a requirement that new oil and gas wells or wells that are being reworked be set back at least 3,200 feet from homes, schools and hospitals, and imposes strict pollution controls on existing wells within that distance. Companies with existing oil and gas wells within the buffers are required to monitor emissions, control dust and limit night-time noise and light.  It is estimated that about 2.7 million Californians live within 3,200 feet of the existing oil and gas wells, with cities sprouting up around oil wells that have been producing oil in California in some cases for a century.
California produces less than 1 percent of the oil it consumes daily and imports oil mainly from Ecuador, Saudi Arabia, Iraq and Colombia. The state was also importing oil from Russia (3.5 percent of its demand) before the sanctions were instituted that stopped those imports due to Russia's invasion of Ukraine. And, as the state puts more restrictions on in-state oil drilling, there will be even less state production resulting in even more oil imports. Some California localities are even banning new drilling. Los Angeles County, for example, blocked new oil and gas drilling and is phasing out existing operations, expanding on a city-wide ban.
Conclusion
California's new price gouging bill will discourage investment, limit product supply and ultimately cost Californians more to fill their tanks. California's refiners are facing an onslaught of additional fees, taxes and regulations which make their gasoline more expensive to produce than in other states. Rather than reducing costs and regulations on refining, legislators and other state officials responsible for higher gas prices are now turning to the "blame game" about the reasons gas prices have risen. In fact, the Democrats in charge of the state Legislature worked quickly to pass the bill, just one week after it was introduced. It was an unusually fast process –a "rushed approach." Chevron called the bill "irresponsible" and said it "requires fundamental review and revision during the legislative process" that did not happen. California's political shenanigans will contribute to more residents moving out of the state for the cost of living there will prove too onerous.