WASHINGTON DC (10/02/2023) – Last Friday, in response to a court ordered deadline and under threat of being subject to discovery, the Federal Energy Regulatory Commission (FERC) finally responded, in part, to a Freedom of Information Act (FOIA) request issued by the Institute for Energy Research (IER) back on January 24, 2023.
A press release from the commission claimed that President Biden appointed Commissioner Phillips as "acting chair" beginning January 3, 2023. Shortly thereafter, IER filed a FOIA request seeking, among other things, "any designation by the President, or otherwise the White House, of Willie Phillips as Chairman of FERC, or as Acting Chairman of FERC that is in FERC's possession."
In response to IER's request for documentation verifying the acting designation, FERC claimed for nearly eight months that they were unable to locate any such document. Last Tuesday, in response to a filing by IER seeking discovery to explore its bizarre claims, FERC — without explaining or even asserting it had at long last found the order or its remarkable change of position — reported that the White House Counsel had cleared it for release. Finally, on Friday, September 29, FERC released the document to IER.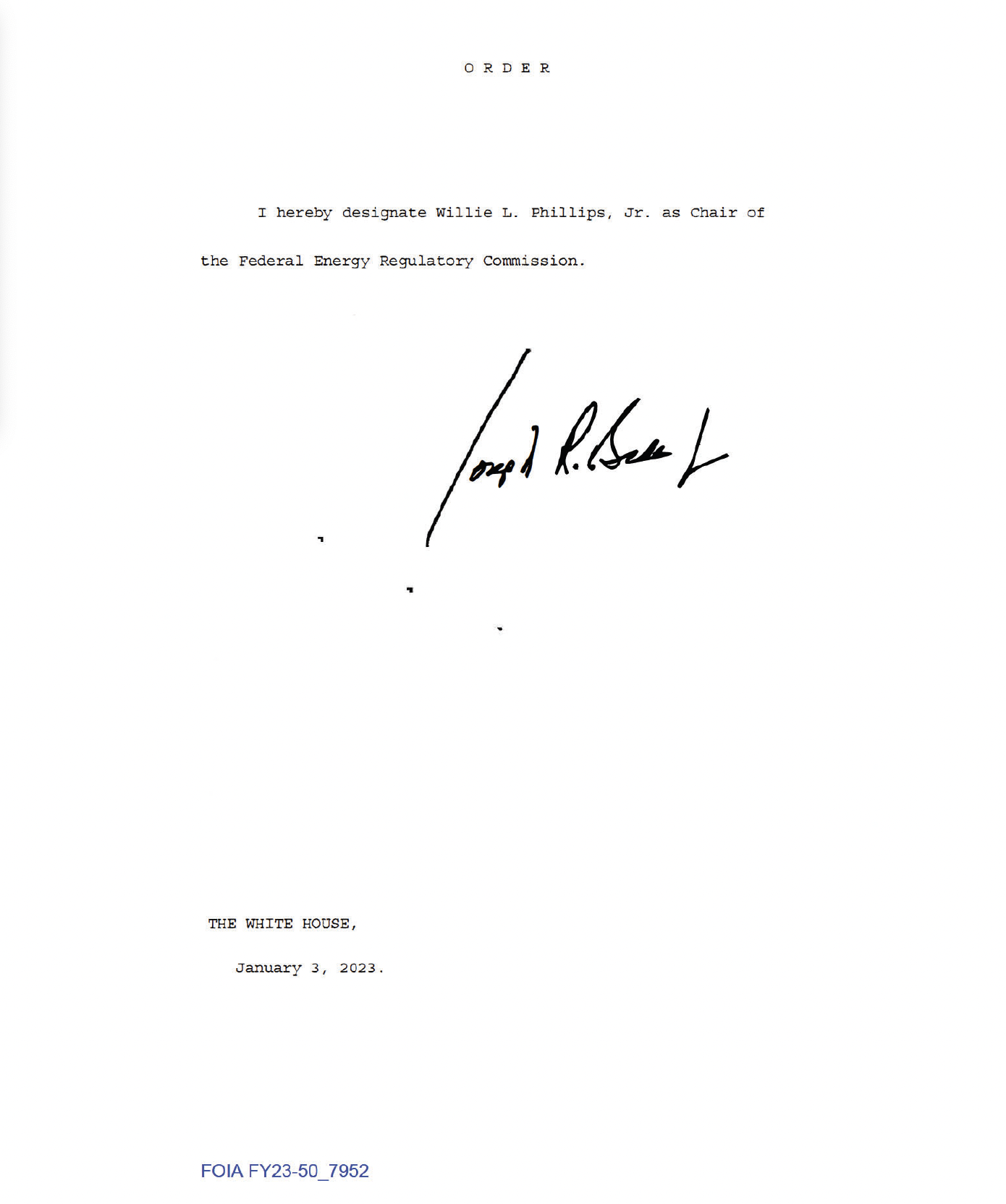 Thomas Pyle, president of the Institute for Energy Research, issued the following statement:
"After eight months and several court orders, FERC finally produced the simple one sentence document designating Commissioner Phillips as the Chairman of FERC. It is now clear the FERC had the document all along, but for some reason did not want it to see the light of day. It is also clear from the order that Commissioner Phillips is not the "acting" chairman, as stated in the original FERC press release, but rather the full-fledged Chairman. The question now is why did FERC go to such great lengths to prevent this simple order from seeing the light of day?"
Learn more from IER's FERC Transparency Project
_________________
Additional Resources: