Workers are finding out that the solar and wind jobs that President Biden proclaimed would be high-paying union jobs are not living up to the sales pitch. Traditional energy industry jobs need skilled labor.  For example, building an electric plant powered by fossil fuels usually requires hundreds of electricians, pipefitters, millwrights, and boilermakers who typically earn more than $100,000 a year in wages and benefits when they are unionized. According to the New York Times, Biden's jobs are more "akin to an Amazon warehouse or a fleet of Uber drivers: grueling work schedules, few unions, middling wages and limited benefits." On solar farms, workers are often nonunion construction laborers who earn an hourly wage in the upper teens with modest benefits. According to Jim Harrison, the director of renewable energy for the Utility Workers Union of America, "The cleantech industry is incredibly anti-union. It's a lot of transient work, work that is marginal, precarious and very difficult to be able to organize."
To deal with the job situation, Mr. Biden has proposed federal subsidies to plug abandoned oil and natural gas wells, build electric vehicles and charging stations and speed the transition to renewable energy. For example, the White House wants Americans to believe that vastly increasing the number of wind and solar farms could produce over half a million jobs a year over the next decade — primarily in construction and manufacturing. The irony of the situation is that solar panels and wind turbines are mainly manufactured outside of the United States (think China), whose prices are less than those for U.S.-manufactured panels and turbines. Europe has 3 wind turbine manufacturers in the top ten while the United States has only one company in the list of the top ten wind turbine and solar panel manufacturers in the world.
Included in the table below are the solar panel manufacturers with the largest global market share in 2020, based on sales in 2019.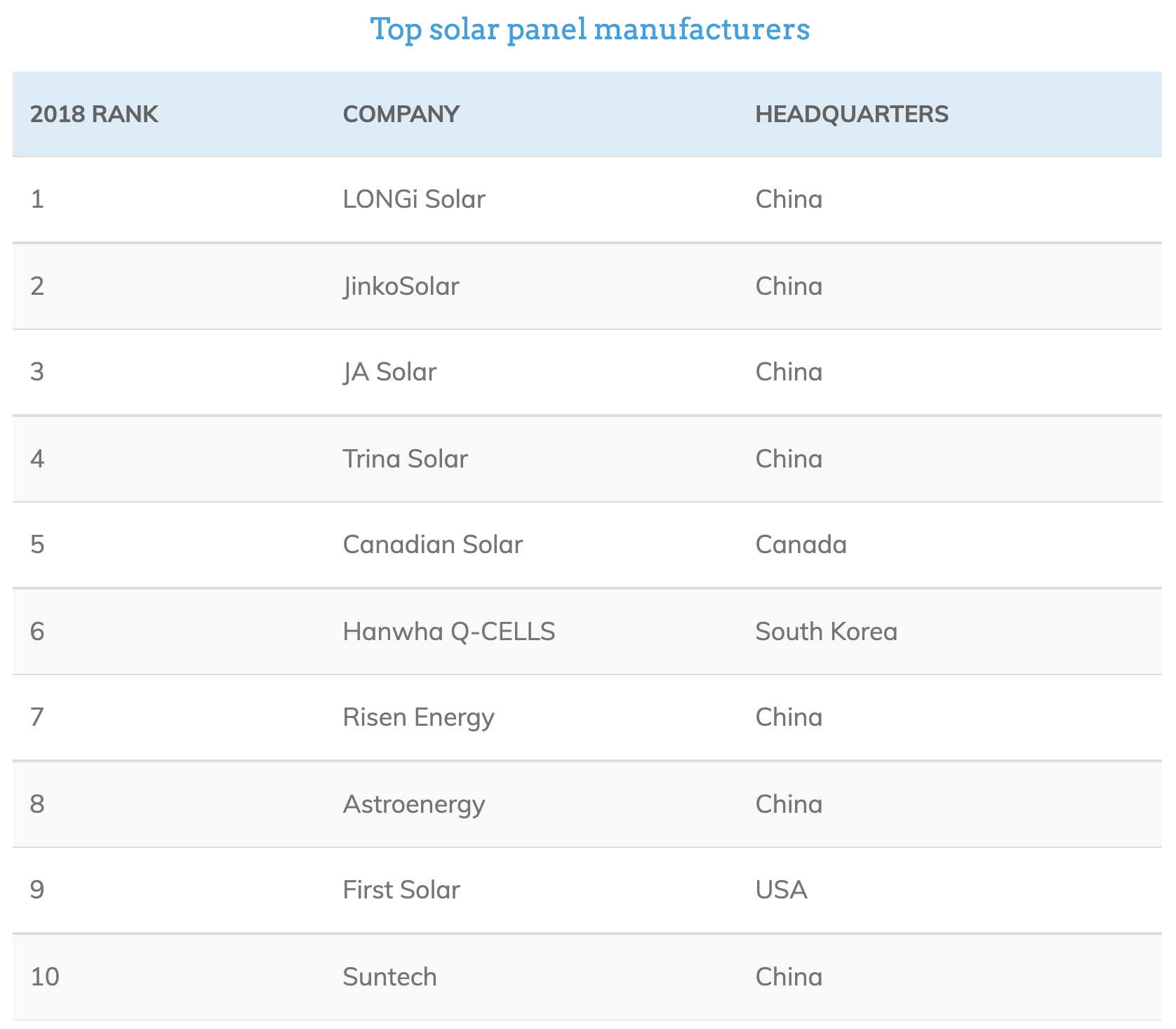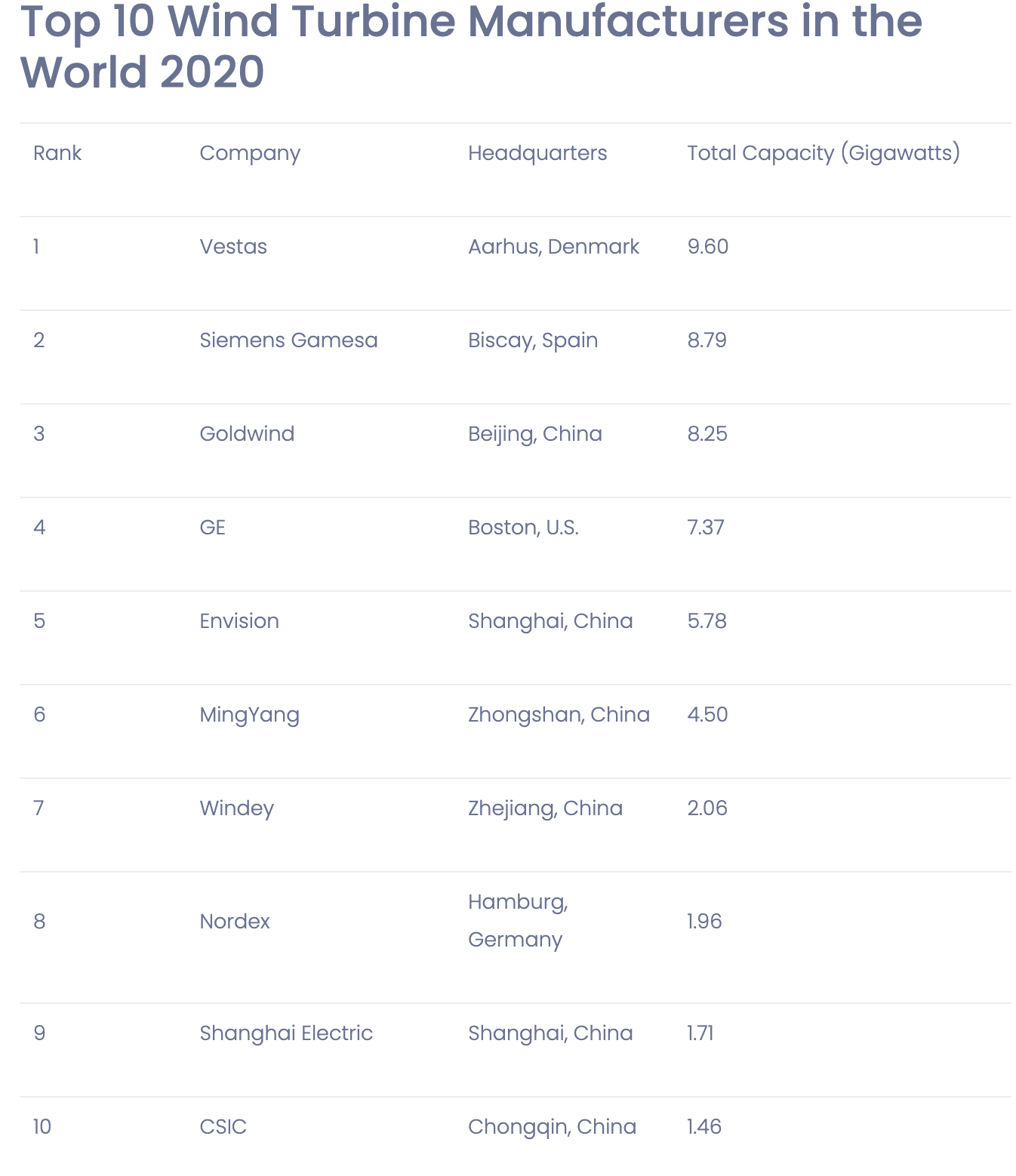 Further, it takes far more people to operate a coal, natural gas- or nuclear-powered electric plant than it takes to operate a wind farm, and many solar farms often can operate without a single worker on site.
Comparison of a Traditional Plant Closing and a New Renewable Plant
In 2023, a coal- and natural gas-powered plant (D.E. Karn) is scheduled to shut down. The plant's 130 maintenance and operations workers, who are represented by the Utility Workers Union of America and whose wages begin around $40 an hour plus benefits, are supposedly guaranteed jobs at the same wage within 60 miles at the Assembly Solar site in Michigan. But the union, which has lost nearly 15 percent of the 50,000 national members that it had five years ago, indicates that many will have to take less appealing jobs because the utility, Consumers Energy, does not have nearly enough renewable energy jobs to absorb all the workers.
According to the head of the carpenters union in Michigan, the construction of a new fossil fuel plant in the state employs hundreds of skilled tradespeople who typically make at least $60 an hour in wages and benefits. About two-thirds of the roughly 250 workers employed on a typical utility-scale solar project, however, are lower-skilled, and get paid "around $20" per hour, depending on the market, and those jobs are generally nonunion. Solar construction is like a moving assembly line. But, instead of the product moving down the line, the people move, replicating the process over and over again across 1,000 or 2,000 acres. Some might equate it to manual harvesting in agriculture.
Another Reason for Lower Wages in Wind and Solar Projects 
While utilities have traditionally built their own coal- and natural gas-powered plants, they usually purchase wind and solar energy from other companies through power purchase agreements. When utilities build their own plants, their labor costs get embedded in their rate of return, which is set by regulators — around 10 percent of their initial investment a year, according to securities filings. However, when a solar farm is built and owned by another company, that company needs to keep costs down because a lower price helps secure the purchase agreement, on which the company's revenue is based.
Conclusion
Utility jobs are more likely to be unionized than green energy jobs, and union representation is correlated with higher wages and benefits. Utility jobs are associated with traditional technologies—coal, natural gas, hydroelectricity, and nuclear. Solar and wind jobs are usually procured by companies that are not utilities and that rely on purchase power agreements for their revenue. President Biden's belief that there will be many renewable jobs and that they will be unionized does not comport with recent data. In fact, most of the top manufacturing firms of solar panels and wind turbines are outside of the United States, mainly in China. Americans need to realize that under Biden's plan of moving away from conventional sources of energy to so-called "green energy," we will end up outsourcing our good American jobs and benefitting China in the process.