Cathy Zoi, the Acting Under Secretary for Energy and Assistant Secretary for Energy Efficiency and Renewable Energy,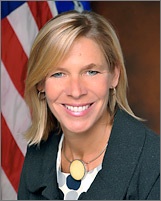 announced this week that she will be leaving her post to go to work for George Soros' new venture capital firm focused on green energy.
According to her bio on the DOE website , Zoi "manages over $30 billion of American Recovery and Reinvestment Act funds."  It should come as no surprise that her new job will have her working to secure 'green energy' taxpayer handouts and subsidies. Working for the government, Zoi has proved quite capable in that task.  You'll remember that she came under much criticism for funneling large amounts of that money to Serious Materials where her husband, Robin Roy, is a lobbyist.  Not only that—the two jointly hold over 120,000 stock options in the same company.
Soros, who is notorious for betting against America, has potentially hit a home run on this one.  By investing hundreds of millions of dollars into advocacy groups – like the Center for American Progress – that lobby for increased energy subsidies, he'll now have a fund on the receiving end to take in those billions in subsidies.  To ensure that this scheme goes off without a hitch, he has hired a person very familiar with giving away the taxpayers' money.  This could certainly prove to be a huge moneymaker for Soros and Zoi, given the fact that President Obama this month proposed another $29.5 billion for the DOE in 2012.
Venture Beat reports that Soros' new fund will target growth-stage companies with "proven technologies and business models."  Given the market failure rate of the so-called green energy economy, one has to wonder if the business model is merely a replication of the world's oldest profession.