by Mary Hutzler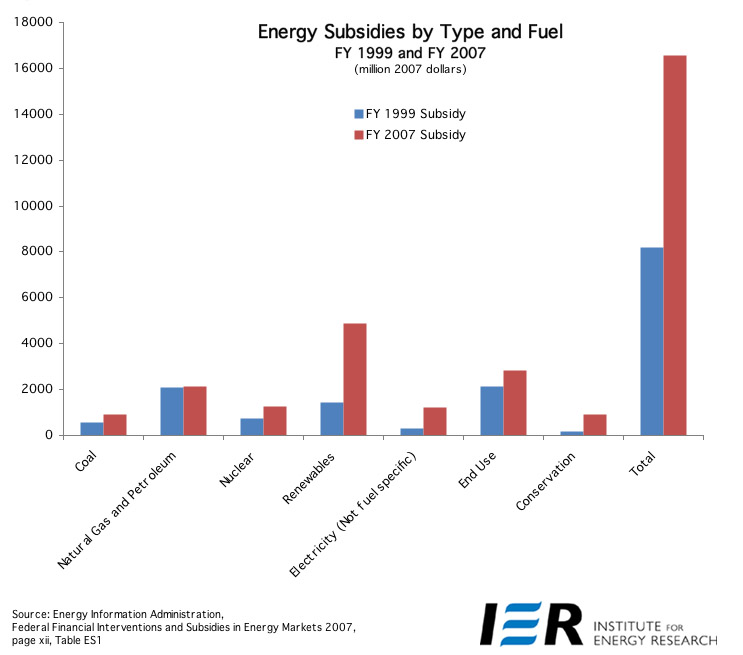 American taxpayers footed a $16.6 billion bill for energy subsidies, tax breaks, loan guarantees, and the like in 2007 alone, according to data from the U.S. Energy Information Administration (EIA). That's more than double the Federal subsidy level from eight years earlier. 
In fact, on an energy fuel basis, Congress has increased subsidies for renewable fuels considerably, from 17 percent of total subsidies and support in 1999 to 29 percent in 2007.  Conversely, natural gas and petroleum-related subsidies declined from 25 percent to 13 percent during the same period, and coal and nuclear subsidy shares remained roughly constant.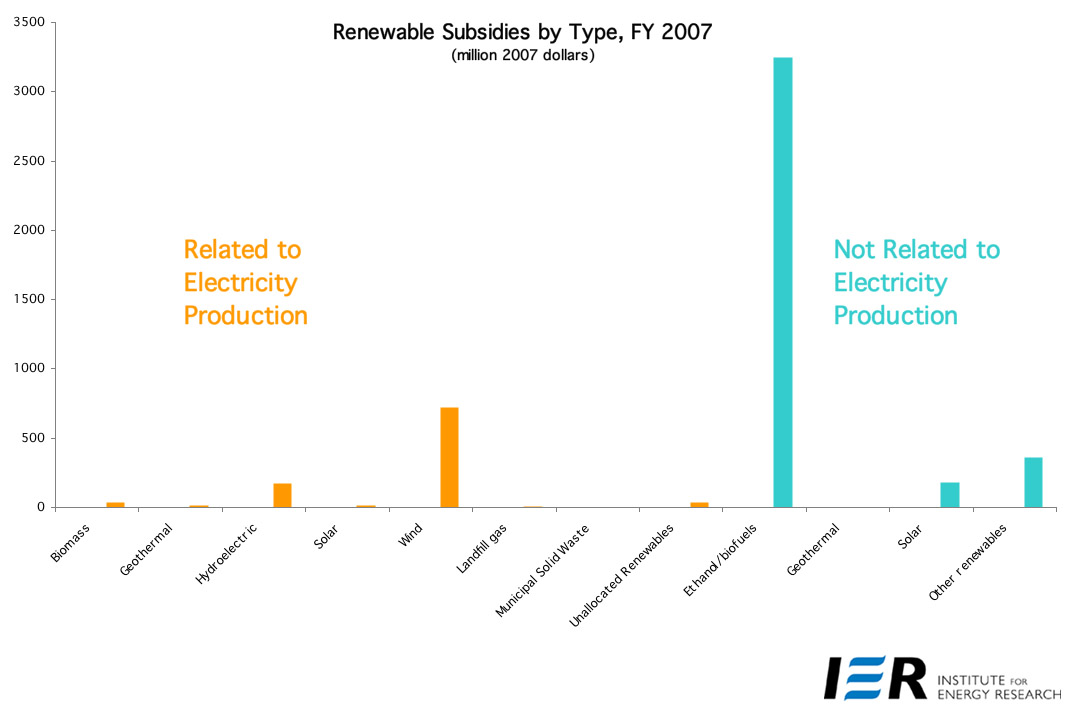 A large portion of the increase in subsidies for renewable fuels is due to ethanol and biofuels production, which represented two-thirds of the renewable subsidies in FY 2007.
For subsidies related to electricity production, EIA data shows that solar energy was subsidized at $24.34 per megawatt hour and wind at $23.37 per megawatt hour for electricity generated in 2007.  By contrast, coal received 44 cents, natural gas and petroleum received 25 cents, hydroelectric power 67 cents, and nuclear power $1.59 per megawatt hour.
Renewable lobbies complain that they don't get their fair share of the subsidy pie, despite the data that suggests otherwise.  The industry justifies its requests for larger levels of taxpayer support by arguing that subsidies per unit of energy produced are always higher at the early stage of development, before large scale production can occur. But here's the problem: wind power has been subsidized for more than a decade.  The production tax credit (PTC) for wind, for example, was first introduced as part of the Energy Policy Act of 1992.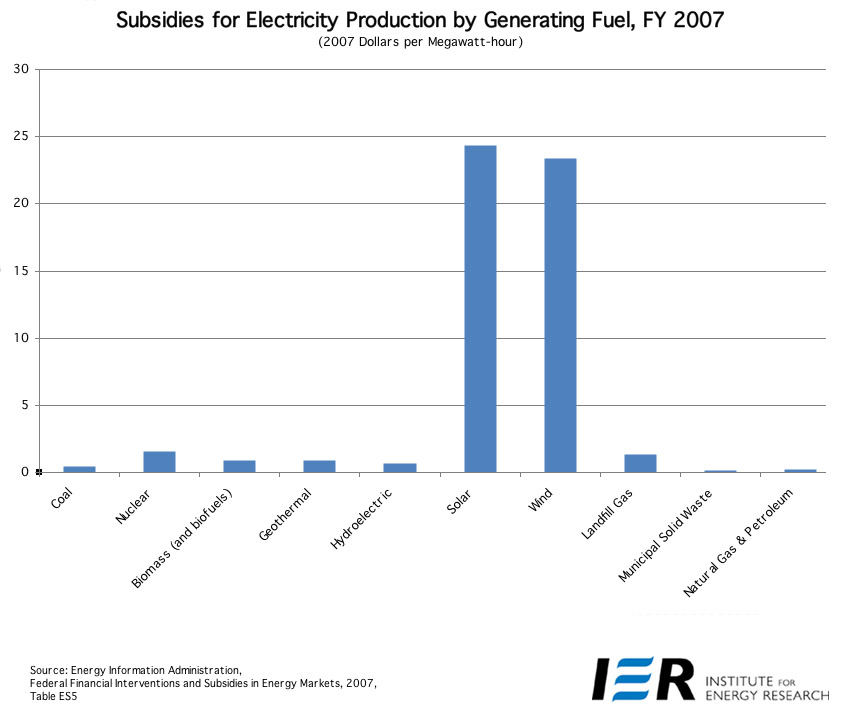 The PTC for wind is currently slated to expire on December 31, 2008, if Congress does not extend it before then.  However, even with these subsidies, wind represented less than 1 percent of total net electricity generation in the United States in 2007. By contrast, nuclear and natural gas, both representing about 20 percent of net electricity generation in 2007, and coal, representing almost 50 percent, are subsidized less than wind by factors ranging from 15 for nuclear to 93 for natural gas.
The bottom line: traditional fuels continue to be more efficient and cost-effective than renewable fuels, which is why EIA forecasts show them representing 91 percent of energy consumption in 2030.
See also: Record Profits for Oil Companies, Record Revenue for Taxpayers
*all data courtesy of the U.S. Energy Information Administration (EIA).