For years, Europe has claimed to be at the forefront in instituting policies to reduce greenhouse gas emissions to comply with the Kyoto Protocol.  As part of that, Europe has been at the forefront of setting mandates for wind and solar generation coupled with hefty renewable subsidies as enticements. The Europeans have found that these subsidies have grown too large, are hurting their economies, and as a result are now slashing the subsidies.  In fact, the costs have become so enormous that governments in European countries are unilaterally rewriting their contracts with renewable generating firms and reneging on the generous deals they initially provided. Spain, for example, ended its feed-in-tariff, which guaranteed an extremely high price for renewable power, replacing it with a much lower subsidy or in some cases no subsidy.  Spain is reeling from unanticipated cost hikes and has not been able to recoup $41 billion that it provided to renewable generators since 2000.
It has been a rude awakening for European countries that have ventured into renewable markets. Let's take a look at a few country examples.
Spain
In order to enhance renewable energy sources in Spain, the Government enacted legislation to reach 20 percent of electric production from these sources by 2010. To meet this target, the government found it needed to provide incentives to ensure the market penetration of renewable energy including providing above market rates for renewable-generated electricity and requiring that electric utility companies purchase all renewable energy produced.
In 1994, Spain implemented feed-in-tariffs to jump start its renewable industry by providing long-term contracts that pay the owners of renewable projects above-market rates for the electricity produced. Because renewable technologies generally cost more than conventional fossil fuel technologies, the government guaranteed that renewable firms would get a higher cost for their technologies. But, because the true costs of renewable energy were never passed on to the consumers of electricity in Spain, the government needed to find a way to make renewable power payments and electricity revenues meet.
Since 2000, Spain provided renewable producers $41 billion more for their power than it received from its consumers. In 2012, the discrepancy between utility payments to renewable power producers and the revenue they collected from customers was 5.6 billion Euros ($7.3 billion), despite the introduction of a 7 percent tax on generation.[i] The 2012 gap represented a 46 percent increase over the previous year's shortfall.[ii]
This massive rate deficit should not come as a surprise. IER has been warning of this problem for five years when Dr. Calzada released his paper on the situation in Spain and testified before Congress.
The Spanish government did not want to believe Dr. Calzada, but in the end they were hit in the face with reality. To recover those lost revenues from the extravagant subsidies, the Spanish government ended its feed-in-tariff program for renewables, which paid the renewable owners an extremely high guaranteed price for their power as can be seen by the above deficit. Currently, renewable power in Spain gets the market price plus a subsidy which the country deems more "reasonable." Companies' profits are capped at a 7.4 percent return, after which renewable owners must sell their power at market rates. The measure is retroactive to when the renewable plant was first built.[iii] Therefore, some renewable plants, if they have already received the 7.4 percent return, are receiving only the market price for their electricity.
Further, wind projects built before 2005 will no longer receive any form of subsidy, and this affects more than a third of Spain's wind projects. As a consequence of the government's actions to rein in their subsidies and supports, Spain's wind sector is estimated to have laid off 20,000 workers and its solar sector, which once employed 60,000 workers, now employs just 5,000. In 2013, solar investment in Spain dropped by 90 percent from its 2011 level of $10 billion.
Spain's 20 percent renewable energy share of generation from wind and solar power has come at a very high cost to the nation.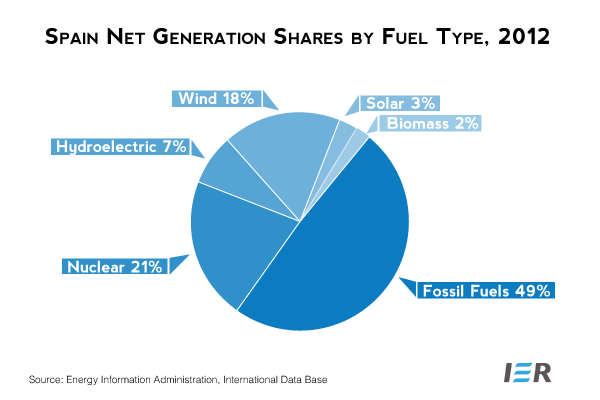 Germany
In Germany, as part of the country's "Energiewende", or "energy transformation," electric utilities have been ordered to generate 35 percent of their electricity from renewable sources by 2020, 50 percent by 2030, 65 percent by 2040, and 80 percent by 2050. To encourage production of renewable energy, the German government instituted a feed-in-tariff early, even before Spain.  In 1991, Germany established the Electricity Feed-in Law, which mandated that electric utilities purchase electricity from renewable sources at above-market rates. A law passed in 2000 extended feed-in tariffs for another 20 years.[i]
Originally, to allow for wind and solar generation technologies to mature into competitive industries, Germany planned to extend the operating lives of its existing nuclear fleet by an average of 12 years. But, the Fukushima nuclear accident in Japan changed Germany's plans and the country quickly shuttered 8 nuclear reactors and is phasing out the other 9 reactors by 2022, leaving the country's future electricity production mostly to renewable energy and coal.[ii]
Coal consumption in Germany in 2012 was the highest it has been since 2008, and electricity from brown coal in 2013 reached the highest level since 1990, when East Germany's Soviet-era coal plants began to be shut down.   German electricity generation from coal increased to compensate for the loss of the hastily shuttered nuclear facilities. Germany is now building new coal capacity at a rapid rate, approving 10 new coal plants to come on line within the next 2 years to deal with expensive natural gas generation and the high costs and unreliability of renewable energy.[iii] As a result, carbon dioxide emissions are increasing. In 2012, for example, Germany's carbon dioxide emissions rose by 1.3 percent over 2011 levels.[iv] While the United States is using our low cost domestic natural gas to lower coal-fired generation, in Germany, the cost of natural gas is high since it is purchased at rates competitive with oil.  Germany has also enacted a moratorium on hydraulic fracturing, in response to opposition to the practice from its Green Party.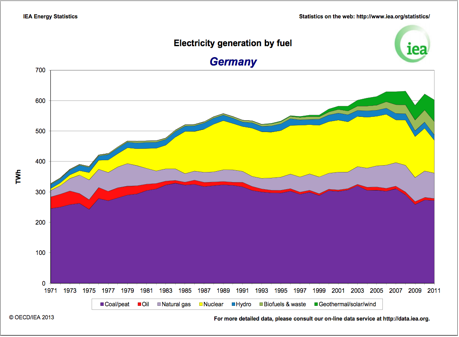 Unfortunately, Germany has some of the highest costs of electricity in Europe, making its consumers energy poor. In 2012, the average price of electricity in Germany was 36.25 cents per kilowatt-hour,[i] compared to just 11.88 cents for U.S. households, triple the U.S. average residential price.[ii]  These prices led Germany's Energy Minister to recently caution that they risk the "deindustrialization" of the economy.
In addition to high electricity prices, Germans are paying higher taxes to subsidize expensive green energy. The surcharge for Germany's Renewable Energy Levy that taxes households to subsidize renewable energy production increased by 50 percent between 2012 and 2013 – from €3.6 cents (4.97 U.S. cents) to €5.28 cents (6.7 cents) per kilowatt hour, costing a German family of four about €250 ($324) per year, including sales tax.[iii] The German government raised the surcharge again at the start of this year by 18 percent to €6.24 cents per kilowatt hour (8.61 U.S. cents) representing about a fifth of residential utility bills,[iv] making the total feed-in tariff support for 2014 equal to €21.5 billion ($29.6 billion).[v]  As a result, 80 German utilities are raising electricity rates by 4 percent, on average, in February, March, and April of this year.
The poor suffer disproportionately from higher energy costs because they spend a higher percentage of their income on energy. As many as 800,000 Germans have had their power cut off because of an inability to pay for rising energy costs, including 200,000 of Germany's long-term unemployed.[vi]
Germany knows reforms are necessary and two are being considered. On January 29, the German Cabinet backed a plan for new commercial and industrial renewable power generators to pay a charge on the electricity they consume. As part of the reform of the Renewable Energy Sources Act, the proposal would charge self generators 70 percent of the renewable subsidy surcharge, (i.e. the €6.24 cents per kilowatt hour). Under the proposal, the first 10 megawatt hours would be exempt for owners of solar photovoltaic projects that are less than 10 kilowatts. According to the German Solar Energy Industry Association, about 83 percent of solar self generators would be subject to the new charge. The Cabinet is expected to sign the draft into law in April and will go to the Parliament for a vote in June. The German government is also considering a reduction in the feed-in tariff from the current average of €17 cents (23.47 U.S. cents) per kilowatt hour to €12 cents (16.56 U.S. cents) per kilowatt hour.[vii]
United Kingdom
The United Kingdom is targeting a 15 percent share of generation from renewable sources by 2020, up from 12 percent today. The increased renewable power will cost consumers 120 pounds a year (about $200) above their current average energy bill of 1,420 pounds ($2,362). The UK is closing coal-fired plants to reduce carbon dioxide emissions in favor of renewable energy. In the past 15 months, 8.2 gigawatts of coal capacity were shuttered. Another 13 gigawatts are at risk of closing by 2019, according to the Confederation of U.K. Coal Producers.[viii]
As an incentive, the UK government provided renewable energy producers a guaranteed subsidy totaling twice the whole sale price of electricity, costing more than £1 billion a year ($1.66 billion).  Because these costs are placing U.K. households in energy poverty, the government has a new proposal where renewable companies will have to sell their electricity to the national grid under a competitive bidding system. The new proposal limits the total amount of subsidies available for green energy, which were previously effectively limitless. The reduction in subsidies has led to renewable developers scrapping plans amid claims that the proposal will make future renewable development unprofitable.[ix]
Italy
Similar to Germany and Spain, Italy instituted a feed-in-tariff in the early 1990s to spur renewable development[x], and also found it too costly. In 2012, the government charged all solar producers a five cent tax per kilowatt hour on all self-consumed energy. The government also curtailed purchasing power from solar self generators when their output exceeded the amount the system needed. Those provisions were followed in 2013 by the government instituting a "Robin Hood tax" of 10.5 percent to renewable energy producers with more than €3 million ($4.14 million) in revenue and income greater than €300,000 ($414,000).[xi]
According to Italy's solar industry, the result of these and other changes has been a surge in bankruptcies and a massive decrease in solar investment.
Conclusion
Europe was quick to pursue compliance with the Kyoto Protocol by instituting a cap-and-trade system and mandating and subsidizing renewable technologies in their power generation sector. However, these policies have left Europe with greenhouse gas emissions higher than targeted, and either huge revenue losses or consumers in energy poverty due to incentives to promote renewable energy, such as feed-in-tariffs. European governments are now slashing these incentives despite contracts that would otherwise continue them. The United States should take a lesson from Europe's experience, rather than calling for these policies to be established here, as some are doing.
---
---
---