Greenhouse gas emissions are lower, but many U.S. businesses are closed and millions of Americans no longer have jobs. Cities look like ghost towns as residents are told to stay in their homes. Airplanes are grounded and flights are canceled as few travelers want to fly, and city streets, roads, and highways are no longer in grid-lock because many businesses are closed and for those that are open, workers are forced to telecommute. The global economy is being clobbered and yet environmentalists are touting that the air is cleaner.
The Green New Deal, like the coronavirus response, means massive new government spending, political control of critical industries, and emergency protocols modeled on wartime practice. While the coronavirus is an emergency, it will not last forever, and emergency measures, by nature, should be and are temporary. However, the Green New Deal, the preferred environmental blueprint of leading Democratic Party politicians, would create a permanent state of near emergency. Environmentalists want to convince Americans that climate change presents an emergency that is the "moral equivalent of war," requiring the same worldwide mobilization as the coronavirus outbreak.
Emissions Down
Experts are predicting the crisis from the coronavirus will cause global greenhouse gas emissions to drop for the first time since 2009, when the world was faced with the Great Recession. NASA and European Space Agency satellites have detected big drops in air pollution concentrations in China and Italy as millions went under lockdown or were quarantined to slow the coronavirus.
The coronavirus has had a devastating impact on Italy with over 10,000 deaths. In Venice, residents posted pictures of fish, birds and other wildlife, as they returned to the city's canals in the absence of traffic from its diesel-powered commuter boats and water buses. The air quality in the city has improved from the coronavirus lockdown and the canal water looks clearer due to less traffic on the canals, allowing the sediment to settle and remain at the bottom. But that has come at the cost of material production and wealth creation.
In cities across the United States, traffic on roads and highways has fallen dramatically as more people are forced to stay at home. A satellite that detects emissions in the atmosphere linked to cars and trucks shows huge declines over major metropolitan areas, including Los Angeles, Seattle, New York, Chicago, and Atlanta. Streets are deserted of cars.
It is not just the transportation sector, however, where emissions are down. Another effect of the social distancing and economic downturn from the coronavirus is lower electricity demand. As European countries impose new restrictions, electricity demand has fallen 2 to 7 percent week-on-week. Italy and Spain, which have been hit the hardest by the coronavirus, show greater impact than the other countries, except for France. Electricity demand in the U.K. has been the least impacted of these European locales so far. The chart below shows changes in the electricity demand of select European countries from March 16 to March 22 compared to the prior week. Note that countries entered those weeks in different phases of their coronavirus outbreak response. In Italy, although the week-on-week fall was almost 12 percent, there was an 8 percent impact from the previous week.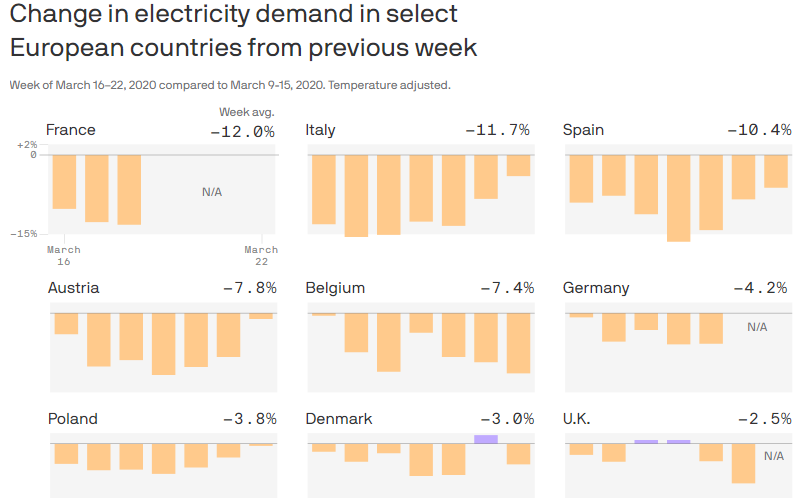 Countries Asking Relief from Climate Change Policies
Countries in Europe reeling from the virus outbreak are asking for relief from climate change legislation. Poland requested the European Union to scrap its Emissions Trading System or exempt Poland from it to free up funds to fight the effects of the coronavirus. Under that system, power generators, industrial emitters and airlines within the European Union must buy permits to cover their greenhouse gas emissions. The Czech Republic's prime minister urged the European Union to abandon a landmark law seeking net zero carbon emissions to focus instead on battling the outbreak. According to the Czech prime minister, the European Union should focus on fighting the coronavirus rather than its "Green Deal" policy package.
Canada is projecting double-digit unemployment as a result of the coronavirus pandemic, but instead of taxation relief, Prime Minister Trudeau wants to implement a 50 percent increase in the carbon tax. The tax increase was created two years ago and is scheduled to go into effect on April 1st. The Greenhouse Gas Pollution Pricing Act legislation mandates a 50 percent increase in the tax from 4.4¢ a liter (11.83 U.S. cents per gallon) to 6.6¢ a liter (17.74 U.S. cents per gallon). Despite an outraged public, Trudeau has not indicated whether he will stop the increase from taking effect.
Conclusion
Energy demand is down in Europe and will be here too as a result of factories and businesses being closed, demanding less electricity, and Americans forced to stay at home, decreasing vehicle and air traffic. Less energy demand due to people not working means fewer emissions. The coronavirus outbreak, and the economic devastation following in its wake, should serve as an alarm for Americans to realize what a policy like the Green New Deal would do to the U.S. economy, American jobs, and our way of life. It would not be pretty.