The Independent System Operator of the New England power grid warned that harsh weather conditions could result in electric blackouts this winter. Besides weather, global oil and gas prices and natural gas pipeline constraints could affect storage and deliveries into New England, which could also affect electric generation. In the past when very cold weather constrained natural gas pipeline supplies, oil and liquefied natural gas (LNG) filled the gaps. But, higher prices globally for these fuels, as well as supply chain challenges, could limit their availability this winter. As a result, as in California last summer and Texas in February, customers may need to conserve energy to avoid blackouts.
EIA Winter Fuel Outlook Forecasts
The Energy Information Administration (EIA) has forecasted higher energy bills this winter as natural gas prices remain at multi-year highs around the world and other fuel prices are above last year's levels. For the Northeast, EIA projects based on average temperatures:
Households that heat primarily with natural gas (57 percent of Northeast households) will spend 18 percent more than they spent last winter on average
Households that heat primarily with heating oil (19 percent of Northeast households) will spend 43 percent more
Households that heat primarily with electricity (17 percent of Northeast households) will spend 10 percent more
Households that heat primarily with propane (5 percent of Northeast households) will spend 47 percent more.
The National Oceanic and Atmospheric Administration, however, is projecting that the eastern United States will experience warmer-than-average temperatures, though a warmer than average season does not eliminate the threat of prolonged stretches of cold weather. Weather is the largest driver of energy use in New England. As demonstrated in Texas in February, extreme weather can exacerbate reliability risks on the power grid.
Projected N.E. Winter Electricity Needs
The New England system operator anticipates demand for electricity to peak at 19,710 megawatts during average winter weather conditions of 10°F, and 20,349 megawatts if temperatures reach below-average conditions of 5°F. These projections are lower than last year's forecasts. New England's all-time winter peak record was set during a January 2004 cold snap when electricity usage reached 22,818 megawatts.
The system operator compared expected consumer demand levels and other system conditions for this winter with three historical weather scenarios:
Last winter (2020/2021), when the region experienced no extreme temperatures;
The winter of 2017/2018, when, despite a forecasted mild season, all major cities in New England had average temperatures below normal for at least 13 consecutive days; and
The winter of 2013/2014, when the region experienced several cold-weather stretches of four or more consecutive days, including a stretch of ten consecutive days at or below freezing.
The analysis assumed no significant generation or transmission outages, and that fuel replenishment would be limited. Under this analysis, the system operator would anticipate reliable system operations without the need for emergency procedures with mild conditions similar to last year. Weather similar to 2017/2018 may require limited emergency procedures, while weather similar to 2013/2014 may require the implementation of all available emergency procedures. The system operator would not expect these actions to be necessary if generators are able to adequately replenish their fuel supplies and if the system does not experience any unexpected generator or transmission outages.
If emergency procedures are necessary, the system operator will import emergency power from neighboring regions, if available, call on power system reserves, and ask businesses and residents to voluntarily conserve energy. In severe events, system operators may be forced to call for controlled power outages to protect the overall grid.
N.E. Fuel Supply Issues
Fuel supply issues have been a concern in New England for the past two decades due to constraints on the natural gas pipeline system, which limits the availability of fuel for natural gas-fired power plants. Heating customers are served first through firm service contracts. When natural gas is not available or is higher priced than alternate fuels, the wholesale markets goes to other sources, including LNG, coal, or oil. But, since 2013, about 7,000 megawatts of these fuels have retired or announced plans for retirement in the coming years, with nearly 2,000 megawatts having retired since winter 2017/2018.
Natural gas is the predominant generating fuel in New England. Natural gas plants generate 50 percent of the region's electricity, nuclear power plants generate 28 percent, while renewable and hydro resources generate 11 percent and 9 percent, respectively. Coal and oil units combined account for less than 3 percent of the generation.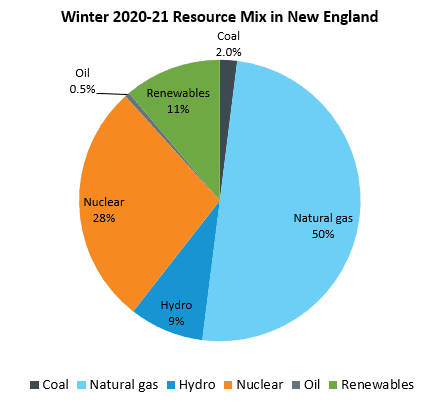 New England generators rely on the delivery of both global and domestic fuel supplies to produce electricity. As the world recovers from the pandemic, global fuel supply chains are stretched, leading to high prices for oil and LNG across the globe. These issues may limit the ability for resources in New England to replenish their tanks if they run low during the winter months. These limitations are in addition to typical logistical challenges, such as inclement weather, that can affect fuel deliveries into the region. A national shortage of truck drivers may also affect the speed at which some generators can replenish their fuel supplies, as the trucking system is shared by multiple industries, including commercial and residential heating and electric generation.
Massachusetts Natural Gas/Oil Plant
Similar to California this summer, which added 5 "temporary" natural gas plants to avoid blackouts, communities in Massachusetts have financed a project to improve grid reliability and control potentially costly fluctuations in energy prices. The $85 million project is for a 55-megawatt power plant designed to operate during peak demand for electricity. Construction of the plant could begin in the next few weeks and be in operation by 2023. The new plant, with state-of-the-art emissions controls, is expected to be more efficient and produce fewer emissions than existing peaking plants, which are operated mainly on the coldest and warmest days of the year to ensure sufficient power. Most N.E. peaking plants can run on either oil or natural gas, so they can operate during shortages and price spikes of either fuel. However, opponents are using a state law that Governor Baker signed last year that requires major reductions in emissions of carbon dioxide—by 50 percent from 1990 levels by 2030 and to net zero by 2050—to fight the project.
Regional Greenhouse Gas Initiative
The Regional Greenhouse Gas Initiative (RGGI) agreement was the first cap and trade program in the United States to place a cap on power sector carbon dioxide emissions. Utilities that emit above their cap must buy emission allowance from auctions. The original RGGI member states are Connecticut, Delaware, Maine, Maryland, Massachusetts, New Hampshire, New Jersey, New York, Rhode Island, and Vermont. In January 2021, Virginia became a full participant in the RGGI. The Pennsylvania Department of Environmental Protection's plan to join RGGI has encountered opposition from its state legislature. RGGI is implemented through individual carbon dioxide Budget Trading Programs in each participating state. The RGGI-wide carbon dioxide cap represents a regional budget for carbon dioxide emissions from the power sector and is an aggregation of the individual state program targets. As states join or leave RGGI, the aggregated caps are modified to reflect those changes.
The most recent RGGI quarterly auction, held on December 1, 2021, resulted in a clearing price of $13.00 per short ton of carbon dioxide, surpassing the previous high price of $9.30 per short ton reached the previous quarter. Auction carbon prices have almost doubled since President Biden has taken office, reflecting the higher energy prices under his administration policies. States are expected to reinvest the proceeds from these auctions in programs to improve energy efficiency and accelerate the deployment of renewable energy technologies in the electric power sector. This is a model that approximates the European system, which is currently undergoing significant challenges because of very high carbon dioxide prices and the move towards renewable energy.
Conclusion
The New England system operator expects to have the resources needed to meet consumer demand if the winter is mild, but a severe prolonged cold snap could necessitate emergency actions if power-producing resources lack access to the fuel they need to operate. Those emergency procedures could result in blackouts if consumers do not conserve sufficiently. The New England region's electricity sector has been affected by environmental legislation, limiting carbon dioxide emissions; the Regional Greenhouse Gas Initiative, which places a cap on carbon dioxide emissions from power plants in the region; constraints on natural gas pipeline expansion; the rejection of a high-powered transmission line to bring hydroelectric power from Canada; supply change issues resulting from the COVID pandemic; and increasing energy prices resulting from Biden administration energy policies. Consumers will begin to see the impacts of these policies this winter.