With over 400,000 Tesla vehicles on U.S. roads, Tesla's Supercharger stations were overcrowded over the holidays and many Tesla owners faced an hours-long wait to recharge their electric vehicles. At one location in Kettleman City, California, a line of 50 or so Tesla vehicles awaiting a Supercharger stall stretched to about a quarter mile over Thanksgiving weekend. The station is located about halfway between Los Angeles and San Francisco. Its 40 stalls were insufficient to accommodate the demand, and the simultaneous recharging of the vehicles lowered the rate of recharging, frustrating customers even more. It takes about 52 minutes to charge a Model 3 to 80 percent at a 120 kilowatt Tesla Supercharger.
Tesla's 1,636 recharging stations across North America are insufficient when traveling on high-traffic routes during holidays—so going over the river and through the woods to grandmother's house is not a "go." Tesla plans on providing additional 250 kilowatt V3 Superchargers, capable of providing 75 miles (about one quarter of its range) worth of charge to a Model 3 in five minutes. Only a handful of those stations exist currently and a nationwide rollout will take at least through 2020.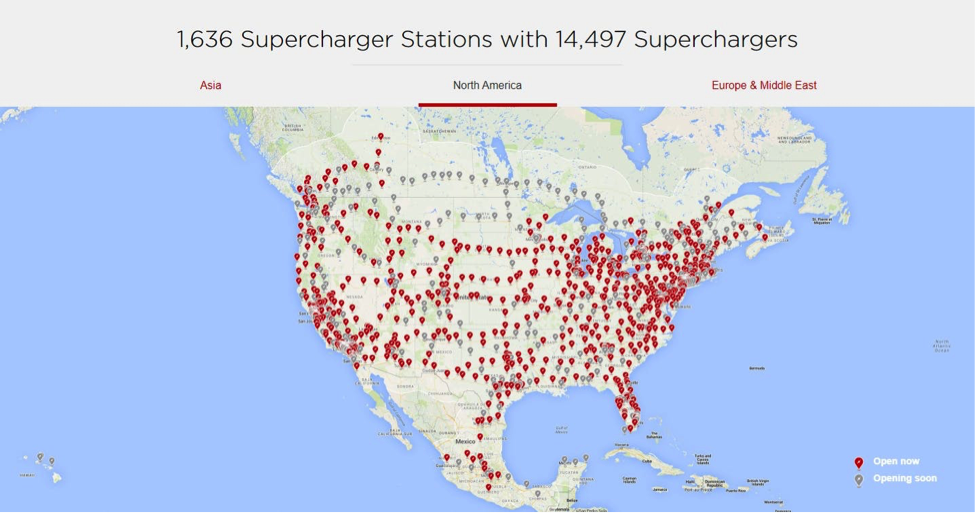 Car owners have cited that speed and availability of charging stations are two of their biggest concerns about electric vehicles. While electric-vehicle charging times are decreasing, they are still longer than refueling at a gasoline station. Long lines at regular gas stations for normal vehicles are alleviated by fill-up times of 5 minutes or so, but with recharge times approaching an hour it is easy to see how frustration could become a regular part of an electric vehicle driver's experience. Despite the availability of charging stations increasing significantly over the past five years, there are still far fewer electric-vehicle charging stations than gasoline stations.
The Consumer and Electric Vehicles
Plug-in electric cars currently represent just under 2 percent of the U.S. market, and 2.2 percent of the global market. Despite exponential growth, with a record 2 million or so electric vehicle sold worldwide last year, only one in 250 cars on the road is electric. Only Norway, which has lavished subsidies and perks on electric vehicles because of their enormous oil and gas wealth has an electric vehicle share of new car sales around 30 percent.
Plug-in electric vehicle share of US vehicle market 

The consulting firm Deloitte expects 21 million battery electric vehicles to roll off assembly lines over the next decade as it predicts electric vehicle prices will fall below comparable gasoline and diesel models by 2024. The company expects that the rush to expand manufacturing capacity, however, will produce a glut of electric vehicles. Its projections suggest that supply will vastly outweigh consumer demand by approximately 14 million vehicles over the next decade, and that the number of manufacturers producing electric vehicles will be unsustainable. Since manufacturers lose money on each electric vehicle, this presents significant challenges for manufacturers.
China and European nations that provide legislative mandates and generous subsidies, however, are continuing with electric vehicle adoption. In China, some suggest that fossil-fuel vehicles may have peaked (carbon-free vehicles represent 4 percent of total sales), although recently electric vehicle sales have declined because of reduced subsidies.  And, Volkswagen plans for a quarter of its cars to be electric by 2025.
Another firm, McKinsey, expects about 120 million electric vehicles on the road by 2030 in China, the European Union, and the United States. Along with different levels of electric vehicle adoption across regions (see graph below), structural considerations will make charging-station demand highly localized–dense cities such as New York will have different requirements than sprawling cities like Los Angeles. Total charging-energy demand for the electric vehicles across China, Europe, and the United States could increase from about 20 billion kilowatt-hours to about 280 billion kilowatt-hours in 2030–less than 10 percent of current U.S. energy demand.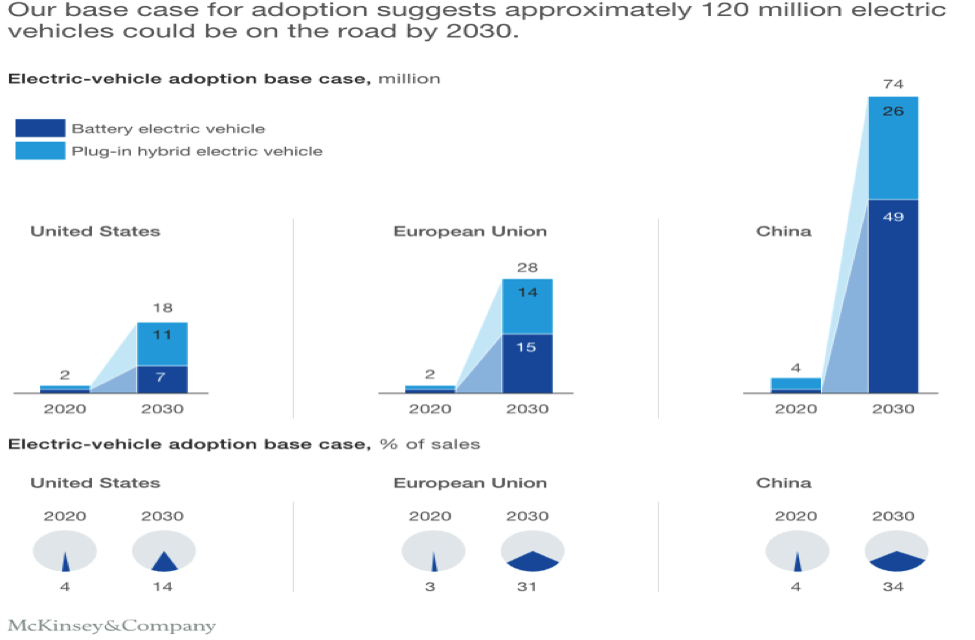 Conclusion
As the scenarios above show, forecasters' predictions vary considerably, and the picture is constantly changing, depending on government policies. Regardless, it is clear that speed and availability of recharging stations are important parameters to car buyers and that both are insufficient today. Recharging stations need to be as available as gasoline refueling stations and refueling just as fast for the majority of consumers to be willing to trade a gasoline vehicle for an electric one. No one wants to spend an hour or more in line waiting to fill up their vehicle with energy.