President Biden's goal is to have 30 gigawatts of offshore wind by 2030, but the Defense Department is discovering issues with that program, warning that almost all of the new terrain planned for offshore wind development conflicts with military operations. There are vast areas that the Navy and Air Force have deemed "highly problematic," covering prime real estate the Interior Department last year earmarked for leasing of offshore wind sites off the coasts of North Carolina, Virginia, Maryland and Delaware. The Defense Department's concerns, along with other conflicts identified by the U.S. Coast Guard, have renewable power developers and the East Coast states counting on mid-Atlantic wind farms to meet their climate goals questioning the program. The Defense Department warning adds to other offshore wind issues: the technology's steep prices that have been exasperated by supply chain issues and rising prices from inflation, opposition from coastal communities, and dead whales floating onshore. The warning also puts a damper on the development of planned manufacturing facilities in Maryland and Virginia.
The Pentagon identified challenges operating around wind turbines that would be installed into the seabed in Atlantic waters near many of its operations and facilities, including North Carolina's Dare County bombing range, used for training fighter jet crews, and a weapons station in Yorktown, Virginia. They are documented on a map of Navy and Air Force concerns, dated October 6, 2022, and circulated with industry and state stakeholders. Four of six potential wind lease areas outlined by the ocean energy bureau last November are completely highlighted in red in the map below, including two deep-water parcels that might require floating turbines, a technology not deployed yet in the United States.  The remaining two tracts, in yellow, are identified as requiring further study. The areas deemed highest priority by the Pentagon span a large portion of potential lease areas off the Maryland and North Carolina coasts. It appears that President Biden's offshore wind energy program directly conflicts with the professional judgments of defense experts in the Pentagon.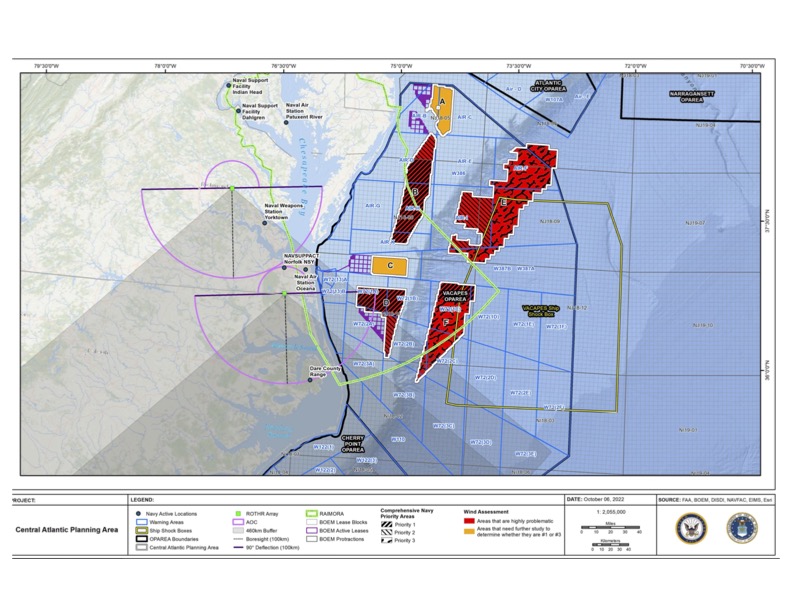 Maryland lawmakers passed legislation setting a state goal to derive 8.5 gigawatts of capacity from offshore wind by 2031 – but under the Defense Department's issues, the state could struggle to build half of that amount. Offshore wind leasing along the U.S. mid-Atlantic is seen as essential to filling a pipeline of projects that can support investments in manufacturing facilities in the region, including the planned Sparrows Point Steel factory near Baltimore. Of course, other types of generating facilities could be built to provide the energy needed, but those may not be politically correct under President Biden's climate goals.
The Interior Department had planned to sell new offshore wind rights in the mid-Atlantic early next year – and significant delays to deal with the Defense Department issues could make it more difficult for offshore wind developers to claim newly expanded tax credits in the Inflation Reduction Act for offshore wind farms that can take years to permit and build. The ocean energy bureau, however, is confident that it can resolve the dispute as it has previously worked with the Defense Department to deconflict issues, identifying areas that have resulted in 27 offshore wind leases along the Atlantic coast, covering over 2.1 million acres.  Given the Biden Administration's singular focus on renewable energy and climate change, the Department of Interior will obviously be granted an upper hand in such discussions.
Offshore wind advocates are arguing that a shift to renewable power helps shrink U.S. reliance on commodities such as oil for energy, thereby strengthening national security. Further, they argue since the Defense Department and U.S. intelligence agencies have cast climate change as a threat to American military assets and global security, offshore wind would supposedly help nullify that.
Of course, wind advocates do not mention the huge amount of cement needed for wind turbines that is produced by releasing enormous amounts of greenhouse gases nor the metals used in the manufacture of the wind turbines—critical metals that make the United States dependent upon China, who is acquiring mines around the world and dominates the energy-intensive processing of the minerals. Further, the United States is no longer dependent on foreign oil as the shale oil revolution has enabled developers to reach America's vast oil resources. That is occurring despite President Biden's moves to destroy the U.S. oil industry.
Offshore Wind Costs
According to the Energy Information Administration and including generous federal tax credits, the levelized cost of electricity from new offshore wind is $100.34 per megawatt hour, compared to $42.72 per megawatt hour for natural gas combined cycle. Even if new gas pipelines had to be constructed, natural gas could provide energy in place of Biden's offshore wind turbines for a fraction of the offshore wind cost. In addition, jobs from natural gas production and use do not have to be subsidized by taxpayers because those companies do not rely on government support for continued operation. Rather, they make profits and pay taxes instead of consuming them. If natural gas is rejected because it produces greenhouse gases at the point of generation, either solar at $36.27 per megawatt hour or onshore wind at $31.07 per megawatt hour would make more sense financially for taxpayers and ratepayers than offshore wind that the Department of Defense now finds may threaten our military readiness.
Wind Unreliability
The heavy reliance on offshore wind facilities for electricity is one reason why the United Kingdom has the highest electric power prices in the world. Unlike markets, where price hikes almost always ensure supplies increase to meet demand and thus ultimately reduce prices, wind power is not dependent on incentives but on nature. Despite high prices, the U.K. and other European nations suffered energy shortages when winds over the North Sea went calm and left turbines dead in the water for days or weeks at a time.
Whale Population and Deaths
According to Save LBI, a group that opposes offshore wind farms close to shore, wind turbines off New Jersey would harm endangered North Atlantic right whales. Ocean surveying, installation of wind turbines and the noise created by the operations create unacceptable levels of noise for the whales. According to the National Oceanic and Atmospheric Administration, the population of North Atlantic right whales has declined to fewer than 350. Whales are vulnerable to ocean noise pollution, vessel strikes, shifts in prey locations, and habitat degradation, all of which are inherent in offshore wind facilities.
Regardless, the Biden administration is proposing to approve another site survey, just 10 miles off Atlantic City for a huge offshore wind project of 1,500 megawatts, covering 1,500,000 acres or 2,300 square miles, an area larger than Delaware. The surveys are suspected to be the cause of the recent wave of dead whales, centered on New Jersey. The project, called Atlantic Shores, is where all the dead whales are washing up. Marine mammals will be subjected to unsafe levels of survey noise. By category, the survey could affect 42 whales, 2,534 dolphins and 1,472 seals. Biden's government believes that the animals will get out of the way and then return when the survey is over, in a year or so. The animals, however, will be forced into high traffic areas, likely increasing the incidence of fatal ship strikes. Further, the survey would move the animals into territories already occupied by similar animals, greatly increasing the population densities for each species leading to potential food scarcity as the food supply would remain the same.
Conclusion
There are numerous reasons to be suspect regarding offshore wind as it is extremely expensive, is weather dependent, requires expensive battery backup, is suspected of killing whales, and its sites are located in areas that the U.S. military uses for training and other defense needs. President Biden's green energy and climate goals are and will continue to be a nightmare for consumers, who will suffer with much higher energy prices as offshore wind is the most expensive generating technology being considered. Consumers are only now beginning to see rapidly increasing electricity prices, but these are likely to ramp up as does the percentage of these renewable sources.
Wind turbines are also unreliable as they are dependent on nature, requiring expensive battery backup. The U.K. and Germany found low wind resources deadened their wind turbines and resulted in energy shortages. Putting all one's energy eggs in the renewable energy basket with obvious holes in it is not a viable plan for the nation's energy future. The desires of politicians cannot change the underlying physics and economics of offshore wind energy or any other kind of energy, for that matter.