The La Paloma natural gas plant in California filed for bankruptcy last December because it was not getting enough operating time to cover its costs due to solar and other renewable energy receiving preference. The plant, which serves as back-up to the state's renewable generating technologies, was also denied a reliability charge by the state that would have allowed it to continue to operate. The owners project an annual loss of $39 million without a reliability contract or other support. In its bankruptcy filing, the plant owners listed assets of between $100 million and $500 million and liabilities of $500 million to $1 billion.[i]  La Paloma is a 1200-megawatt merchant plant located 110 miles northwest of Los Angeles and is able to serve both the San Francisco and Los Angeles markets.[ii]
The La Paloma Power Plant
La Paloma, an independent power plant constructed in 2003, was built by private developers at a cost of about $500 million and is the state's eleventh largest plant. Its capital cost is completely paid and, even though it is 14 years into its operating life, its lifespan could last another 30 or 40 years. Unlike regulated utilities, it does not have retail customers and is dependent on contracts from utility companies. It gets its natural gas from a pipeline located nearby.
Between 2014 and 2016, La Paloma's operating level dropped from about 78 percent of capacity to just 50 percent.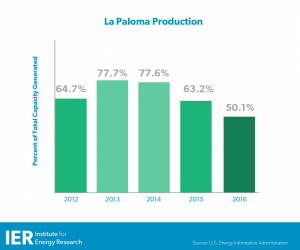 What is ironic is that the agency that operates the state's power grid would rather have a new generating plant built, charging consumers for it rather than allow this merchant plant to operate. As IER's study shows, operating an existing natural gas power plant is about half the cost of operating a new natural gas power plant.[iii]
La Paloma's troubles began last year due to low market power prices, the lack of a guaranteed contract for its electricity and a new annual review by the grid operator of local electricity demand in ten state energy regions, including Los Angeles. The review was conducted with the premise that each region should be energy self-sufficient, supplied with electricity primarily from natural gas plants within the region to more reliably respond to sudden drops in electricity supply from solar, wind and other renewable sources. La Paloma fell outside the boundaries of all ten regions. The regional boundaries have been used to justify construction of seven new natural gas projects in Southern California to provide reliable power when renewable energy is not producing.
The California Independent System Operator wants a new power plant, the Puente power plant in Ventura County, to be constructed at a cost of about $250 million, which would be paid for by electricity customers. The Puente power project will be built and owned by NRG Energy Inc. Customers of Southern California Edison will pay for its construction through their electricity rates.
California regulators continue to approve more plants and increase electricity rates, even though California consumers are using less power. The building of new power plants and transmission lines is costing Californians $40 billion a year for electricity, $6.8 billion more than nine years ago, which is a reason why the state's residential electricity prices are about 50 percent higher than the national average.
Conclusion
La Paloma is not the only power plant in California facing closure due to its policy promoting renewable energy. Pacific Gas and Electric's Diablo Canyon plant is in a similar situation despite its solid operating experience. The result of California's poorly designed energy policy is higher prices for its constituency, but that seems to be of little concern to state leaders.
---
[i] Los Angeles Times, A Central Valley power plant may close as the state pushes new building at customers' expense, June 10, 2017, http://www.latimes.com/business/la-fi-la-paloma-capacity-20170609-story.html
[ii] Kallanish Energy, California gas power plant La Paloma files for Chapter 11, December 12, 2016, http://www.kallanishenergy.com/2016/12/12/california-gas-power-plant-la-paloma-files-chapter-11/
[iii] Institute for Energy Research, The Levelized Cost of Electricity from Existing Generation Resources, July 2016, https://www.instituteforenergyresearch.org/wp-content/uploads/2016/07/IER_LCOE_2016-2.pdf