According to the New York Times, China and India "have greatly accelerated their investments in cost-effective renewable energy sources—and reduced their reliance on fossil fuels," but "it's America—Donald Trump's America—that now looks like the laggard."[i]
Is this really what's happening?
According to the BP Statistical Review of World Energy, the United States had the greatest share of wind and solar electricity (5.4 percent) among the 3 countries in 2015—the year of the most recent data available. China had a 3.9 percent share and India had a 3.7 percent share of wind and solar power to total electricity generation. Both China and India are building coal-fired power plants (the United States is not) and both countries are increasing their demand for petroleum. According to the Energy Information Administration, they are even importing oil and petroleum products from the United States.
China
According to Bloomberg, China's coal-fired generation capacity may increase by as much as 19 percent over the next five years. While the country has canceled some coal-fired capacity due to lack of demand growth, China still plans to increase its coal-fired power plants to almost 1,100 gigawatts, which is three times the coal-fired capacity of the United States. In the chart below, China's non-fossil fuels include nuclear, hydroelectric, and renewable energy. China has some of the largest hydroelectric facilities in the world.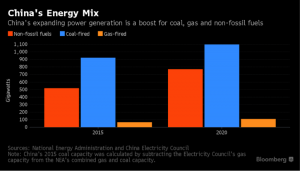 Source: https://www.oilandgas360.com/wp-content/uploads/2017/05/05162017-China-Energy-Sources.png?x56664
Further, China is also building coal-fired plants in other countries such as Kenya and Pakistan. In Lamu, Kenya, a $2 billion, 1050 megawatt, coal-fired power plant—the first of its kind in East Africa—will be financed with Chinese, South African, and Kenyan capital, and be built by the state-owned Power Construction Corporation of China. The plant will power an adjacent 32 berth deep-water port that is part of a plan to transform Kenya into an industrializing, middle-income country by 2030.[ii]
Excluding projects in South Africa, over 100 coal-generating units are in various stages of planning or development in 11 African countries and China is financing about half of them. The combined capacity of the units is 42.5 gigawatts—over eight times the region's existing coal capacity. While not all are being financed by China, almost all are financed by foreign investment.
Pakistan is committed to building as many as 12 new coal-fired power plants over the next 15 years as part of a large infrastructure investment project that China and its partners are funding. About $33 billion will be spent on 19 energy projects that include coal-fired power plants, transmission lines, and other infrastructure as part of the China-Pakistan Economic Corridor. The majority of the new generating capacity (roughly 75 percent) will come from the new coal plants.[iii]
While it is true that China is building wind and solar units domestically, many of these units are being curtailed due to lack of infrastructure and a preference for coal. Many of China's wind turbines have been erected in the northwest part of the country, which is sparsely populated and far from China's big cities. The construction of transmission lines to move the wind power has not kept up with the demand nor the construction of the wind units.[iv] According to Greenpeace, an average of 19 percent of Chinese wind power was curtailed in the first three quarters of 2016. And, in the Gansu province, 46 percent was curtailed. The Gansu and Xinjiang provinces also saw solar curtailment rates of 39 percent and 52 percent respectively during the first quarter of 2016.[v]
China has established a goal that 40 percent of the vehicles bought within the country will be electric cars or plug-in hybrids by 2030, but its appetite for gas-guzzling SUVs makes achieving that goal unlikely. China's preference for gasoline-fueled SUVs over electric vehicles is due to their safety and the lack of charging stations for electric vehicles. It is estimated that China will have 150 million SUVs by 2025 (45 percent of its passenger vehicle fleet), up from just four million SUVs in 2010. The surging SUV demand will increase oil consumption in China for at least the next decade, according to estimates from state-owned China National Petroleum Corp., and will more than offset the impact of increasing electric vehicles and hybrids.[vi] China's transportation sector required 2.5 million barrels of gasoline per day last year, and it is expected to increase until it hits 3.6 million barrels per day in 2024.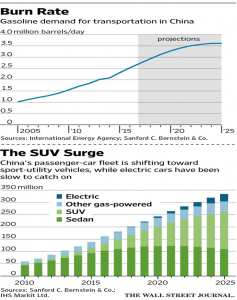 Source: https://www.wsj.com/articles/gas-guzzlers-rule-in-china-1495418821?mg=id-wsj&mg=id-wsj
The popularity of SUVs helps to account for China's recent growth in oil imports. In March, China imported 9.2 million barrels of crude a day—a record. Oil imports for the first quarter were 15 percent higher than a year earlier—a trend that is expected to continue. In February 2017, China was the largest buyer of U.S. crude oil, purchasing 9,575 barrels—almost 5 times more than it purchased from the United States in January.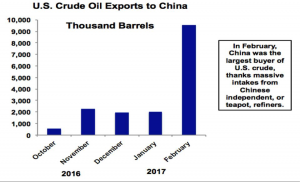 Source: https://www.forbes.com/sites/judeclemente/2017/05/21/the-great-u-s-oil-export-boom/2/#23f2faee5502
As part of President Trump's agreement with China, Chinese imports of liquefied natural gas (LNG) from the United States are expected to increase.[vii] While the volume has been small (the United States supplied only one percent of China's imported LNG in 2016), the U.S. share is expected to increase as U.S. LNG-export capacity increases. In March 2017, it is estimated that the U.S. supplied 7 percent of all Chinese LNG imports.
In 2016, China imported 26.1 million tons of LNG, 32.6 percent more than in 2015. Australia and Qatar supplied the most—65 percent. Bloomberg expects imported natural gas to account for 40 percent of China's total natural gas consumption by 2020, up from one-third today. Wood Mackenzie expects Chinese LNG demand to triple by 2030, reaching 75 million tons per year.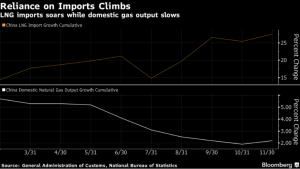 Source: https://www.oilandgas360.com/deal-paves-way-mega-sized-u-s-energy-exports/
India
As the world's third largest emitter of greenhouse gases, India pledged as part of the Paris Agreement to reduce its carbon emission intensity (carbon emissions per unit of GDP) by 33 to 35 percent from 2005 levels by 2030.[viii] Also, by 2030, India intends to generate 40 percent of its electricity from non-fossil fuels, including nuclear power and renewable energy. Despite its intent to increase its non-fossil generation to 40 percent, coal is primarily used today and will continue to be used in the future. India has plans to build nearly 370 coal-fired power plants.[ix] Between 2006 and 2016, 139 gigawatts of coal-fired capacity was brought on-line.[x] The planned construction of an additional 178 gigawatts would make it nearly impossible for India to meet its climate promises. By developing all of the planned coal-fired capacity, India would increase its coal generating capacity by 123 percent.[xi]
See IER's blog on India at https://www.instituteforenergyresearch.org/analysis/despite-paris-accord-india-pakistan-will-continue-use-coal/ .[xii]
Conclusion
China, the United States, and India are the three largest emitters of carbon dioxide in the world and only the United States has decreased its emissions from 2005 levels as the graph below denotes. China and India do not intend to reduce their carbon dioxide emissions—only their carbon intensity—and investing in wind and solar energy will only bring negligible changes as wind only supplied 1.4 percent of the world's energy in 2015 and solar provided only 0.4 percent.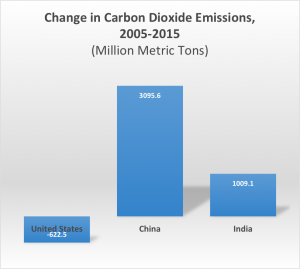 Source: BP Statistical Review of World Energy, http://www.bp.com/en/global/corporate/energy-economics/statistical-review-of-world-energy/downloads.html
---
[i] The New York Times, China and India Make Big Strides on Climate Change, May 22, 2017, https://www.nytimes.com/2017/05/22/opinion/paris-agreement-climate-china-india.html?_r=1
[ii] National Geographic, As the World Cuts Back on Coal, a Growing Appetite in Africa, May 10, 2017, http://news.nationalgeographic.com/2017/05/lamu-island-coal-plant-kenya-africa-climate/
[iii] MIT Technology Review, Why India and Pakistan Are Renewing Their Love Affair with Coal, May 3, 2017, https://www.technologyreview.com/s/604323/india-and-pakistans-continued-love-affair-with-coal/
[iv] National Geographic, Three Reasons to Believe in China's Renewable Energy Boom, May 12, 2017, http://news.nationalgeographic.com/2017/05/china-renewables-energy-climate-change-pollution-environment/
[v] Greenpeace, China releases its energy sector development 13th five year plan: Greenpeace response, January 5, 2017, http://m.greenpeace.org/eastasia/mid/press/releases/climate-energy/2017/China-releases-its-energy-sector-development-13th-five-year-plan-Greenpeace-response/
[vi] Wall Street Journal, Gas Guzzlers Rule in China, May 21, 2017, https://www.wsj.com/articles/gas-guzzlers-rule-in-china-1495418821?mg=id-wsj&mg=id-wsj
[vii] Washington Times, Trump strikes deal to export more natural gas to China, May 12, 2017, http://www.washingtonexaminer.com/trump-strikes-deal-to-export-more-natural-gas-to-china/article/2622933
[viii] The Better India, India Ratifies the Paris Climate Agreement. This is What It Means!, October 4, 2016, http://www.thebetterindia.com/70499/paris-agreement-india-united-nations-convention/
[ix] Phys Org, India's coal plant plans conflict with climate commitments, April 25, 2017, https://phys.org/news/2017-04-india-coal-conflict-climate-commitments.html#jCp
[x] http://endcoal.org/wp-content/uploads/2017/03/Jan-2017-New-in-India-by-year.pdf
[xi] Phys Org, India's coal plant plans conflict with climate commitments, April 25, 2017, https://phys.org/news/2017-04-india-coal-conflict-climate-commitments.html#jCp
[xii] Institute for Energy Research, Despite the Paris Accord, India and Pakistan Will Continue to Use Coal, May 18, 2017, https://www.instituteforenergyresearch.org/analysis/despite-paris-accord-india-pakistan-will-continue-use-coal/