The Energy Information Administration (EIA) recently released its International Energy Outlook 2017 (IEO) with energy projections through 2040. Despite expecting global coal consumption to remain flat, the IEO forecasts global carbon dioxide emissions will increase by 16 percent between 2015 and 2040 as the consumption of all other fuels increases. According to the IEO, fossil fuels will supply the majority of demand in 2040—a 77 percent market share—despite renewable energy growing the fastest. The agency expects both natural gas and petroleum to increase despite announcements made by European countries and China banning combustion vehicles in favor of electric vehicles.[i]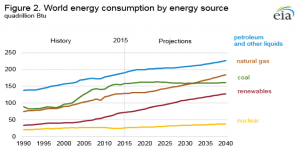 Source: EIA, https://www.eia.gov/outlooks/ieo/exec_summ.php
Coal
EIA projects that the two largest consumers of coal, China and the United States, will reduce their consumption of coal, but projects that India's coal use will continue to increase. The net result is a global flattening of coal consumption through 2040 with its carbon dioxide emissions also remaining flat over the forecast period.
China, the United States, and India together account for about 70 percent of the world's coal consumption. While China currently accounts for over half of the world's total coal consumption, EIA assumes its slowing economy and plans to implement policies to address air pollution and climate change will result in declining coal consumption in that country over the projection period.
Despite the U.S.'s Clean Power Plan being stayed by the courts and the Trump administration promoting coal use, EIA includes the impact of the Clean Power Plan in its projections for the United States. Excluding the Clean Power Plan would increase world coal consumption to 165 quadrillion Btu in 2040, 4 quadrillion Btu higher than the current forecast and an increase in global coal consumption of 4 percent by 2040.
India's coal production will overtake U.S. production by 2025, and by 2040 India is projected to produce twice as much coal as the United States. Outside of India, coal production is expected to increase primarily in Australia, in Asian nations other than China and India, and in Africa.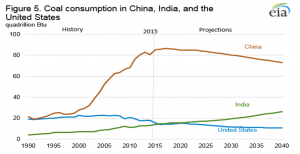 Source: EIA, https://www.eia.gov/outlooks/ieo/exec_summ.php
Natural Gas
Natural gas is the second fastest growing fuel in the forecast, after renewables. The agency sees natural gas displacing coal in the generation sector in several regions and expects its carbon dioxide emissions to increase 1.5 percent annually from 2015 to 2040. Abundant natural gas resources, increasing production and lower carbon dioxide emissions contribute to the strong competitive position of natural gas among other resources.
To meet the growth in EIA's natural gas demand projection, the world's natural gas producers increase supplies by 42 percent between 2015 and 2040. The largest increases in natural gas production occur in the Middle East, the United States, China and Russia. In Russia, production growth is supported primarily by increasing development of resources in the country's arctic and eastern regions. Production growth in the United States and China comes mainly from shale resources. China's shale gas resources are projected to account for more than half of its total natural gas production in 2040.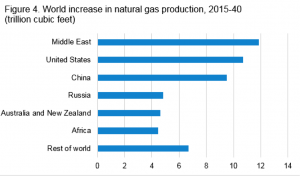 Source: EIA, https://www.eia.gov/outlooks/ieo/exec_summ.php
Petroleum
Most of the growth in petroleum consumption is in the transportation and industrial sectors. In the transportation sector, liquid fuels continue to provide most of the energy consumed despite advances in non-liquids transportation technologies. The transportation sector accounts for 60 percent of the total increase in delivered liquid fuels consumption. Most of the remaining increase in liquid fuels consumption is in the industrial sector, where the chemicals industry continues to consume large quantities of petroleum.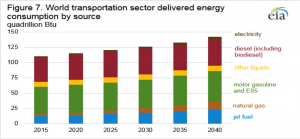 Source: EIA, https://www.eia.gov/outlooks/ieo/exec_summ.php
To satisfy the increase in world liquids demand, petroleum and other liquid fuels production increases by 16.1 million barrel per day between 2015 and 2040. EIA assumes that countries in the Organization of the Petroleum Exporting Countries (OPEC) will invest in incremental production capacity to maintain a 39 to 44 percent share of total world liquids production through 2040, consistent with their share over the past 15 years. OPEC producers contribute 10.3 million barrels per day to the total increase in world liquids production, and non-OPEC countries add 1.6 million barrels per day. The rest of the increase (4.2 million barrels per day) comes from other liquid fuels that include mainly natural gas plant liquids and biofuels.
Electricity
Renewables are the fastest-growing source of energy for electricity generation, with average increases of 2.8 percent annually between 2015 and 2040. Despite progress in bringing down the costs of wind and solar, EIA expects their share of global energy generation to only double by 2040. In 2015, non-hydropower renewable energy accounted for 7 percent of the world's total generation. In 2040, EIA expects their share to reach 15 percent, with more than half that growth coming from wind power. However, by 2040, generation from renewable energy sources surpasses generation from coal on a global basis.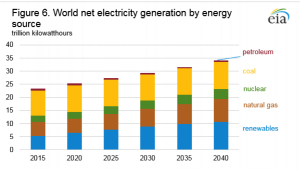 Source: EIA, https://www.eia.gov/outlooks/ieo/exec_summ.php
After renewable energy sources, natural gas and nuclear power are the next fastest-growing energy sources for electricity generation in EIA's global forecast. Concerns about energy security and greenhouse gas emissions support the development of new nuclear generating capacity, but reactor retirements and opposition from local populations keep nuclear from expanding in many parts of the world. Almost all of the projected net expansion in global nuclear power capacity is in non-OECD countries, led by China's addition of 111 gigawatts of nuclear capacity between 2015 and 2040.
In the OECD, EIA expects the combined capacity of all nuclear power plants to decline by a net 14 gigawatts between 2015 and 2040. Among the OECD regions, only South Korea has a large increase in nuclear power capacity of 16 gigawatts. Capacity reductions in the United States, Canada, OECD Europe and Japan more than offset the increase in South Korea's nuclear capacity.
Carbon Dioxide Emissions
Global energy-related carbon dioxide emissions increase from 33.9 billion metric tons in 2015 to 39.3 billion metric tons in 2040—an increase of 16 percent. Many of the developing non-OECD nations continue to rely on fossil fuels to meet the growth in energy demand. Carbon dioxide emissions in non-OECD countries in 2040 are expected to total 26.9 billion metric tons—about 25 percent higher than the 2015 level. For the OECD, carbon dioxide emissions remain at about the same level of 12.4 billion metric tons throughout the projection period.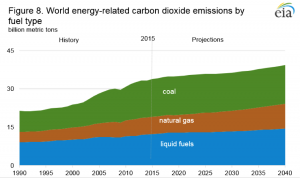 Source: EIA, https://www.eia.gov/outlooks/ieo/exec_summ.php
Conclusion
EIA still sees fossil fuels dominating the world's energy consumption in 2040, supplying 77 percent of the demand despite growth in renewable fuels and policies by governments to increase their use, including bans on the combustion vehicle. Further, EIA projects that global emissions of carbon dioxide from fossil fuels would increase 16 percent by 2040—the year that nations agreed to reverse the trend through the Paris Agreement.
---
[i] Energy Information Administration, International Energy Outlook 2017, September 2017, https://www.eia.gov/outlooks/ieo/pdf/0484(2017).pdf