Many European countries were the first to ratify the Kyoto Protocol and implement policies to reduce greenhouse gas emissions. Those policies, however, have done nothing to curb global carbon dioxide emissions. Rather, they have just resulted in higher prices for their residents, many of whom are already considered to be fuel poor and others who will join them in fuel poverty soon.
Kyoto Protocol and European Reduction Policies
The Kyoto Protocol, adopted in 1997, was designed to limit carbon dioxide emissions in developed nations. The European Union (EU) was at the forefront of implementing policies to curb these emissions by initiating a number of policies[i]:
A cut of at least 20 percent in greenhouse gas emissions from all primary energy sources by 2020 from 1990 levels.
A cut of up to 95 percent in carbon emissions from primary energy sources by 2050, compared to 1990 levels.
A minimum target of 10 percent for the use of biofuels by 2020.
Despite these policies by the European Union (EU) and the United Kingdom to lower carbon dioxide emissions, during the first commitment period from 2008 through 2012, the rate of global carbon dioxide emissions accelerated. Since 1997, global average temperatures have risen by less than 0.1˚C, while global carbon dioxide emissions were higher than the 1997 level in each year subsequent, having risen to about 10 billion metric tons higher in 2012 than they were in 1997. The only downturn since 1997 was in 2008 when the global recession dampened energy demand. Rather than reducing global carbon dioxide emissions, the European policies to curb carbon dioxide emissions have resulted in higher electricity prices, made EU economies less competitive in the global marketplace, and put more Europeans in energy poverty.[ii]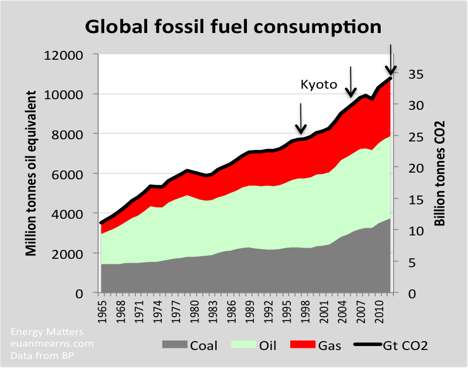 Source: http://www.euanmearns.com/wp-content/uploads/2013/11/globalFF.png
Germany
In Germany, non-hydro renewable consumption makes up 8.3 percent of total primary energy consumption[iii], but over 70 percent of this energy is replacing the decline in nuclear production resulting from a government policy to prematurely retire its nuclear power plants due to the Fukushima accident related to a disastrous tidal wave in Japan. German nuclear consumption has fallen by 16.3 million metric tons oil equivalent from its peak in 2001, while non-hydro renewables have increased by 22.4 million metric tons of oil equivalent. While the remaining amount of renewable energy may have offset coal and natural gas consumption, it did nothing to offset global consumption of coal and natural gas, which has increased.[iv]
Despite German consumers paying the highest electricity prices in Europe, the government increased its renewable energy surcharge added to consumers' electricity bills by about 20 percent (from 5.3 cents to between 6.2 and 6.5 cents) recently, making electricity almost a luxury good.  In fact, German Environment Minister Peter Altmaier prepared a manual of practical tips on how consumers can contribute to the government's move away from nuclear power and toward green energy that includes: avoiding preheating and utilizing residual heat and reducing brightness and contrast on TVs thereby lowering picture quality.[v]
While consumers are already paying a host of taxes, surcharges and fees, further increases in electricity bills are in store for German residents. The surcharge to finance the power grids is expected to increase by 0.2 to 0.4 cents per kilowatt hour next year according to government sources. Former Environment Minister Jürgen Tritten once claimed that switching Germany to renewable energy was not going to cost citizens more than one scoop of ice cream. But, Altmaier admits consumers are paying enough to "eat everything on the ice cream menu."[vi]  More than 300,000 households a year are having their power shut off because of unpaid bills. Once the power has been shut off, customers must negotiate a payment plan, and pay a reconnection fee of up to €100.
German consumers will pay €20 billion ($26 billion) for electricity from solar, wind and biogas plants this year, for which the market price is just over €3 billion ($3.9 billion). Even with this high surcharge, consumers are paying for power that is unreliable because it is based on the sun shining and the wind blowing. That means Germany has either an electricity surplus or deficit. If there is too much power coming from the grid, wind turbines have to be shut down or their power has to be dumped, creating "negative electricity prices." If the wind is not blowing, fossil fuel plants need to make up the deficit, increasing carbon dioxide emissions the program is designed to reduce. In some cases, industrial plants are asked to shut down to protect the electrical grid and electricity customers are charged for the compensation these businesses receive for lost profits.
Adding to this is a further disaster. Large offshore wind farms have been built in Germany's less populated north and must be transported to industries and sites in the south. But, 30 wind turbines off the North Sea island of Borkum are currently operating without the benefit of being connected to the grid because the connection cable is not expected to be completed until next year. The seafloor must be swept for abandoned World War II ordnance before a cable can be run to shore. The delay will add $27 million to the $608 million cost of the wind park.[vii] And, in order to keep the turbines from rusting, the turbines are being run with diesel.[viii]
Germany's power grid has been strained by new wind and solar projects both on and offshore, making the government invest up to $27 billion over the next decade to build about 1,700 miles of high-capacity power lines and to upgrade existing lines. The reality has turned out to be that not only is the renewable energy more expensive, it requires expensive transmission investments that existing sources do not, thus compounding the impact on consumers and businesses.
United Kingdom
The United Kingdom, like Germany, uses coal, oil, gas, nuclear and renewables in its electricity mix. The development of non-hydro renewables in the United Kingdom, however, lags Germany by about 5 years. In the United Kingdom, non-hydro renewable consumption makes up  4.1 percent of total primary energy consumption.[ix] The growth in non-hydro renewables has basically compensated for the planned retirement of the UK Magnox nuclear reactor fleet.[x]
While non-hydro renewables remain a small share of total consumption, the government has instituted green levies that add £112 ($180) to a typical household bill to encourage their deployment. The money is used to pay for subsidies for renewable energy projects that have put residents in a state of fuel poverty–defined to be where a household needs to spend more than 10 percent of its income to maintain adequate warmth (70 degrees for the main living area and 64 degrees for the other occupied rooms).[xi] It is estimated that 4.5 million British families will face "fuel poverty," suggesting that thousands could die this winter.[xii] Without any policy changes, green levies could rise from the current £112 to £194 ($312), 14 percent of the typical household bill, by 2020.[xiii]
Over the last ten years, electricity prices in the UK have risen 120 percent, while the Consumer Price Index has risen by about 30 percent. [xiv]The UK government is trying to reduce heating bills for families to avoid the anticipated deaths projected at 24,000 deaths this winter.[xv] Other estimates indicate that soaring energy costs in the United Kingdom could kill 200 pensioners per day.[xvi] "People are dying, about 25,000 to 30,000 every winter as a result of the cold," Dr. Benny Peiser, Director of the UK's Global Warming Policy Foundation said. "Many hundreds of thousands of people only survive because they stay in bed."[xvii]
Conclusion
Regardless of the cause of the policy, whether it is to implement the Kyoto Protocol, prematurely retire nuclear power plants, or to increase green energy, European countries are facing high and ever increasing energy prices with more and more consumers facing fuel poverty each year. Germany's plan to shut down all of its nuclear plants by 2022 and shift almost entirely to wind and solar power by 2050 is expected to cost about $735 billion, according to government estimates.[xviii] German consumers are paying the price and have to forego comfort to keep the electricity on in their homes.
The United States needs to learn from the mistakes of these countries. Aimlessly pursuing non-hydro renewable energy as the savior of the world could cause fuel poverty here too with nothing of substance to show for it, for global carbon dioxide emissions will not abate. They will grow as developing countries bring energy to more and more of their citizens and fuel their growing economies.
---