Cape Wind, a proposed $2.5 billion wind farm off Cape Cod, Massachusetts, is no longer a viable project. Two New England electric utility companies have ended their contracts to buy its power and the state Energy Facilities Siting Board has declined to extend permits for the project.[i] Despite first filing for a commercial license 16 years ago, the project's feasibility has been in jeopardy since offshore wind is more expensive than onshore wind[ii], which is fulfilling the state's Renewable Portfolio Standard along with solar power. Additional obstacles to its completion have included issues regarding ship navigation, marine and bird kills and impacts to the local economy. Opponents to the project included property owners, Native American tribes, commercial fishermen, shippers and local officials, among others.[iii]
Background
The Cape Wind Energy Project was proposed by Cape Wind Associates in November 2001, when the company applied for a commercial lease to construct and operate an offshore wind facility located in Federal waters offshore Cape Cod, Massachusetts. After years of extensive environmental review and consultations, the Bureau of Ocean Energy Management issued the project a commercial lease to construct and operate an offshore wind power facility on October 6, 2010.[iv]
The project was to consist of up to 130 wind turbine generators of 3.6 megawatts, each mounted on steel monopole foundations with a maximum blade height of 440 feet. The wind farm was planned to have a nameplate capacity of 468 megawatts and an average anticipated output of 174 megawatts. Two 115 kilovolt submarine transmission cable circuits were to move the power to the mainland.
The leased area was approximately 46 square miles, with a project footprint area of 25 square miles on Horseshoe Shoal in Nantucket Sound. The federal lease includes a 5-year site assessment term and a 28-year operations term. Prior to the production of electricity, the company would have been responsible for annual rental payments of $88,278 ($3 per acre for 29,426 acres). Once commercial electricity production began, an operating fee was to be assessed on the energy produced in lieu of rental payments.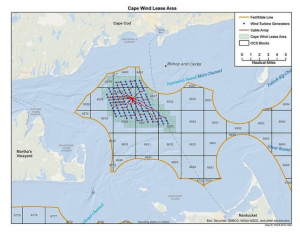 Source: MassLive.com
Under a 2012 agreement, Northeast Utilities and NStar (now combined as Eversource) agreed to buy 27.5 percent of Cape Wind's production, and National Grid had previously agreed to purchase 50 percent. However, in early 2015, National Grid and Northeast Utilities canceled their contracts because Cape Wind had missed a deadline to extend those contracts.
In 2016, state regulators withdrew permission for a power line connection, reducing the prospects of the project going forward. Later in 2016, opponents to the Cape Wind project successfully lobbied state lawmakers to prevent Cape Wind backers from benefitting from a major energy bill that requires utilities to buy large amounts of offshore wind—a bill that would have ensured buyers for the power generated by the Cape Wind project.[v]
Recently, the Cape Wind project filed a notice with the Bureau of Ocean Energy Management that rescinded the firm's Nantucket Sound lease rights, ending the controversial project.
Other Proposed Offshore Wind Projects
Massachusetts has three new proposed offshore wind farms planned for an area 15 to 20 miles off Martha's Vineyard and 30 miles from the Massachusetts mainland. Deepwater Wind, Baystate Wind and Vineyard Wind are submitting bid documents that are due with state regulators on December 20. The firms obtained their federal offshore wind leases in 2012 and 2015. They are competing for contracts to supply electricity to Eversource, National Grid and Unitil—3 Massachusetts utilities. A Massachusetts state law enacted last year requires the state's utilities to purchase 1,600 megawatts of power from offshore wind—but excludes Cape Wind from bidding. Unlike Cape Wind, it is believed that the new offshore wind projects will not be visible from land.
New York State wants to build a 90-megawatt wind farm off the east end of Long Island—the South Fork Wind Farm. The 15-turbine project would be built by Deepwater Wind, who completed a small offshore wind project off Rhode Island last year. The South Fork Wind Farm would be built 30 miles southeast of Montauk on a site leased from the federal government. Construction could begin in 2019 with on-line operation in 2022. The project will contribute to the state's Clean Energy Standard, requiring 2,400 megawatts of offshore wind by 2030.[vi]
Another proposed New York offshore wind project is Empire Wind, which is located off the southern coast of Long Island.  The 79,350 acre site, secured by Statoil in a federal auction in December 2016, is expected to generate up to 1,000 megawatts of offshore wind power.[vii]
More recently, New York requested the Bureau of Ocean Energy Management to lease at least four new Wind Energy Areas off New York's Atlantic Coast each of which would be capable of accommodating at least 800 megawatts of offshore wind.[viii]
Maryland utility regulators approved two wind farms off the coast of Ocean City. The project owners, U.S. Wind and Skipjack Offshore Energy, plan to build a combined 77 wind turbines with a capacity of 368 megawatts between 12 and 21 nautical miles off the coast of Ocean City at an estimated cost of $2.1 billion for the two projects. U.S. Wind has initial plans for 62 turbines located 12 to 15 miles off the coast of Ocean City at a cost of almost $1.4 billion. The wind farm is expected to be operational in early 2020. U.S. Wind plans to construct future phases, eventually raising the number of turbines to up to 187. Skipjack Offshore Energy will construct 15 turbines, 17 to 21 miles off the coast of Ocean City at a cost of $720 million. The wind farm is expected to be operational towards the end of 2022.[ix]
The only offshore wind farm currently operating in the United States is located off of Block Island, Rhode Island, and it has just five turbines. Block Island is a unique situation in which wind is displacing diesel generators at a similar cost for electricity. More on the Block Island wind farm can be read here.[x]
According to the Energy Information Administration (EIA), offshore wind is 2.5 times more expensive than onshore wind, which now generates about 6 percent of U.S. electricity. The states considering offshore wind power should also consider the electricity consumer, who would have to pay exorbitant prices for its generation. According to the EIA, the average levelized cost of offshore wind power is 15.7 cents per kilowatt-hour, without federal subsidies.
Conclusion
Cape Wind is dead, but several states are still planning to build offshore wind farms at considerable costs to the consumer. With offshore wind costs 2.5 times higher than onshore wind costs, the economics do not favor their development.
[i] Cape Cod Times, It's Over: Cape Wind Ends Its Controversial Project, December 1, 2017, http://www.capecodtimes.com/news11/20171201/its-over-cape-wind-ends-controversial-project
[ii] Energy Information Administration, Levelized Cost and Levelized Avoided Cost of New Generation Resources in the Annual Energy Outlook 2017, Table 1b, April 2017, https://www.eia.gov/outlooks/aeo/pdf/electricity_generation.pdf
[iii] Mass Live, As Cape Wind dies, offshore wind picks up steam in Massachusetts, December 3, 2017. http://www.masslive.com/news/index.ssf/2017/12/cape_wind_opposed_by_bill_koch.html
[iv] Bureau of Energy Ocean Management, Cape Wind, https://www.boem.gov/Massachusetts-Cape-Wind/
[v] Boston Globe, Now it's official: Cape Wind project dead, December 1, 2017, https://www.bostonglobe.com/business/2017/12/01/now-official-cape-wind-project-dead/0899me8Xd3ziWOujgkvbwL/story.html
[vi] Deepwater Wind, South Fork Wind Farm, http://dwwind.com/project/south-fork-wind-farm/
[vii] PR Newswire, Statoil Names New York Offshore Wind Project "Empire Wind", October 24, 2017, https://www.prnewswire.com/news-releases/statoil-names-new-york-offshore-wind-project-empire-wind-300542071.html
[viii] New York State Submits Offshore Areas for Potential Wind Development Off Atlantic Coast, October 2, 2017, https://www.nyserda.ny.gov/About/Newsroom/2017-Announcements/2017-10-02-NYS-Submits-Offshore-Areas-for-Potential-Wind-Development-Off-Atlantic-Coast
[ix] Institute for Energy Research, Maryland Approves Two Offshore Wind Farms, June 8, 2017, https://instituteforenergyresearch.org/analysis/maryland-approves-two-offshore-wind-farms/
[x] Institute for Energy Research, Expensive Offshore Wind Farm Becomes Operational, December 16, 2016, https://www.instituteforenergyresearch.org/analysis/expensive-offshore-wind-farm-becomes-operational/